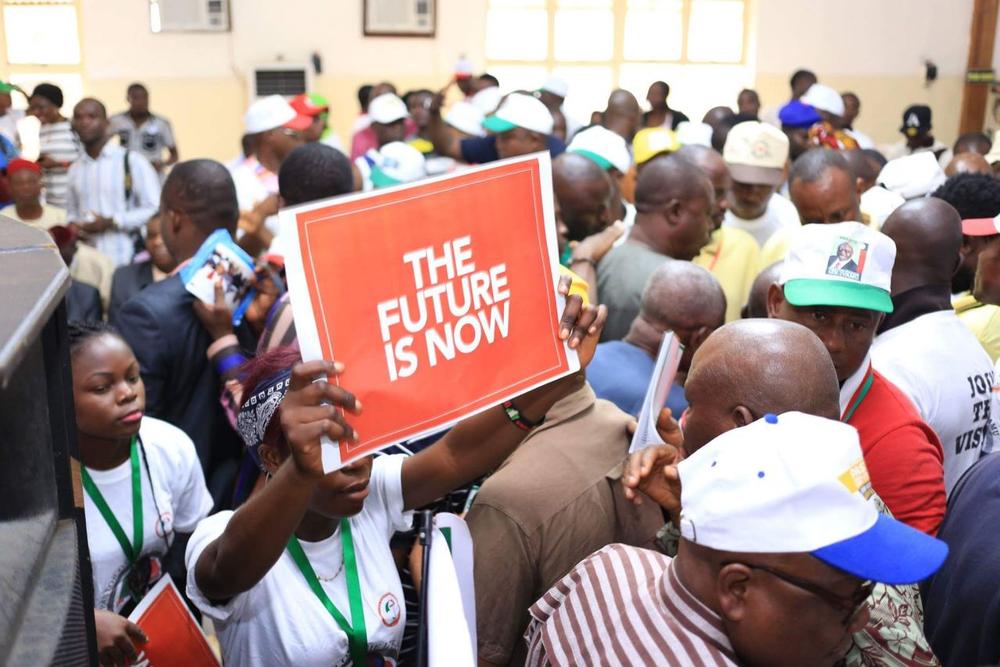 Youths of the Peoples Democratic Party have given a seven-day ultimatum to the party's leadership, so that they can resolve the leadership tussle or they would take over the party.
The Vanguard reports that the Party's Youth Leader Aderemi Olusegun addressed journalists at the Wadata Plaza party secretariat and warned its leaders to stop toying with its survival.
As concerned youths, we deem it necessary to come together to take a firm position in the interest of party members nationwide. We believe that we have waited enough on the party stakeholders, since the Port Harcourt convention, to amicably resolve this lingering problem.

In the last 24 hours, we consulted widely with different youth groups, women and patriots in our party, and we, therefore, after an emergency meeting in the National Headquarters (Wadata Plaza) resolved that we are giving the leadership of the party, which includes the BoT, Governors' Forum, warring groups and other stakeholders, a seven-day ultimatum to resolve this intractable but avoidable rancour. However, if this is not resolved, we shall be compelled to mobilise all concerned youths nationwide to take over the affairs of the party, and we have started putting in place an effective structure to that end."
Since Senator Ali Modu Sheriff took over the party secretariat on Monday, Chairman of the PDP caretaker committee, Senator Ahmed Makarfi has said that he neither apologised to him nor pledged his support to the leadership of the embattled chairman of the party.
In a related development, the All Progressives Congress has advised the PDP to put their house in order. This was done to fault claims by the PDP Caretaker Committee that the APC was responsible for the crisis plaguing the national leadership of PDP because of the forthcoming Edo and Ondo governorship elections.
The APC National Secretary, Mallam Mala Buni  said,
"For the umpteenth time, APC wishes to state that instead of joining issues with the baseless and laughable allegations, it would rather join issues that will bring about all-inclusive development in the country. However, it should be put on record that PDP forced on themselves whatever crisis it is troubled with due to its politics of imposition and other undemocratic practices which APC abhors. PDP should put its house in order rather than playing to the gallery."
Credit: Vanguard