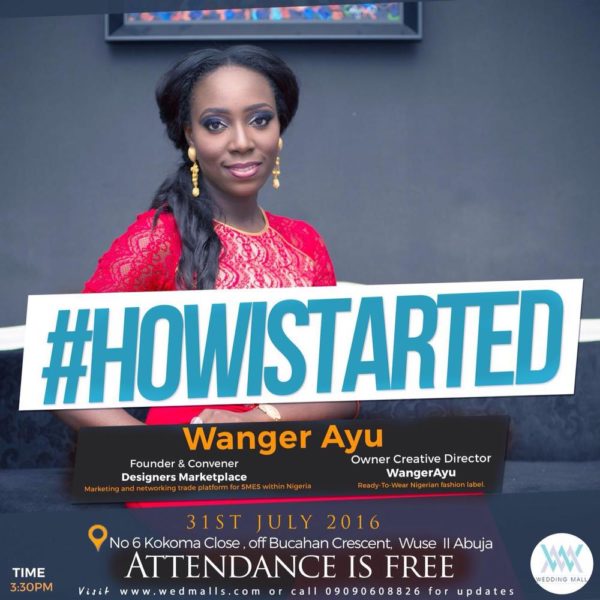 As a follow-up to the successful first edition of #HowIStarted, The Wedding Mall is once again bringing together budding entrepreneurs in the Federal Capital for #HowIStarted II.
#HowIStarted is a free one day Entrepreneurial seminar for creative and young professional looking to make the switch to launch sustainable business inspired by their passions/talents.
Attendees at the second installment of #HowIStarted will be learning from the experiences of ace Fashion designer and entrepreneur Wanger Mbamulun Ayu of the Wanger Ayu Fashion brand
Wanger Ayu, also a recipient of the British Council's UN/NG creative cities grant program, will speak on how she started, her achievements, and more importantly the challenges she overcame to get to where she is today.
Please note that this Event is completely Free!
Intending participants are to send the following details in an email to [email protected]
 –      Name
–       E-mail
–       Phone No
–       Gender
–       What do you currently do?
–       Why do you want to attend?
Your story might just be the next to inspire a fresh crop of entrepreneurs focused at creating a better and economically sustainable Nigeria.
#HOWISTARTED is an initiative of The Wedding Guru.
Date: Sunday, July 31st, 2016
Time: 3:30PM
Venue: The Wedding Mall, 6 Kokoma Close, off Buchanan Crescent. Abuja
Contact: 09090608826 | [email protected]
_______________________________________________________________________
Sponsored Content