Hello BellaNaijarians!
I'm Makida Moka, model and actress. I was recently on BellaNaija duty in New York for the One Africa Music Fest. I had such a fantastic time!
I did a diary for the week to show you and let you know what I got up to out and about in New York.
So, here it is.
Day 1 – Monday 18th July 2016
The sun was rising right outside my window seat and it was gorgeous! I had to take a picture.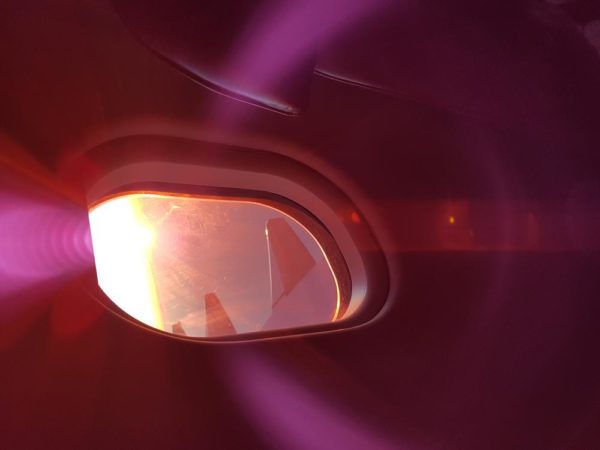 I was on the Arik Air flight from Lagos to New York for the One African Music Fest on BellaNaija duty all week.
It was a 10 hour flight. We (the One Africa Music Fest team and I) finally landed, got our bags and headed to where we were going to stay for the week. We stayed in New Jersey. It was rush hour when we landed so it took us nearly 2 and a half hour to get to New Jersey from the JFK airport in New York. It felt like a trip on the 3rd Mainland Bridge.
We finally got to the hotel and settled in; I spotted the New York Times building on the way back and also spotted a Chipotle around the hotel. I had always wanted to try a Burrito, so I thought why not? I had it for dinner.
Day 2- Tuesday, 19th July 2016
Tuesday started off with an airport run. Interestingly, I wasn't Jet lagged! The trick I did was to stay up past my Nigerian bedtime and wake up at American time and I was fine.
I had to let you know about all the interesting things going on during the week so I went to the airport to pick up Sound Sultan and Praiz who were performers for the One African Music Fest.
My outfit of the day was a shift dress by Frankie&Co from Grey Velvet.
After the airport run, I was exploring the area of the hotel and I spotted the DJ Khaled "Keys" Tour Bus. Of course I had to take a picture!
Then Tiwa Savage, the only female performing at the concert, was landing in the evening so I had to do another airport run to show you when she arrived. We drove through the Lincoln Tunnel and by the Empire State building on the way.
Day 3 – Wednesday, 20th July 2016
I woke up pretty excited about Wednesday. I was going to actually see "The Wendy Williams Show" and a bit of New York City. I watch the show all the time in Lagos and to actually be at the taping was so awesome.
My outfit of the day was this Frankie&Co dress from Grey Velvet.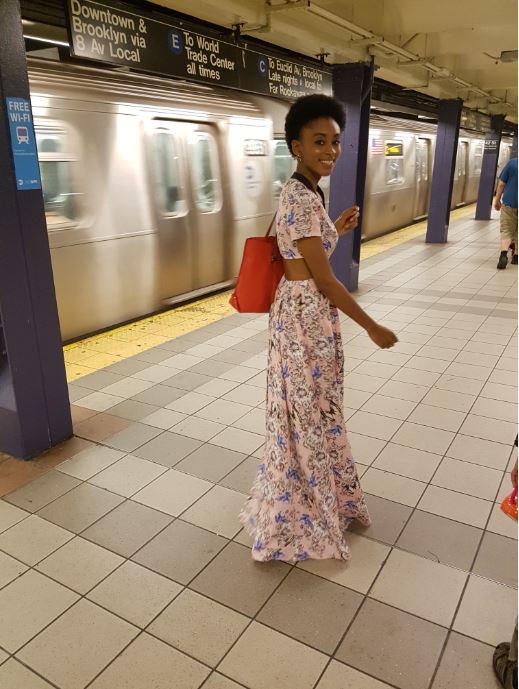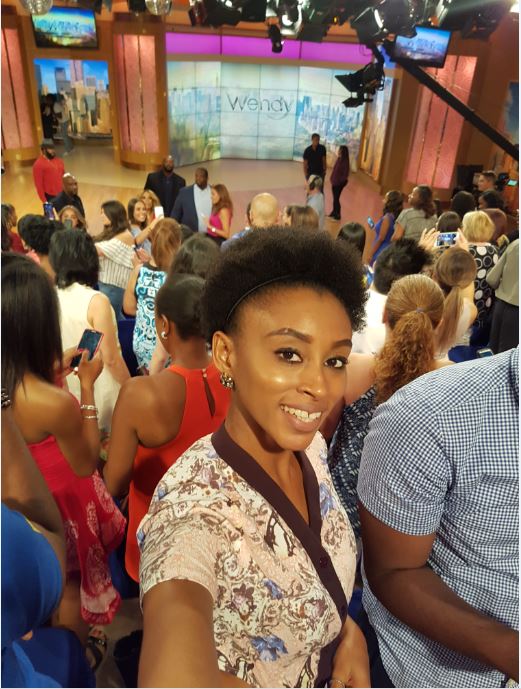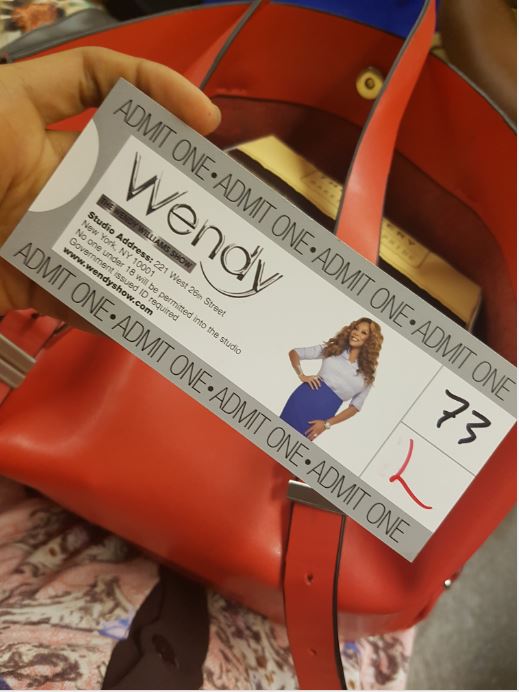 I took the subway and walked around New York City and saw the United States Post Office building and the Fashion Institute of technology building.
It was such a great day!
Day 4- Thursday, 21st July 2016
This was the day before the One Africa Music concert. It was quite a busy and interesting day. We had Media rounds in the morning at Channel 11 Pix News and then Revolt TV in the afternoon. Fun fact, Revolt TV is owned by Diddy.
My outfit of the day was this Isi Brown Striped top and trousers from Grey Velvet.
I also got to meet one of my favourite comedians from the internet, Chief Obi.
The Pre Party for the One African Music Fest was also on Thursday evening at a place called Milk River. I couldn't stay too long because Wizkid was getting to New York that evening and I had to go to the airport.
Nigerian DJ Crowd Kontroller was keeping the party alive!
It was such a busy day.
Day 5- Friday, 22nd July 2016.
The Day of the Concert!
I got my All Access Pass for BellaNaija and we made our way to the Barclays Center. The Barclays Center is also home to the Brooklyn Nets basketball team.
I got to meet AyoJay backstage and also see the dressing rooms of the performers for the concert.
The stage was all set up and the show started! There was no dull moment. The energy of the concert was electric. Over 17 thousand people came to the concert.
The Highlights of the concert for me were Tiwa Savages' performance with Don Jazzy coming on stage to perform with her.
I loved that Wizkid performed his old hits as well as the new ones, and when Swiss Beatz came on stage during Wizkid's performance it was quite amazing.
DJ Crowd Kontroller was also great at keeping the energy levels up in between performances.
I totally loved Jidenna's performance. I really liked that he brought up a masquerade on stage.
I was able to talk to Jidenna right after the concert and he did a shout out to you BellaNigerians. It was a pleasure talking to him. He's so cool.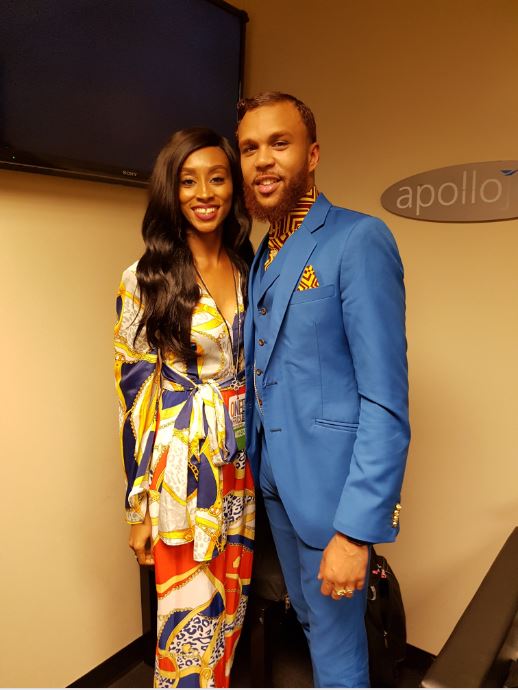 My outfit for the concert was this Frankie&Co Jumpsuit from Grey Velvet.
Days 6&7 – Saturday and Sunday (23rd and 24th July 2016)
Saturday and Sunday were days for resting and reminiscing on how epic the One Africa Music fest was. It was historic and I was glad that I was able to be part of history.
Had pancakes for breakfast and during the day, I had another Burrito but this time from Taco Bell. I also did a bit of shopping on Sunday.
Day 8- Monday 25th July 2016.
It had been a fantastically eventful week but it was time to go back home to Lagos. We (One Africa Music Fest crew and I) headed to the airport to catch our Arik Air flight. On the way to the airport, we drove past the Yankee Stadium.
It was a very eventful weekend for me and I had such a great time in New York being on BellaNaija duty. Thank you BN for the wonderful opportunity. I can't wait to represent you again in the future ;).
***
I hope you enjoyed all my updates during the week on the BellaNaija Instagram Page!
Thanks for keeping up!