Taylor Swift's ex-boyfriend Calvin Harris went on quite the rant this evening.
The producer was reacting to an article published in People Magazine which stated that Taylor Swift was the one to be co-credited for "This is What You Came For", a song Calvin Harris released with Rihanna earlier this year.
Calvin Harris was understandably hurt by the news article because according to him he wrote, produced, arranged and cut the vocals on the song.
He took to Twitter to express his disbelief that Taylor Swift's publicists confirmed the rumours and he used it as an opportunity to beg Taylor Swift to focus on her new relationship and her new happiness.
See his tweets below.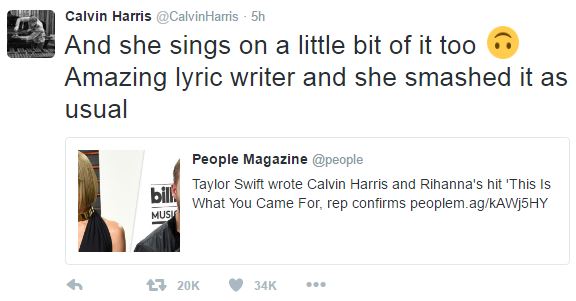 In other news, according to US Tabloids, Taylor Swift's new boyfriend Tom Hiddleston is about to pop the question – will we hear wedding bells soon?