It's Wednesday and it's time for a new edition of BN Style Your Bump, a series where BN Style looks into maternity style from different women to help inspire you! So far we have profiled Chrissy Teigen, Patricia Bright, Kourtney Kardashian, Tamera Mowry, Maky Benson, Blake Lively, Lami Phillips, Nikki Perkins, Lilian Esoro Franklin, Kate Middleton, Teslimat Yusuf, Kerry Washington, Ciara, Ella Mo, Olaide Olaogun, Alicia Keys and Eudoxie Bridges – click here to see them glow in style.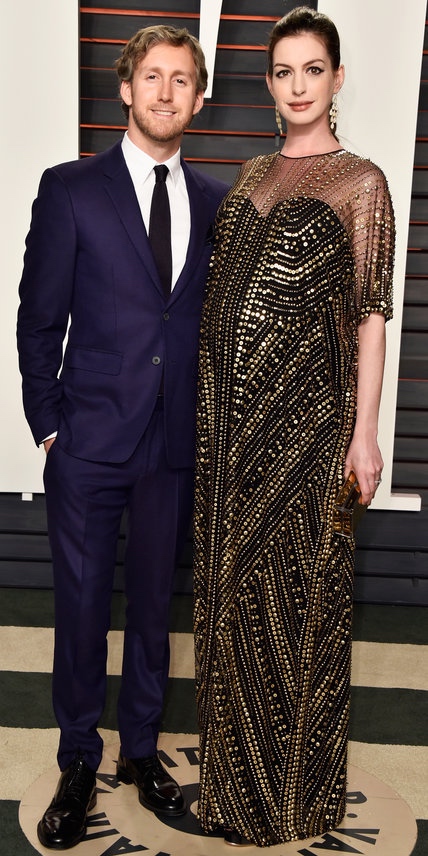 Today we have actress, Anne Hathaway whose maternity style screams comfort. The mother of one opted for easy, floaty silhouettes and playful prints, elevating her looks with stylish accessories along the way. Anne and her husband Adam Shulman, welcomed a baby boy in April 2016.
Let's start with her red carpet looks. 
We like her choice of chic dresses in styles that flatter her baby bump especially this black lace dress with a trumpet hem (which she wore in the early stages) and the black & gold dress she wore for the Vanity Fair Oscar Party.
Instead of a pencil dress like we've seen in the past, Anne chose to wear a shift dress which isn't as clingy as a pencil/bandage dress will be. I think this is a great option for mums-to-be who'd like to dress a little more sexy without wearing anything too tight.
For her more casual looks, Anne either goes for a maxi dresses or trousers with long loose fit jackets (which look almost like maxi dresses sometimes) for a comfortable look. Notice how she layers to reduce attention on the bump.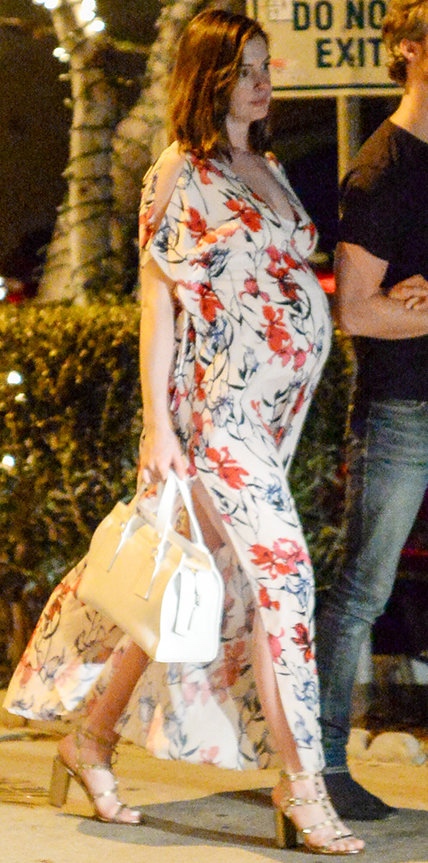 Another popular style we noticed with our stylish mums is showing a bit of skin with thigh high slits and V-neck necklines.
Layering with jackets is a great way to deflect attention on the bump.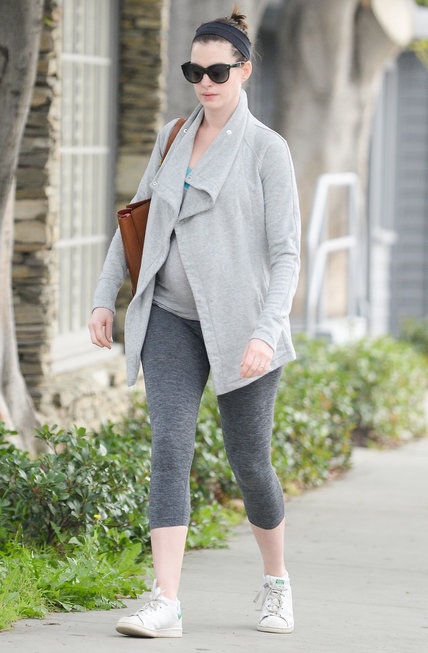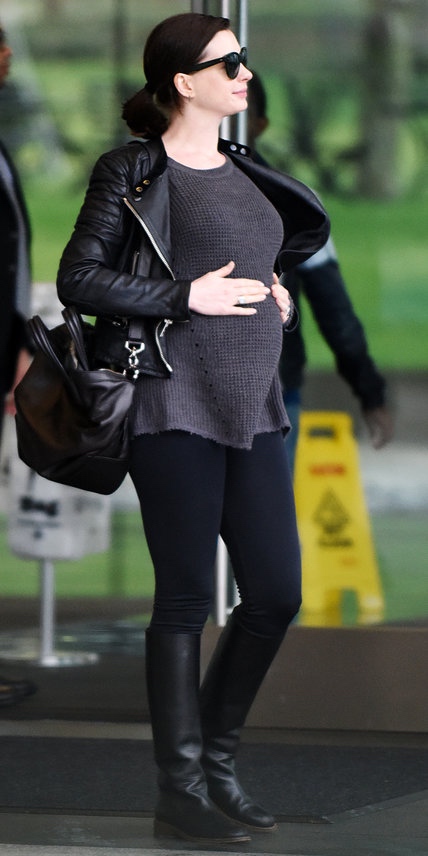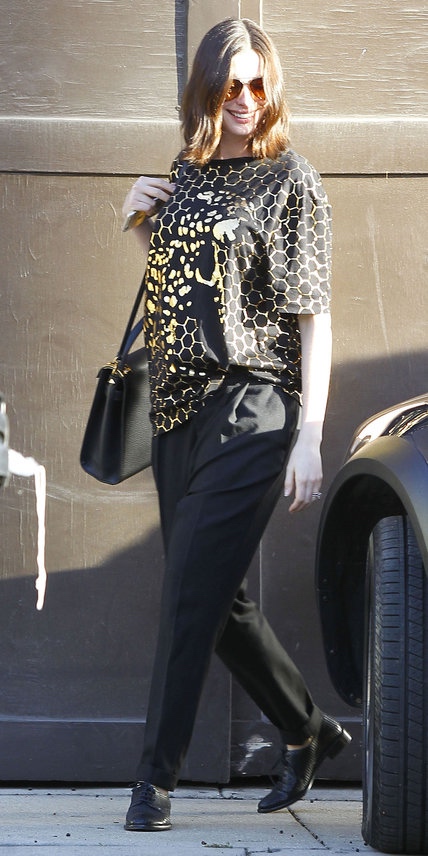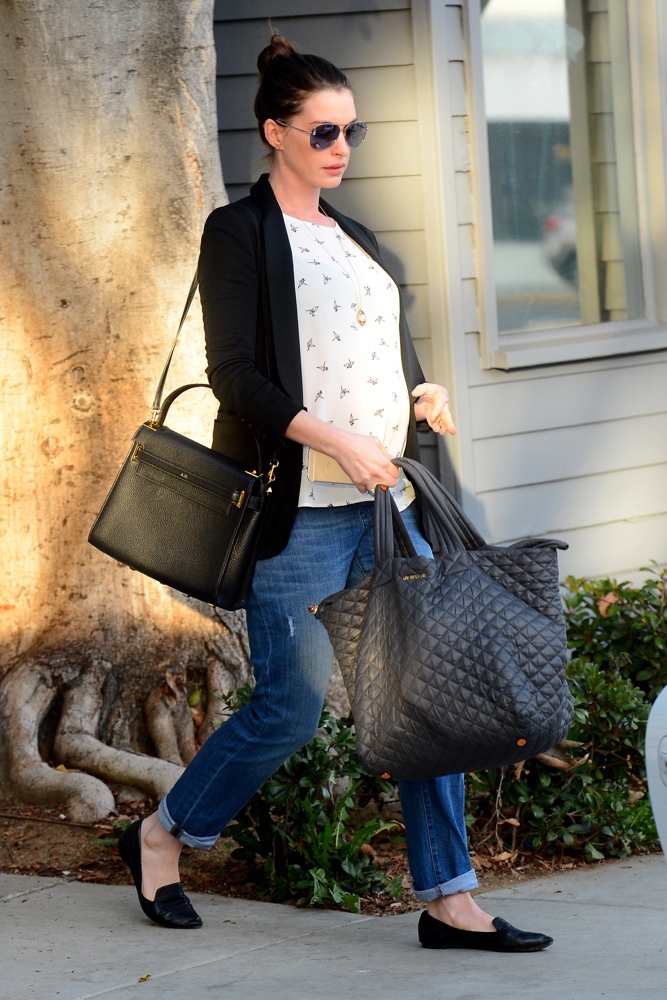 To conclude, you'd agree with me when we say Anne's maternity style was all about comfort and if this is your first time with BN Style Your Bump series, here are a few styling tips to note:
Accentuate your slimmest body parts; your legs, ankles, neck, arms, wrist and the point between your baby bump and bust, where the empire waist line falls.
Jackets are a great way to conceal the bump while thigh high slits and V-necks are great for flaunting your slim body parts.
Don't be afraid to wear bodycon dresses and feel sexy with your body just remember to be tasteful about it. If you're a beginner with this, try a bodycon dress in a dark colour and maxi length. This reduces attention on your bump.
If you're not a bodycon dress wearing mum-to-be, then go for a shift dress like Anne Hathaway in that short black and white print dress.
Balancing outfits is key. Counter volume by showing skin or wearing fitted pieces. A great example of this is Anne in her big jackets, jeans and boots.
Be open to your own style and comfort, you don't have to take all these tips or wear heels and bodycon dresses. Glow in your own personal style!
And if you have no baby bump, check the BN Body Series for useful styling tips!
Look out for more stylish mums and follow us on @bellanaijaliving
Photo Credits: Dave J Hogan/Getty Images, Frazer Harrison/Getty Iages, Emma McIntyre/Getty Images, John Shearer/Getty Images, Bauer-Griffin/Getty Images, Popsugar,