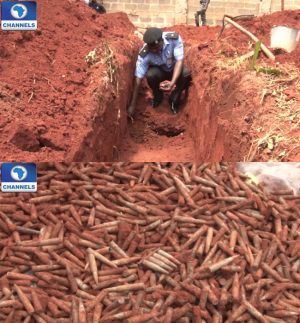 The Anambra State Police Command on Tuesday said a cache of bullets was discovered by some labourers working at a construction site at Umuowelle, Agulu in Anaocha Local Government Area of the state.
According to Channels Television, the state's commissioner of police Sam Okaula, at the scene of the discovery, said several buckets were unearthed and that there were still some left which were yet to be brought to the surface.
Okaula later told reporters that investigation had commenced to determine when the bullets were bought, who bought and buried them, and the reason behind it.
Okaula called on residents to provide relevant information that would aid investigation, adding that a high powered surveillance would be put in the area to ensure the police got to the root of the matter.
Photo Credit: Channels TV