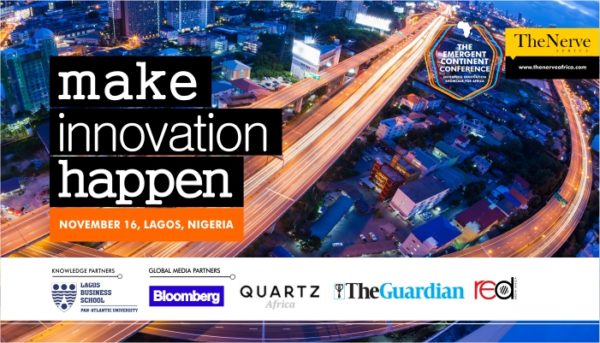 From South Africa to Tunisia, real incomes are flat and inequality is rising, as macro fundamentals remain weak, with high debt and unemployment constraining the performance of countries across Africa. The challenges facing African economies seem to be defying policies, but innovation will work.
Seeing how much innovation happens in Africa and how the lack of adequate documentation and spotlight is reducing impact, TheNerve Africa and Nigeria's foremost professional education hub Lagos Business School (LBS) have partnered to organize Africa's flagship innovation conference The Emergent Continent Conference, in Lagos, Nigeria on November 16th, 2016.
Date: Wednesday, November 16th, 2016
Venue: Lagos Business School, Km 22, Lekki-Epe Expressway, Ajah, Lekki, Lagos.
The conference themed Make Innovation Happen is coming at a time innovation has been identified as the key to solving Africa's challenges. The conference is expected to be a global convergence on enterprise innovation in Africa with highly thematic conversations and cross-industry thought leadership sessions on Smart Payments, Smart Cities, Smart Agric, Smart Content and Smart Corporations.
"A lot has happened within the innovation space in Africa in recent times; sadly this has barely been documented or given the necessary amount of global media coverage required as America has done for its Silicon Valley. The Nerve Africa, a global business publishing company focused on continental Africa will in the course of the next 12months embark on an editorial journey themed "Make Innovation Happen", a process that will see the media company document and provide coverage of enterprise innovation within Africa. This process will start officially with an innovation conference in November 2016," a statement from The Nerve Africa, which prides itself as a growth information platform, said.
Speaking on the partnership with LBS, Perez Tigidam, convener of the conference and Publisher of TheNerve Africa noted that globalization has created universal issues that require a unified, multilateral approach to resolve. "Global think tanks and reputable business schools with their ability to function as international idea managers and brokers find themselves in a prime position to affect policy," he says.
Lagos Business School's industry knowledge and expertise is expected to be key to achieving reasonable outcomes that help the event to be more than just a talk shop and provide the institution with a very important function at the policy level.
Innovative technology is traveling across Africa at an incredible pace, reshaping how Africans consume financial products, consume media content, invest in innovation and build the cities they live in. Africa may be the future of innovation as the early signs show.
To discuss innovation in the emergent continent of Africa, TheNerve Africa has lined up speakers from across the world that have excelled in their fields using innovative solutions for the one day event. Confirmed speakers for the event include: Ashley Bendell, Founder and CEO Africa Investment Advisors, New York; Shailesh Grover, MD, Research & Development, Barclays Bank, London; Ravindra Mistri, Capital Eye Investments, South Africa; Johan Jemdahl, CEO Ericsson Nigeria; Wiebe Boer, Partner, Boston Consulting Group, Nigeria; Elizabeth Rosseillo, Founder of globally celebrated Fintech company Bitpesa; Niti Bhan, CEO, Emerging Futures Lab, Finland.
Also confirmed to speak are Ronald Chagoury Jr. Eko Atlantic City; Yinka David-West, Academic Director, LBS; Juliet Ehimuan, Country Manager, Google Nigeria; Prof. Ndubuisi Ekekwe, CEO Fasmicro Group, Wale Okodane, Enterprise Director, Microsoft Nigeria; Paul Wallace, Emerging Markets reporter, Bloomberg; Bosun Tijani, Founder CCHub Nigeria, Kola Oni, Group head, Strategy & Planning, Axa Mansard; Yinka Adegoke, Quartz USA; Seyi Taylor, Big Cabal Media, Marcello Schermer, Regional Manager Africa, SeedStars.
The conference, which will be covered globally, has Bloomberg, Quartz, The Guardian Nigeria and many more as some of its media partners. Interested participants can reserve a place by following this link: bit.ly/emergentcontinent
__________________________________________________________________
Sponsored Content