Last week, a select group of Nigerian media was whisked away by Fox Searchlight studios and Filmone Distribution (parent company of FilmHouse Cinemas) to London for the European premiere of The Birth of a Nation.
It was a whirlwind two days of fun, meeting and chatting with the stars, and watching a great movie.
The team was made up of me (Ink Eze) from BellaNaija, Tolu Doherty from EbonyLife TV, Azuka Ogujiuba from ThisDay, Africa International Film Festival (AFRIFF) founder Chioma Ude, Founder & CEO of Filmone Distribution (FilmHouse Cinemas) Kene Mkparu and COO of Filmone Distribution Moses Babatope.
Here's my BN Travel diary!
Monday Morning
On Monday morning, we met at the Lagos airport, walked to the lounge and had a yummy breakfast.
Who knew I was that hungry? ?
We headed to the plane with full stomachs and anticipation for what was to come. Here's our group shot on Virgin Atlantic –
We got the star treatment the whole time, from Upper Class on Virgin Atlantic to our hotel in central London – May Fair Hotel.
I had fun foodie adventures on the flight, it was like a restaurant + hotel in the sky.
Monday Evening
Home Sweet Home! We checked in to the fabulous five-star May Fair Hotel, and luckily for us, the interviews were also going to be conducted there the next day.
We each got a book in our rooms, telling the story of Nat Turner (the slave preacher and lead character in the movie) and the making of the movie.
We had a laid-back dinner at the hotel where we talked about the upcoming day. Chioma, Moses and Kene told us how much Nate had enjoyed his two previous visits to Nigeria, so it helped with finalizing the interview questions.
The restaurant, May Fair Kitchen had yummy food in small plates, they recommended getting 2-3 plates per person and sharing, so that's what we did. We got everything from sliders to prawns, pasta, patatas bravas (fried potato), chicken skewers, lamb – is short all the 'meat' food groups and carbs. Lol.
Tuesday Morning
Yay! This was the d-day. I had a full traditional English breakfast – I was in England after all 🙂 and Earl Grey tea.
The parfait pots and green juice were also amazing.
We all went up to the waiting suite and they had soda, juice, water, tea, cookies and more. We really got the star treatment ourselves.
Tolu and I had some fun with the book while waiting.
I was the last person to interview Nate about the movie, and they all told me how warm and open he was, so I couldn't wait.
Finally it was my turn, and I asked about his trips to Africa – Nigeria and Ghana, the slave Nat Turner's Ghanaian roots, his movie's upcoming Nigerian premiere at Africa International Film Festival (AFRIFF) in November and more – click here to see the transcript or watch it below!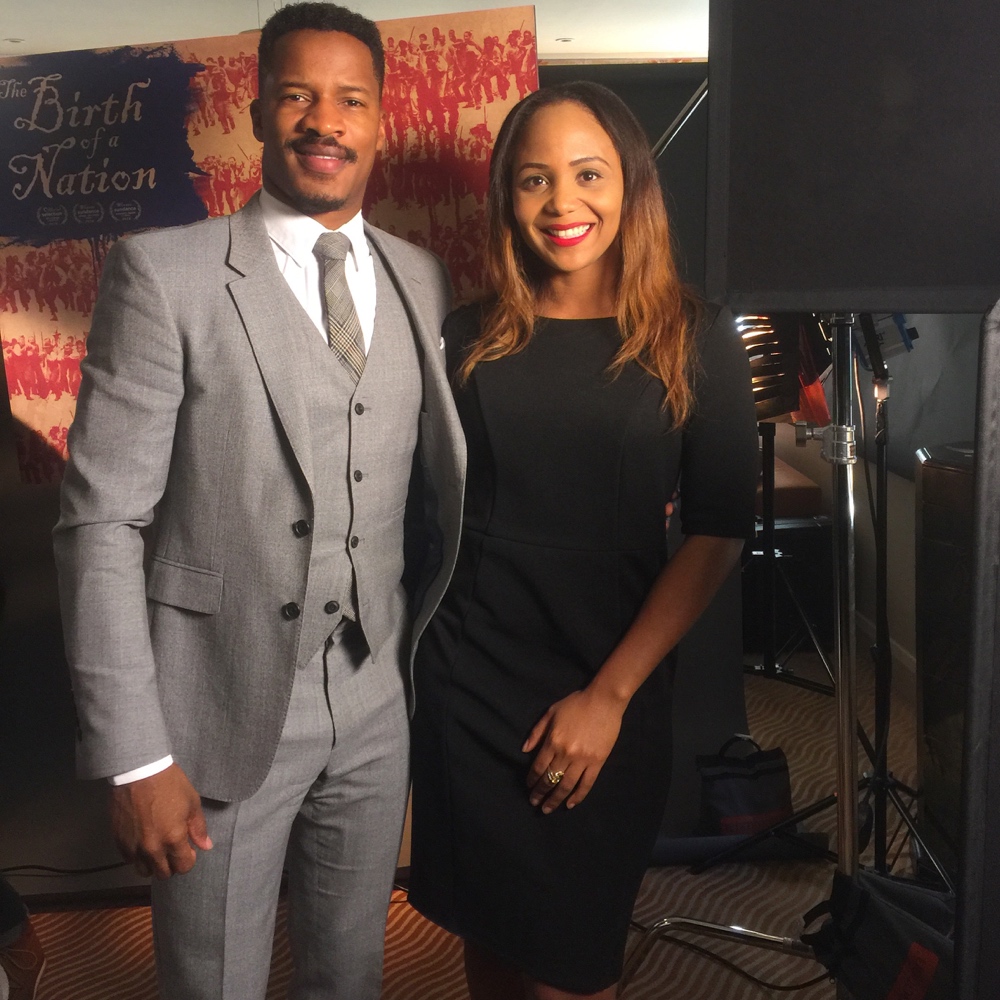 I need Nate to direct all my selfies, he re-arranged the set perfectly for that lighting – YASSS! 
Then we all went for lunch, fresh air and photos!
Tuesday Night
YES! Remember how I said we were treated like stars? The Birth of a Nation cast had cocktails with us – Nigerian media and select Nigerian media stakeholders based in London right before we went off to the premiere.
Gabrielle Union being my new bestie and all, told us some secrets about the upcoming season of her well-loved TV show 😉 – love interests and new actors joining the cast. You'll have to ask me in person and bribe me with ice cream before I can tell you 🙂
I met actor Chike Okonkwo – yes, he's Naija – his mum was there in full gele and george wrapper to support her son. It was too cute! And he had taken Gabrielle Union to a Nigerian restaurant the night before, where she had pounded yam.
Azuka's friend just had a baby, so she brought her along to meet the stars. What a celeb already 🙂 she's going places.
Then it was time for the premiere! Click here to see all the glam red carpet photos on BellaNaija Movies & TV.
We got great seats to see the movie, and I learned a lot. The movie was sympathetic to the slaves and the plight – it showed how African men, women and children had no ownership over their bodies. They were used as machines, pets or sex objects, as their masters pleased.
The imagery was graphic – not to give it all away, but you truly saw some of the horrors they went through, you understood why the slaves revolted – one of the most successful slave revolts in U.S. history.
After the movie, Chinatown was a short walk away for some spicy Chinese food at Orient London. Nigerian actress Uru Eke had joined us for the premiere, and it also happened to be her birthday, so we sang to her 🙂
A photo posted by BellaNaija (@bellanaijaonline) on
That was it! Short and sweet and oh-so-memorable. I had a heap of fun and learned a lot.
The flight back was preceded by an amazing time in the Virgin Clubhouse at Heathrow, while the flight was spent reminiscing about the trip.
In fact, I'm still looking back with many fond memories.
Till next time,
xo Ink
***
To see all the fun moments on Instagram, click here – #BNforBOAN
Photo Credit: Getty Images/John Phillips