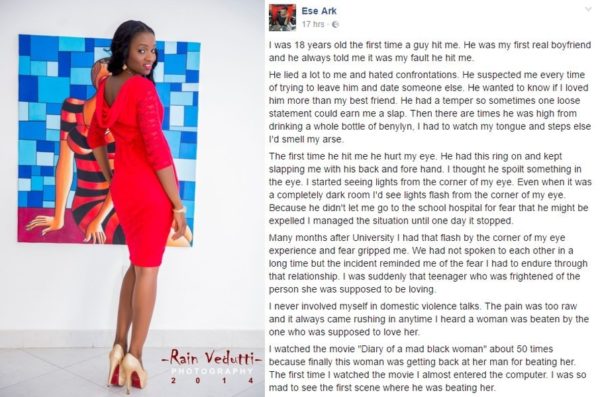 Writer and radio personality Ese Walter Ark shared a touching story on her Facebook page yesterday.
The mum of one talked about how she was once a victim of domestic violence when she was 18-years old and how the situation almost made her lose her eyesight. She says that she was recently reflecting on that chapter in her life and she realized that she had let go of past hurt and pain.
Read her post below.
I was 18 years old the first time a guy hit me. He was my first real boyfriend and he always told me it was my fault he hit me.

He lied a lot to me and hated confrontations. He suspected me every time of trying to leave him and date someone else. He wanted to know if I loved him more than my best friend. He had a temper so sometimes one loose statement could earn me a slap. Then there are times he was high from drinking a whole bottle of benylyn, I had to watch my tongue and steps else I'd smell my arse.

The first time he hit me he hurt my eye. He had this ring on and kept slapping me with his back and fore hand. I thought he spoilt something in the eye. I started seeing lights from the corner of my eye. Even when it was a completely dark room I'd see lights flash from the corner of my eye. Because he didn't let me go to the school hospital for fear that he might be expelled I managed the situation until one day it stopped.

Many months after University I had that flash by the corner of my eye experience and fear gripped me. We had not spoken to each other in a long time but the incident reminded me of the fear I had to endure through that relationship. I was suddenly that teenager who was frightened of the person she was supposed to be loving.

I never involved myself in domestic violence talks. The pain was too raw and it always came rushing in anytime I heard a woman was beaten by the one who was supposed to love her.

I watched the movie "Diary of a mad black woman" about 50 times because finally this woman was getting back at her man for beating her. The first time I watched the movie I almost entered the computer. I was so mad to see the first scene where he was beating her.

Today I was having a bath and I had that same flash at the corner of my eye. I paused for a few minutes and noticed I didn't have anger bubble up in my belly for him. The only thought I had was, "I should probably check this eye out with an optometrist"

I realized I have released those old feelings and hurt. I have forgiven the teenager for not knowing better and I have given up any hopes that the past could have been different. I think I also see how that served me. All my years of dating, even when I wasn't sure what my 'spec' was or if I liked someone enough, any sign of beating or violence was the end of the relationship. Not because I was scared someone could hurt me again but because I knew I was going to kill anyone who lay a hand on me and I didn't have plans of spending my life in jail.

It feels now like I am talking about another person when I think of the beatings my teenage self-received. I probably am.

If you are reading this and are currently experiencing violence in your relationship please don't ask me what to do. I am not born again, my advice will definitely put you in jail.

I just wanted to share a piece of my experience.

I hope everyone had a restful holiday?

Arksville did.

Sending you love and light.

Namaste