In line with the theme of this year's International day for Girl child, "Girls Progress = Goal Progress",
at AYAHAY Foundation, educating the girl child has been our priority. To celebrate this day however, AYAHAY Foundation announce the establishment of education centers in Abuja and Adamawa, educating internally displaced persons, and the foundation hopes to establish 8 more centres in a bid to educate more girls especially from Northern Nigeria…..
As the world marks the International day for the Girl Child, "we are proud to also state that empowering girls through our scholarship programs over the years has been rewarding, the girls opportuned to have been part of the scheme from Kebbi, Adamawa, Yobe, Sokoto and Borno have continued to perform creditably well" , says Mrs Maryam Augie Abdulmumin, founder of the foundation.
Mrs Augie-Abdulmumin also announce that AYAHAY Foundation, through its Empowerment through Education program, has constructed Early Childhood Education Centers (ECEC) in FCT Abuja and Malkohi, Adamawa State to educate vulnerable kids displaced by Boko Haram.
"For us it is about how much we can do for the 10 million plus out of school children in Northern Nigeria, add that number to those displaced, we had to get them in school even as they're in the various IDP camps. We have a target of 500 women and 500 children before the end of year." says Maryam Augie Jibrin, Executive Director of the Foundation.
Mrs Jibrin stated, "The Centres offer the space, materials, and activities organized to promote active exploration and learning for children between the ages of 3-6, and also psychosocial therapy for the kids.
The Education program is under the AYAHAY Foundation's Gift Basket Initiative, which was started in 2014 with the sole purpose of providing relief materials to the men, women and children who have become internally displaced as a result of the Boko Haram insurgency in North-Eastern Nigeria.
Hajara Tafida-Isa, Program officer of the Foundation says "we know that providing relief materials is a short-term solution to a long term problem. This led to the birth of our Empowerment through Education Program."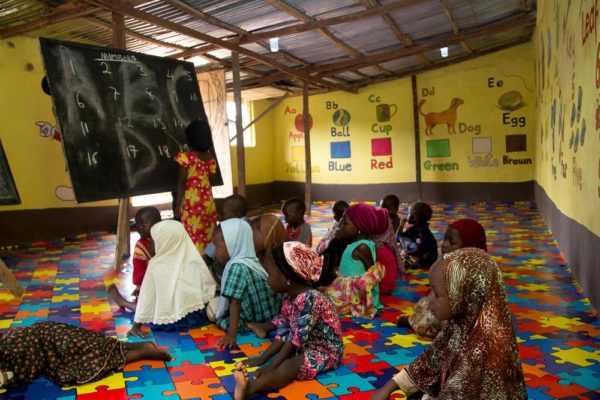 "Statistically, it can be seen that between 2014-2016, there was 89% increase in the number of IDPs, also 95% increase in the number of IDPs that were out of school. Similarly, 90% of schools were destroyed in the affected areas." Ms Tafida – Isa Maintained.
"The Early Childhood Education Centers are 2 out of 10 centers that the Foundation plans to set up in IDP camps and host communities in Northern Nigeria." Program officer of the Foundation added. "We have 92% of IDPs living in host communities, but only 8% in IDP camp."
Ms. Hajara further explained with details that the Abuja Center is at the Durumi IDP Camp which has a population of two thousand, seven hundred and seventy-four (2774).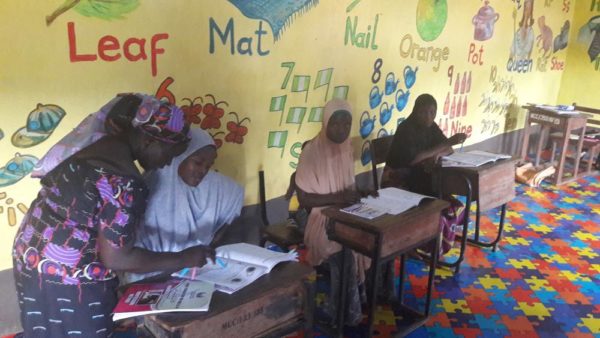 "There are currently 50 children at the Abuja center and we are targeting 500 children in all the 10 centers. The center in Adamawa State is located at Malkohi, a community with a population of about eight thousand (8000). The center will cater to the educational needs of the IDP and the host community." She maintained.
To make it conducive, the centers are built using mud blocks, thatch and have bamboo in the walls for ventilation. The items according to the facility manager, Mr Onyedikachi Izuegbu. "Will help keep the class cool even in the hottest days. "Handmade light bulbs made of chlorine and water which reflect the rays of the sun into the classroom were inserted through the roof because of the lack of electricity."
"We have also initiated a second branch of the program which is the Adult Learning Program" He added.
"To ensure that our pupils get the right amount of help with their schoolwork while at home, their mothers have also been enrolled into our adult literacy classes where they will learn literacy and numeracy. All our teachers and instructors are Internally Displaced Persons." He concluded.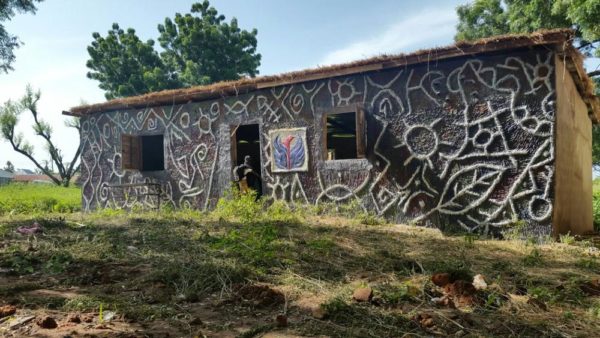 AYAHAY Foundation in its efforts as part of its nationwide education outreach program in the country set up a scholarship program for bright children from Northern Nigeria. There are currently 12 students in the program who attend well-recognised schools in Northern Nigeria such as El-Amin International School, Minna, Niger State.
AYAHAY Foundation was established after two of Ms Augie's close friends, Fatima and Aisha Yahaya, died in a car accident (AYAHAY is Yahaya spelled backwards.) The foundation, which is now made up of Maryam and about 20 other young individuals in different fields, has since 2013 been helping women and children especially, by equipping them with relevant entrepreneurial skills and providing them with relief materials.
AYAHAY Foundation before now, provided relief materials for the three northeastern states, Borno, Yobe, and Adamawa, which have for a very long time been afflicted by attacks from terrorist group, Boko Haram.
Website: www.ayahayfoundation.org
Twitter: @infoAYAHAY
Facebook: AYAHAYFoundation