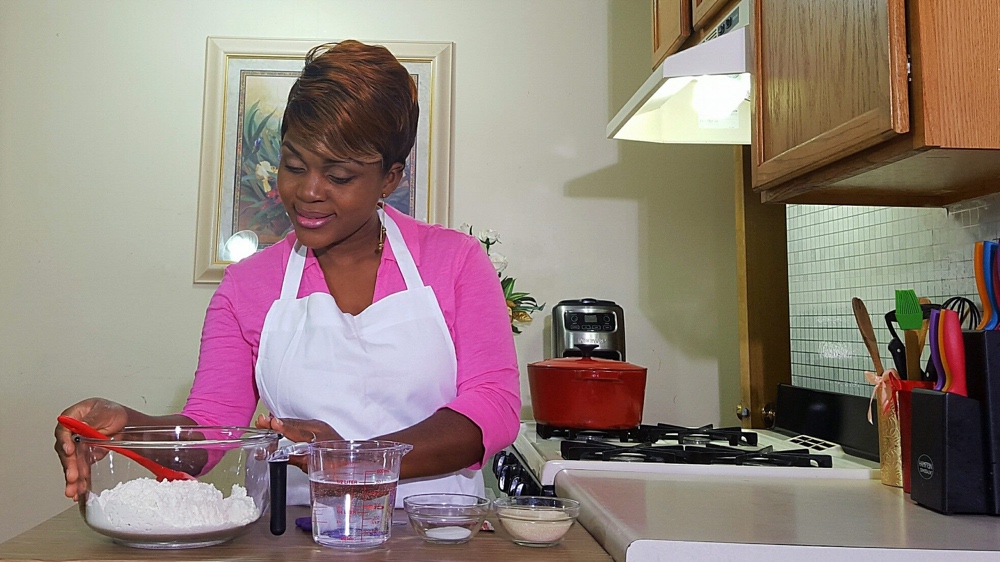 Hello my BellaNaijarians, long time no see!
Believe me when I say I have missed sharing my recipes with you. I'm back with another episode of deliciousness. This time it is the Coconut Fried Rice, a meal which totally deserves celebrity status. I'll tell you why.
Last year I attended a girlfriends' potluck party with ladies who do own beauty businesses as me. Apart from being an obsessive cook, I am a beauty consultant for a well known beauty brand but that's a story for another day. So, everyone had to bring a meal or dessert for our pretty little party. I chose to bring Coconut Fried Rice because I thought the ladies will like it.
We are from completely different races – African (Cameroonian), African-American, Caucasian, Italian-looking (I'm kidding here). Sometimes I develop a headache thinking of what could be a crowd pleaser when I have to feed people from different races.  Does anyone else in this obodo oyibo face this struggle?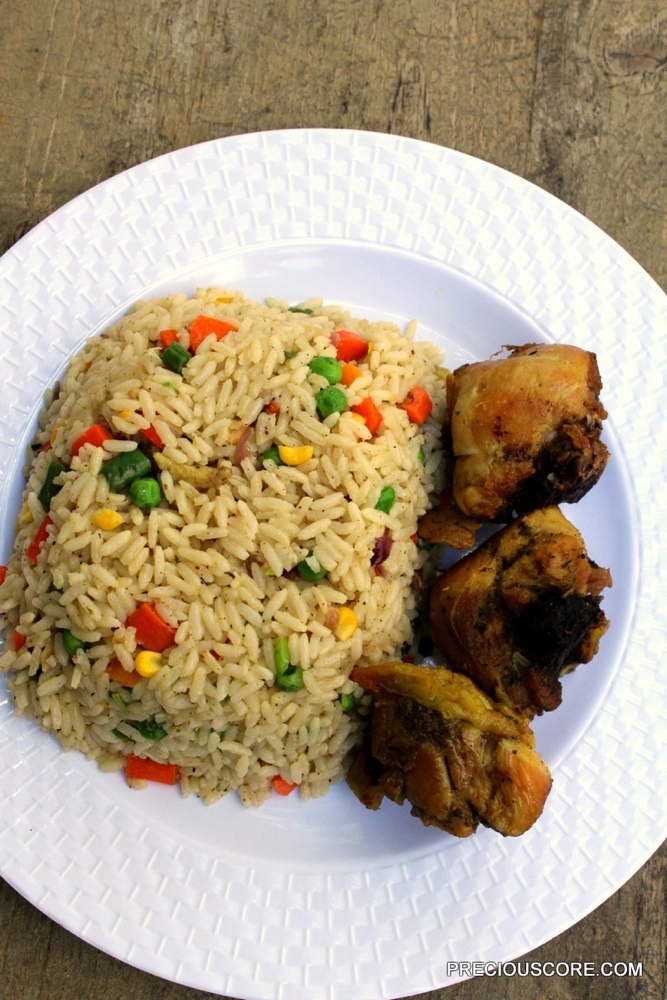 So I trusted my gut and made a bowl of coconut rice and stormed the party like a star. Ladies and gentlemen, the dish was a WINNER. The moment the ladies started tasting it, they started saying my name and uttering things like:
"This is so good!"
"How did you make this? It is absolutely delicious!"
"Can I get the recipe?"
I hate to admit this but these compliments brought a few drops of water to my eyes. As in, food made me emotional. I'm not joking. The thing is it showed me the power of a delicious pot of food. There is just something about a meal that appeals to a wide range of people. There is something unifying about it. And it brings stardom into the life of the cook- even if it is only for five minutes. This is totally what my pot of coconut fried rice represents. It is a meal that is hard not to love.
You can't blame me for loving coconut this much. The fruit-nut-seed thing called coconut which God made is a blessing to this planet. The flavour, health benefits, texture, everything about it is good! And the Lord said it is good!
Coconut brings its epicness once again into this fried rice. The rice is boiled in rich coconut milk then stir fried with extra virgin coconut oil and vegetables. It is simple, easy to make and bursting with coconut flavour.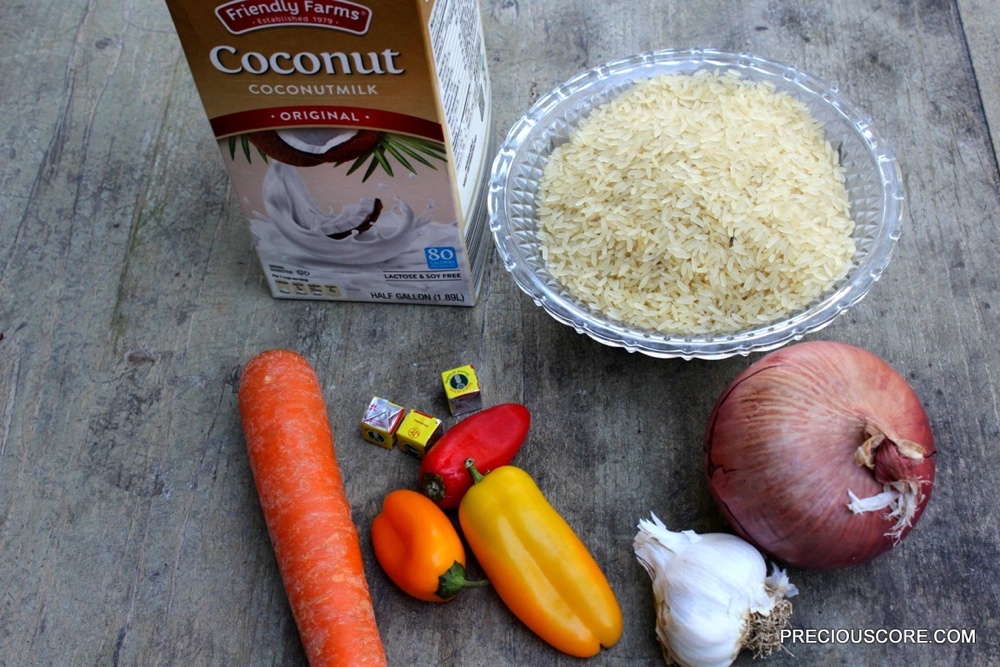 Ingredients needed
2 cups of parboiled rice
2 cups of coconut milk
2 tablespoons extra virgin coconut oil
1 onion- chopped
1-2 cups of diced mixed vegetables of choice (I use carrots, sweet corn, peas, green onions and bell peppers)
1 teaspoon salt
2 small seasoning cubes (Maggi or Knorr)
2 garlic cloves- chopped
1 blended hot pepper (optional)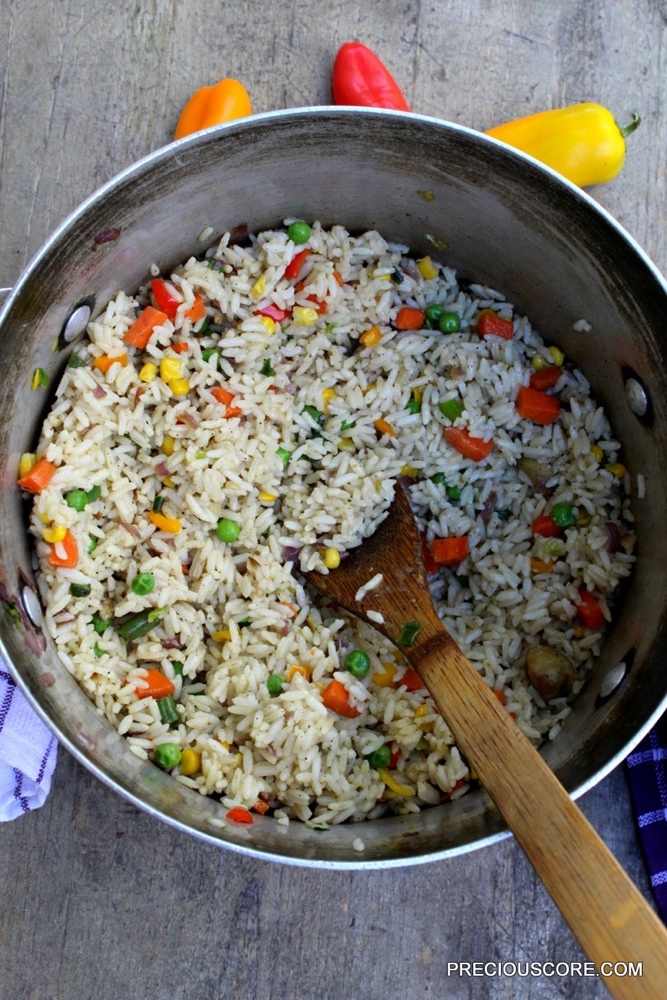 Step 1
In a pot, boil the rice in coconut milk, half a teaspoon of salt and two cups of water until done.
Step 2
Heat up the coconut oil in a separate pot or wok. The aroma that comes from heating up this oil is to die for. Is there an essential oil with coconut as its flavour? I want to spend the rest of my life breathing that in.
Step 3
Add in the chopped onion and garlic and saute until fragrant. Be careful to not let them burn. If using hot pepper add it in at this stage.
Step 4
Add in the mixed vegetables, seasoning cubes and stir well.
Step 5
Add in the boiled rice and mix everything together until well incorporated. Let your pot stay on the heat so all the ingredients can marry  for about five minutes then you turn off the heat.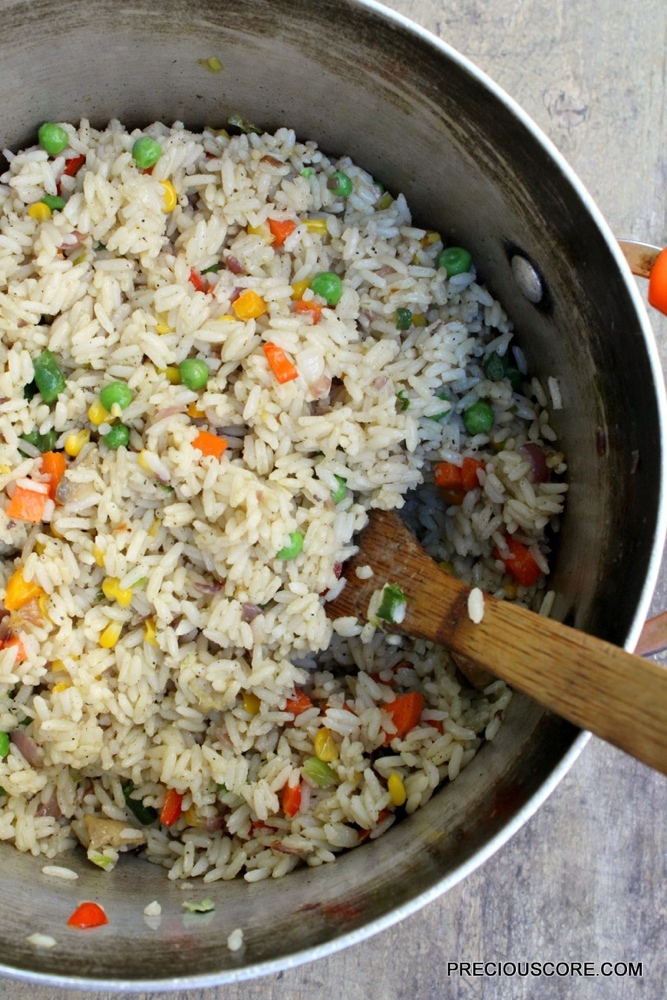 Ladies and gentlemen, serve this with some perfect roast chicken, fried chicken or grilled fish. Can I get an amen?
P.S: If you make this recipe, please tag a photo on Instagram @preciouscore. I'll love to see!