Hello BellaNaijarians!
Welcome to the last month of the year! Whoop! Whoop!
Here's the list of the exciting events happening this weekend, as well as those for the rest of the year.
**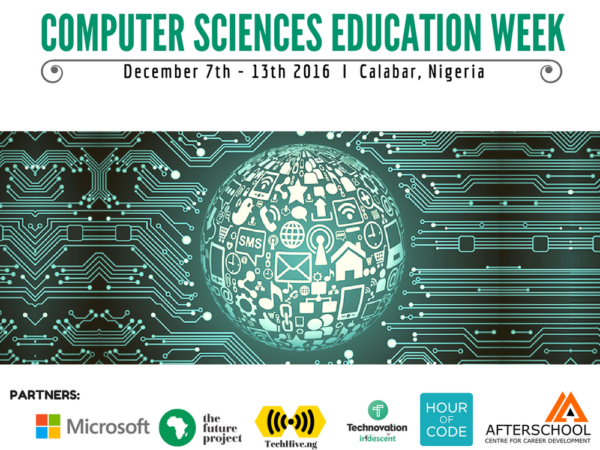 Computer Sciences Education week 2016
As part of its objectives to proving learning and growth opportunities for young people in Nigeria, Afterschool Centre for Career Development is partnering with Microsoft Nigeria, The Future Project, TechHiveNigeria and Techonovation to implement the Computer Sciences Education Week 2016 through the HOUR OF CODE initiative.
Date: December 7th – 13th
Schedule:
* School Based Hour of Code Workshops in Schools: December 7th & 8th, 2016
* Digital Footprint Class- December 9th-12th 2016 – http://bit.ly/digitalfootprintclass
* Girls Coding Day: Monday, December 10th 2016
* #CodeCalabarConference: Tuesday, December 13th 2016 – http://bit.ly/codecalabar
---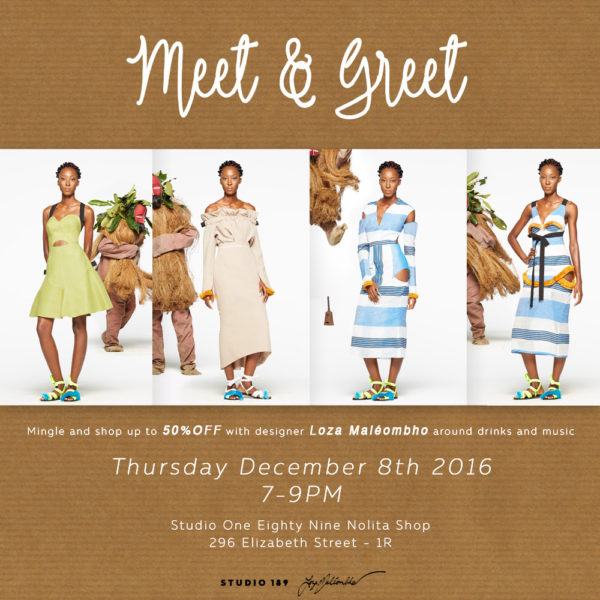 Meet and Greet with Loza Maleombho
Date: Thursday, December 8 2016
Time: 7PM – 9PM (EST)
Venue: 296, Elizabeth Street, New York, NY 10012
---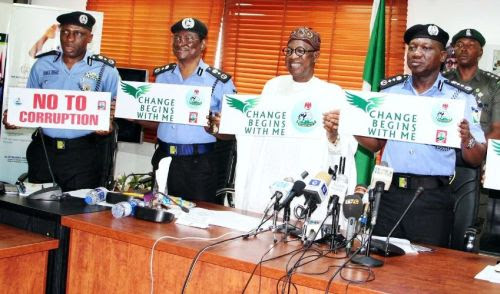 How To Fix Nigeria
Who is really 'fantastically corrupt'? What is being done to tackle corruption both in Nigeria and internationally? Is this era of economic recession and ongoing security challenges the right one for Nigeria to definitively tackle corruption?
Date: Friday, December 9 2016
Time: 7PM – 9PM
Venue: B5 Auditorium, Ground Floor, Franklin-Wilkins Building, King's College London, 150 Stamford Street, London SE1 9NH
---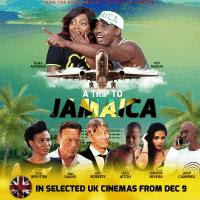 A Trip to Jamaica London Premiere
Venue: Odeon Cinema, Bugsby Way, Greenwich, SE10 0QJ
Dates/Times:
Friday, December 9 2016 – UK Premiere Night & Screening
Time: Red carpet 8.30PM, Screening: 10PM
Cast & Crew in attendance
Tickets: £20
Saturday, December 10 2016
Time: 6PM
Tickets: From £10.50
Sunday, December 11 2016
Time: 6PM
Tickets: From £10.50
Tickets will be available for sale from Friday, December 2nd at www.odeon.co.uk / More Info: 07946-811253/info@djamedia.com
---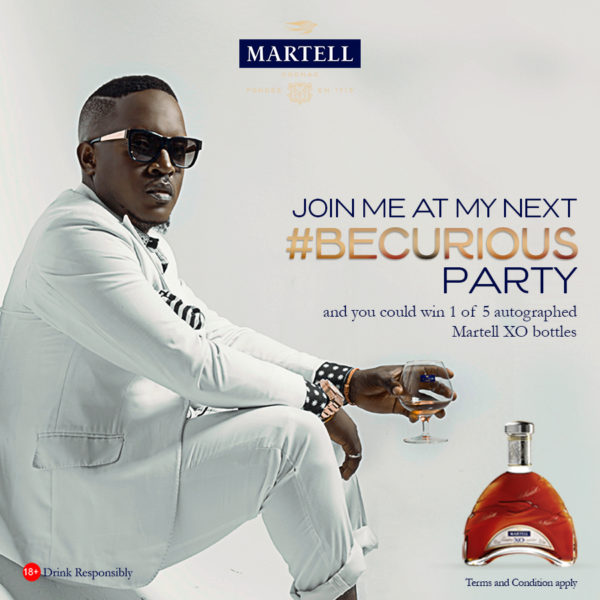 Martell #BeCurious Party
Join Mr. Incredible (MI) himself as he hosts the second edition of the Martell #BeCurious event in FESTAC! Discover the night a different way with electrifying performances from Phyno and DJ Lambo on deck, in what is set to be a memorable experience.
Date: Friday, December 9 2016
Time: 10PM
Venue: Amigos NightClub, Plot 606, 41 Road by 4th Avenue, FESTAC Town, Lagos.
---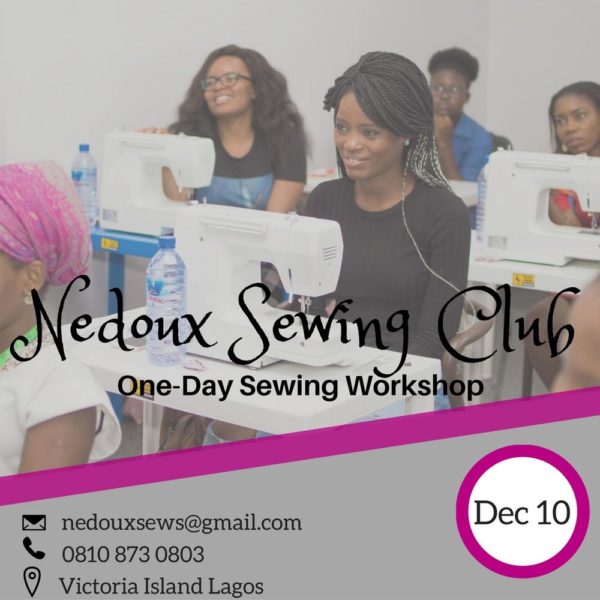 NSC December 2016 Sewing Workshop
The Nedoux Sewing Club is holding a one-day workshop for absolute beginners who are interested in acquiring valuable DIY sewing skills in a social setting.  At the end of the workshop, each participant would learn how to sew trendy staple garments using an electric sewing machine.
Date: 
Saturday, December 10 2016
Venue: Victoria Island, Lagos
---
Date:
Saturday, December 10 2016
Time: 10AM
Venue: 7, Agulu Lake Street, Ibrahim Babangida Way, Maitama, Abuja
---
WIN foundation Charity Garage Sale
Women Impacting Nigeria Foundation (WIN) is hosting a charity garage sale, musical concert and Christmas party for children from House of Gold Children's Hospice, The Cerebral Palsy Centre, The Modupe Cole Home, The Children of Makoko Community and Bethesda Schools. Proceeds will be raised to provide full scholarship for over 500 children currently wait listed for the 2017 academic year 
Date:
Saturday,
 December 10 2016
Venue: Civic centre waterfront, Victoria island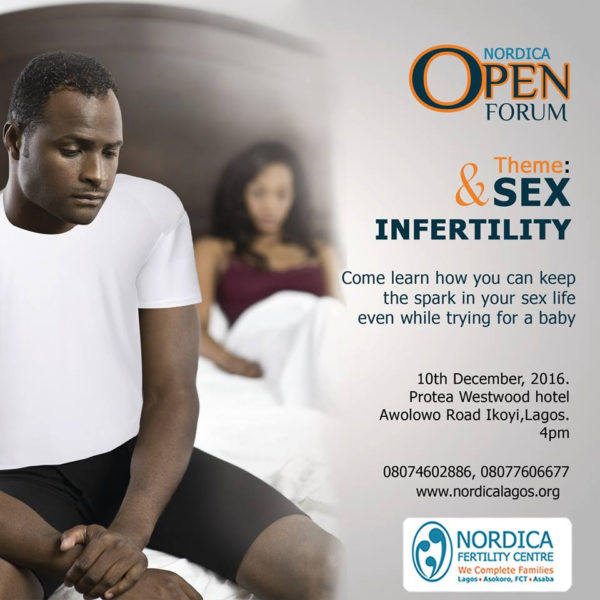 Nordica Open Forum: Sex and Infertility
Infertility is such a major life stressor, it usually wreaks havoc on a couple's sex life. At this event, renowned Fertility Counsellor and Sex Therapist, Tola Ajayi will walk you through tips for a better sex life when dealing with infertility
Date: Saturday, December 10 2016.
Time: 4PM
Venue: Protea Westwood Hotel, Awolowo Road, Ikoyi, Lagos.
Cost: FREE!
To reserve your space, please fill our online reservation form here- http://unbouncepages.com/evento-2435/
For more information, contact: info@nordicalagos.org or call 0807 460 2886
---
Comics and Cocktails Costume Party
It's this weekend! Yay! We've got so many reasons to celebrate the great year we've had. Thanks to you! We're having a roof top costume party Join #ComicRepublic this Saturday at the Comics and Cocktails Costume Party.
Date: Saturday, December 10th, 2016
Time: 4PM till late!
Venue: @bldbyplay Rooftop, 15A Admiralty way Lekki Phase I, next to KFC.
Gate fee: It's Free!
Cash prize for the best costume.
---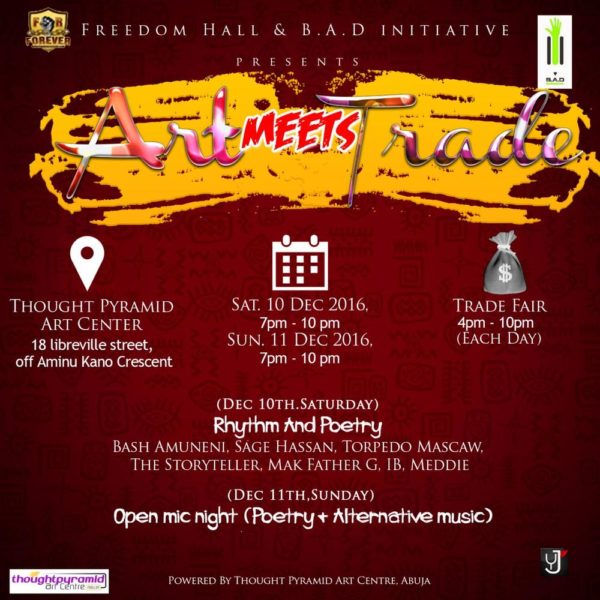 Art Meets Trade In Abuja
Exciting line up:
TRADE FAIR (Art & Fashion sales)
Saturday December 10 & Sunday, December 11, 2016
4-10PM
Rhythm and Poetry (RAP) Party
7PM-10PM on Saturday December 10.
Performing: Bash Amuneni, Sage Hassan, Dike, Torpedo Mascaw, The Storyteller,Mac Father G, Ruddolph, Yasky, Skye, IB, Meddie & others.
Open Mic Night
7PM-10PM Feat. THE ISOMERS & other acts on Sunday, December 11, 2016.
Venue: Thought Pyramid Art Centre, 18 Libreville Street, off Aminu Kano Crescent, Wuse II, Abuja
---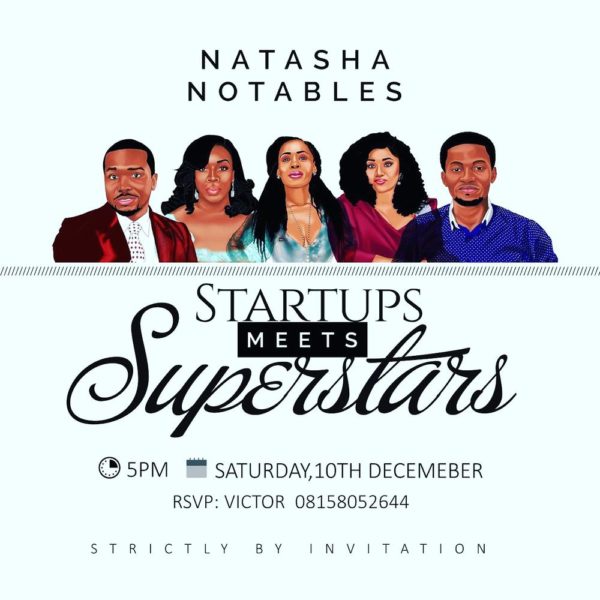 StartUps Meet Superstars
Natasha Notables presents its launch event tagged Startups meets superstars, an invigorating experience for young entrepreneurs going through challenges starting up their business or staying afloat, join the conversation as we bring you panelists of young entrepreneurs who are doing great things in their various fields.
Date: Saturday, December 10 2016
Time: 5PM
RSVP: Victor – 08158052644 @natashanotables @eventsbyclaud
#natashanotables #startupsmeetssuperstars
---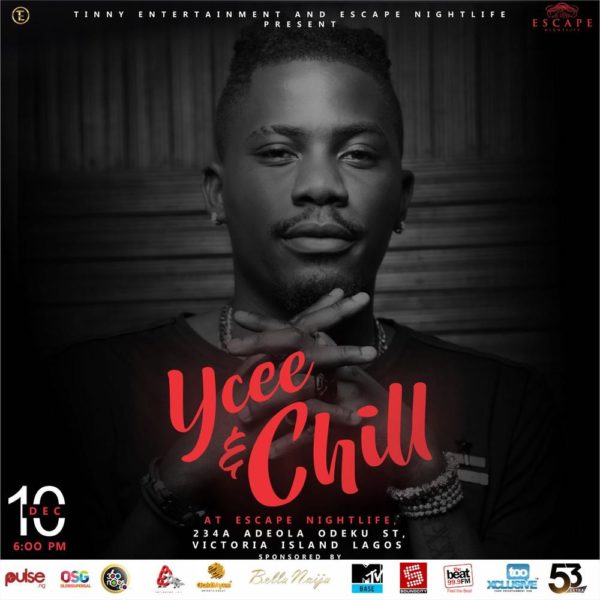 YCee & Chill
Fans of the Tinny Entertainment star will have a rare opportunity to watch Ycee perform his repertoire of hits in a rare and unprecedented fashion as Ycee thrills with a live band.
Date: Saturday, December 10 2016
Time: 6PM
Venue: Escape Nightclub in Lagos.
---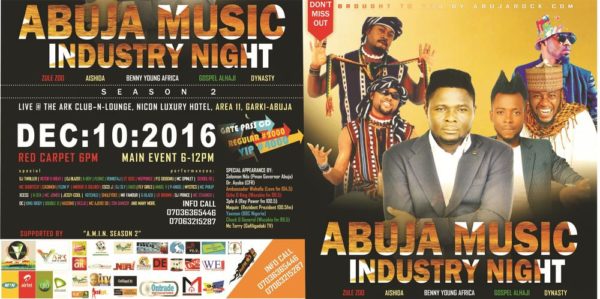 Abuja Music Industry Night  2
The event is to improve the standard of Abuja Entertainment Industry, working hard to encourage the city based celebrities to also embark on hosting events as it will help in promoting the city entertainment and the celebrity brand.
Date: Saturday, December 10 2016
Time: 6PM
Venue: The Ark Club -N- Lounge, Nicon Luxury Hotel, Area 11 Garki, Abuja.
---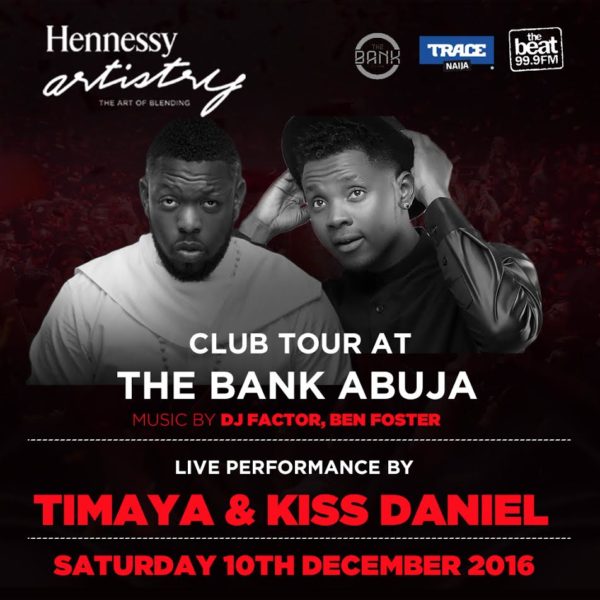 Hennessy Artistry Club Tour
Come party with Timaya and Kiss Daniel live and Hennessy this Saturday at The Bank Abuja!
Music Policy: DJ Factor & Ben Paul
Date: Saturday, December 10 2016
Venue: The Bank Abuja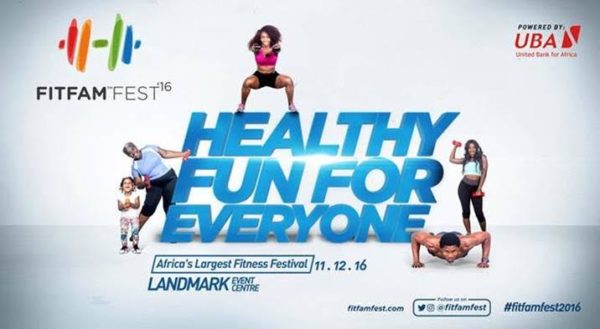 FitFam Fest
The festival is bringing this holistic campaign to Lagos, and it would be the first of its kind. It is themed "Healthy Fun for Everyone". It is going to be a celebration of fitness and wellness attracting men, women and children of all ages. Top notch trainers and fitness enthusiasts will converge in one place to throw out an array of fitness and beauty activities that would make Lagos the fitness capital of Africa.
Date: Sunday, December 11 2016
Time: 7AM
Venue: Landmark Events Centre, Victoria Island, Lagos.
---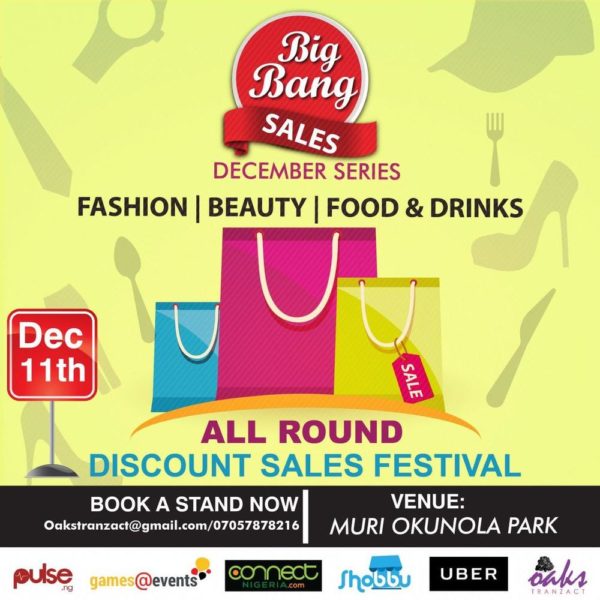 Big Bang Sales
Eye-popping, mouthwatering SALES you definitely don't want to miss! 
Date: Sunday, December 11 2016
Time: 11AM
Venue: Muri Okunola Park Victoria Island. .
You can also be part of the experience by showcasing your products and services. All you have to do is simply book a stand by calling 07057878216 or sending a mail to Oakstranzact@gmail.com.
---
The Food Expo Abuja
Abuja's most celebrated food exposition is back again with another edition on – Sunday 11th December 2016. The Food Expo Abuja over the years has been able to provide a vibrant and relaxed platform to connect food vendors in Abuja with CERTIFIED FOODIES, who are on a hunt to taste and experience a unique mix from the best food brands across Nigeria. 
Date:
Sunday, December 11 2016
Venue: Maitama Amusement Park
---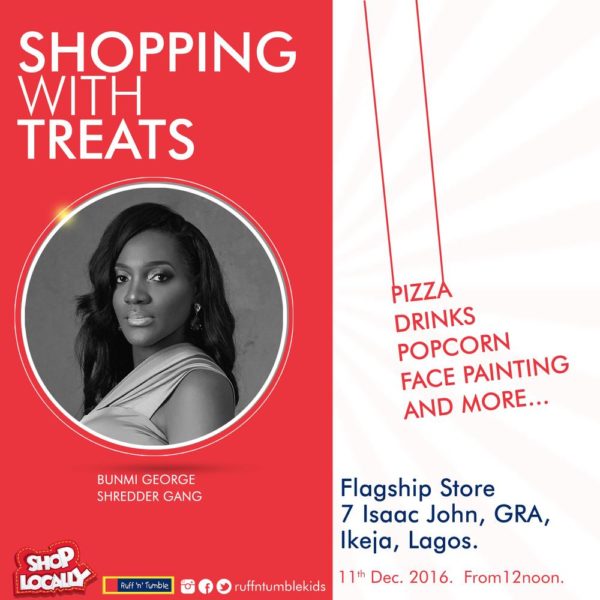 Ruff 'n' Tumble Shopping with Treats
Date: Sunday, December 11 2016
Time: 12PM
Venues: 7, Isaac John, Ikeja GRA, Lagos and Apo Mall, Apo Abuja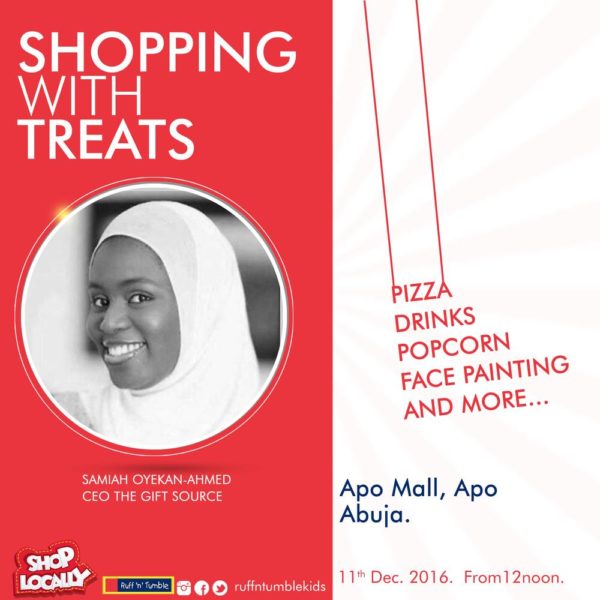 ---
Ejiro Amos Tafiri New Flagship
Date: Sunday, December 11 2016
Time: 12PM – 6PM
Venue: 9A, Adeboye-Sholanke Street, Allen Avenue, Ikeja
RSVP: 09099877279
Dress Code: Chic and Stylish
Cocktails and Dresses
The Grand Ballroom of the Intercontinental Hotel, Victoria Island, Lagos will set the perfect stage to showcase the rich and diverse culture and the economic wherewithal Africa has to drive the emergence of a global fashion power and the event space will be transformed into a fashion exhibition gallery.
Date: Sunday, December 11 2016
Time: 12PM – 9PM
Venue: Intercontinental Hotel, Victoria Island, Lagos
For more information, kindly visit: www.dressmeoutlet.com/cocktailsanddresses Or call: 08091015033/ 08149573509
---
TIFÈ Pop Up Store Official Launch
Date: Sunday, December 11 2016
Time: 2PM
Venue: 7A, Ayo Jagun Street, Lekki Phase 1
---
A Husband's Wife
This December MAJMUA THEATRE brings to NUC, Maitama Abuja the dynamic duo of Tina Mba and Femi Branch  in Tyrone Terrence's A' Husband's Wife' Directed by Toyin Oshinaike and Produced by Abiodun Kassim.
Date: Sunday, December 11 2016
Time: 3PM and 6PM
Venue: NUC, Maitama Abuja
Tickets: Regular 5,000 VIP 10,000
Call Damola on +2348063875923
---
Relationships 2.0: The Unfinished Business
Join Noble Igwe, Daddy Freeze, Charly Boy and Joke Silva as they discuss the intricacies of Relationships in
a Conservative Nigeria at SWORTE Talks.
Date: Sunday, December 11 2016
Time: 3.30PM
Venue: The Wheatbaker Hotel, 4 Onitolo (Lawrence Road), Ikoyi, Lagos
Organized by the Stories Worth Telling Foundation (SWORTE Talks) #SWORTETalks5
Pole Dance Fitness showcase
This fitness event which is very different from stripping" aims to dispel the myths about pole dance fitness and raise awareness for the fitness benefits and confidence boost it offers.
Date: Sunday, December 11 2016
Time: 3.30PM
Venue: Bailamos Dance Studio, 41B, ALakija Street, Lekki Phase 1
---
The witness 
is an evening of inspiration and motivation. There will be soul lighting music from Elwoma and FLA will be unveiling 3 books and sharing stories behind each book. 
The witness will be a great time to relax, catch a vision, get inspired and fan your dreams to life.
Date:
Sunday, December 11 2016
Time: 4PM
Venue: Cornerstone Youth Church, no 15 adelabu street, surulere, lagos.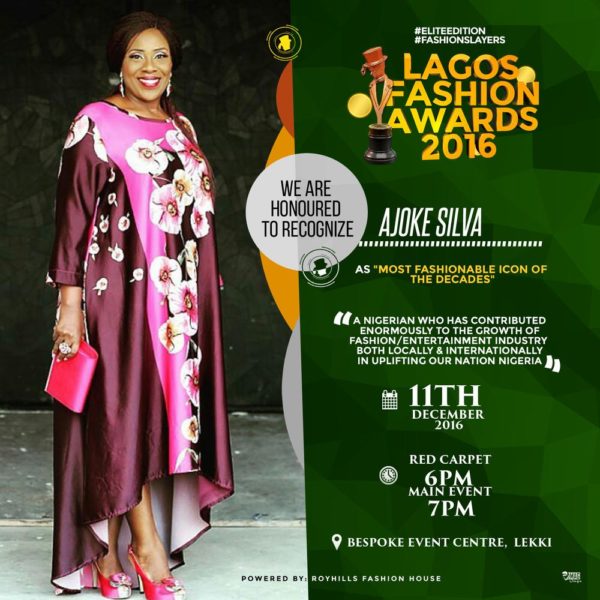 Lagos Fashion Awards 2016
We are Honoured to Unveil This Great Nigerians at LAGOS FASHION AWARDS 2016 Who have contributed enormously to the growth of the fashion/entertainment industry both locally & internationally in uplifting our nation Nigeria.
Date: Sunday, December 11 2016
Time: Red Carpet 6:45pm Main Event 7:45pm
Venue: Bespoke Event Centre,  Lekki
For Enquiries and Table Reservations Please Contact 08037984961 or 08116392377
---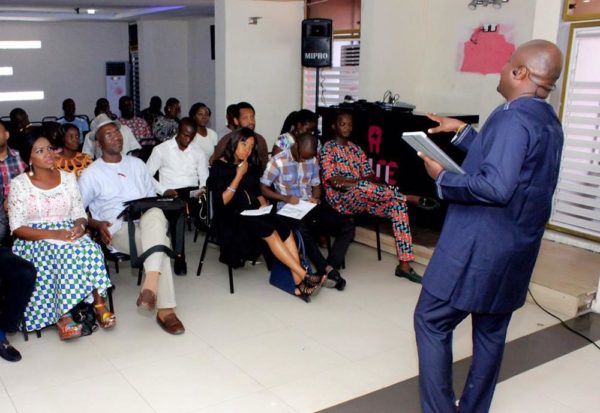 Skills Development Workshop
At this year's grand finale of #skillsdevelopmentworkshop, past participants get a free CV vetting and review to land them that dream job. The workshop will also have experts discuss Leadership in times of Crisis and take questions in different areas bothering attendees.
Date: Monday, December 12 2016
Time: 9AM – 4PM
Venue: Fuse Lounge and Event Centre, 46, Saka Tinubu Street, V.I. Lagos.
---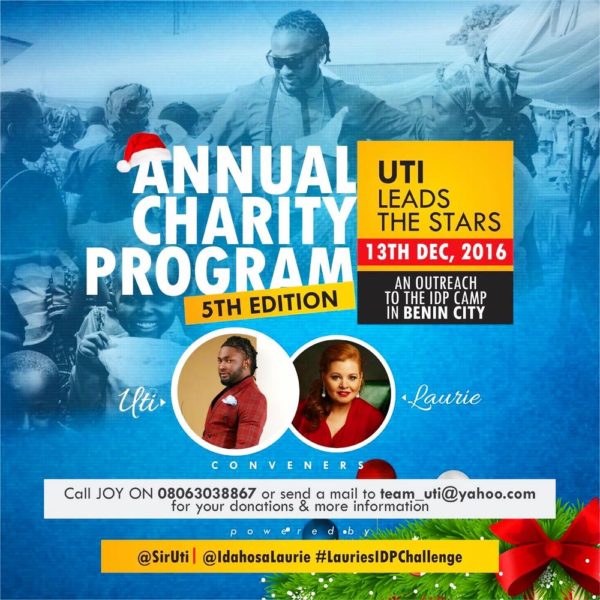 Uti Leads the Stars
The 5th Edition of the annual charity program titled : Uti Leads the Stars, is going to… BENIN CITY this year!!! And we are partnering with #LauriesIDPChallenge to Reach the Windows and Children at IDP Camps.
Date: Tuesday, December 13 2016
For enquiries and donations email: team_uti@yahoo.com or call Joy on 08063038867.
---
**
Week Three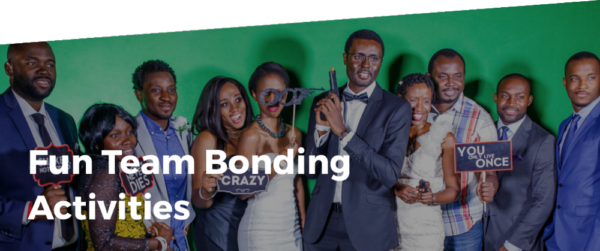 The Unofficial Christmas Party – "Owambe"
The theme for this year is "Owambe" – A grand party thrown by Nigerians (mostly Yorubas) which usually features mouth-watering local dishes, fast-beat and loud Nigerian music accompanied by the latest "gbedu" dance moves, spraying money on one another and having a great time.
Date: Friday, December 16 2016
To register your team, click HERE
---
The Future Awards Africa 2016
The highly anticipated African youth awards is here again! How are you shaping your society? Join the conversation using the hashtag#ShapingTheFuture #TFAA2016.
Date: Sunday, December 18 2016
Time: 5PM
Venue:  Federal Palace Hotel, Victoria Island, Lagos.
For more information, visit awards.thefutureafrica.com. Follow @TFAAfrica to keep up with the latest news on TFAA.
The official hashtag for 2016 is #TFAA2016
---
**
Week Four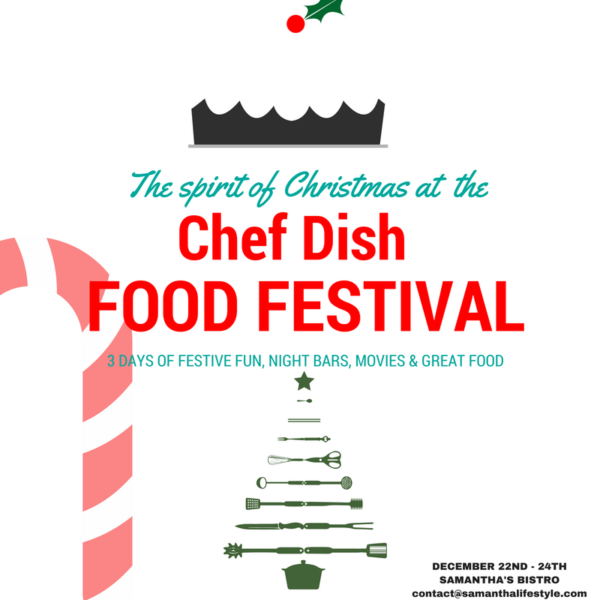 The Spirit of Christmas
Enjoy the great outdoors again as we share our love of good food, drinks and entertainment from our local community of chefs, restaurants, mixologists and foodpreneurs.
Date: Thursday – Saturday, December 22 -24 2016
If you are interested, register here. Registration closes December 5th.
---
Rhythm Unplugged
Same Turn Up! See you at Eko Hotel & Suites. Get excited! Rhythm Unplugged is the ONE entertainment concert to attend every December.
Date: Friday, December 23 2016
Time: 8PM
Venue: Eko Convention Centre, Lagos
Tickets: Standard: ₦5,000, VIP ₦25,000
For Table Bookings and enquiries, please email info@flytimeltd.com.
Tickets are available online only at  www.naijaticketshop.com.
---
**
Week Five
Olamide Live in Concert 3 (OLIC3)
It has been an amazing year for indigenous rapper, Olamide. To crown the many successes of 2016 and give back to his loyal fans, Olamide has announced the 3rd edition of Olamide Live In Concert. This December, Achievas Entertainment , YBNL Nation Entertainment and Right Entertainment  team up to bring to fans of Olamide, the Beast Mode III. 
Date: Monday, December 26 2016
Time: 7PM
Venue: Eko Convention Centre
---
Soundcity MVP Award Festival
The Soundcity MVP Award Festival takes off with a big bang this year with a power-packed line up of music performances and star appearances by African artistes and celebrities. Soundcity (TV, Radio & Digital) will be rewarding industry professionals and music artistes in various spheres of the music entertainment industry including achievement, resilience, music excellence, hardwork, and creativity.
Date: Thursday, December 29 2016
Venue: Eko Hotel, Lagos.