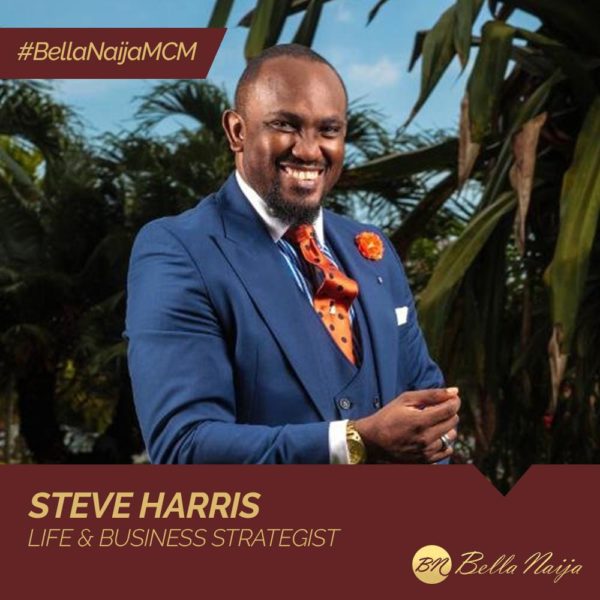 The #BellaNaijaMCM is a new column on BN where we highlight men -from all walks of life – whose stories are an inspiration to us.
**
Not many people in the world today can boast of dropping out of university, and then going on to become successful in their field of endeavour, but here is a man who did not just drop of out of the university once, but twice!
That was not a deterrent to him, as he is now leading a successful life as a Management Consultant, and a Life Strategist.
Because his grades were not up to par he was "advised to withdraw" from the University of Benin in 2004.
He enrolled in Madonna University that same year but left after 7 months because of the embarrassment. Wrong move you may say…. yes it was. Steve even agrees.
Steve came back home and was depending on handouts from his younger sister who was now working in one of the airlines in Nigeria. One day, the sister got fed up and told him there was no more money for him.
Steve had gotten the card of one of the leading Motivational Speakers – Fela Durotoye – who was the CEO of VIP Consulting at the time. He met up with him and told him of his challenges.
Fela encouraged him and began mentoring him.
Steve said at the time, he was working as an office assistant on a N10,000 per month salary. He later resigned to volunteer in Fela Durotoye's firm.
He says he volunteered for 5 months without pay, but he gathered enough experience.
He also, out of his own volition, drew up a marketing strategy for sales of Fela Durotoye's information products – Fela Durotoye's dire need at the time.
He began working in Fela Durotoye's firm, learning all he could until his opportunity came; Fela Durotoye had a training engagement in one of the banks, but he hadn't completed the training with another company. He called a couple of associates but they were busy and could not make it for the training scheduled to start in less than 24 hours.
After much deliberation, Steve stood up and said he could do it. He had been taking notes from Fela's sessions and practising with his mirror for months. Here was the opportunity, and he had to step up to the plate.
After a fountain of fear and a wind of pep talks, Steve was prepped to take on the role of training new recruits (graduates) of a bank. He went on to deliver an excellent speech and was greeted with claps and a standing ovation. That was the end of being an office assistant. This was in 2006.
Today, Steve is the author of two books; "From College Dropout to Corporate Sellout", and "From Friend to Fiancee".
He's a highly sought after motivational speaker and turn-around expert who guarantees high performance for individuals and organisations in 90 days or less.
In July 2011, he was recognized by the United Nations/YFP as a Young Ambassador For Peace due to his increased impact, inspiration and selfless service to the Nigerian youth.
His podcast has been rated among the Top 15 in the Training category in iTunes and has been downloaded over 200,000 times.
He was also honoured as one of the "Ten Outstanding Young Persons Award" by the Junior Chambers International (JCI) Nigeria in September 2015.
Steve Harris is our Man Crush Monday today!