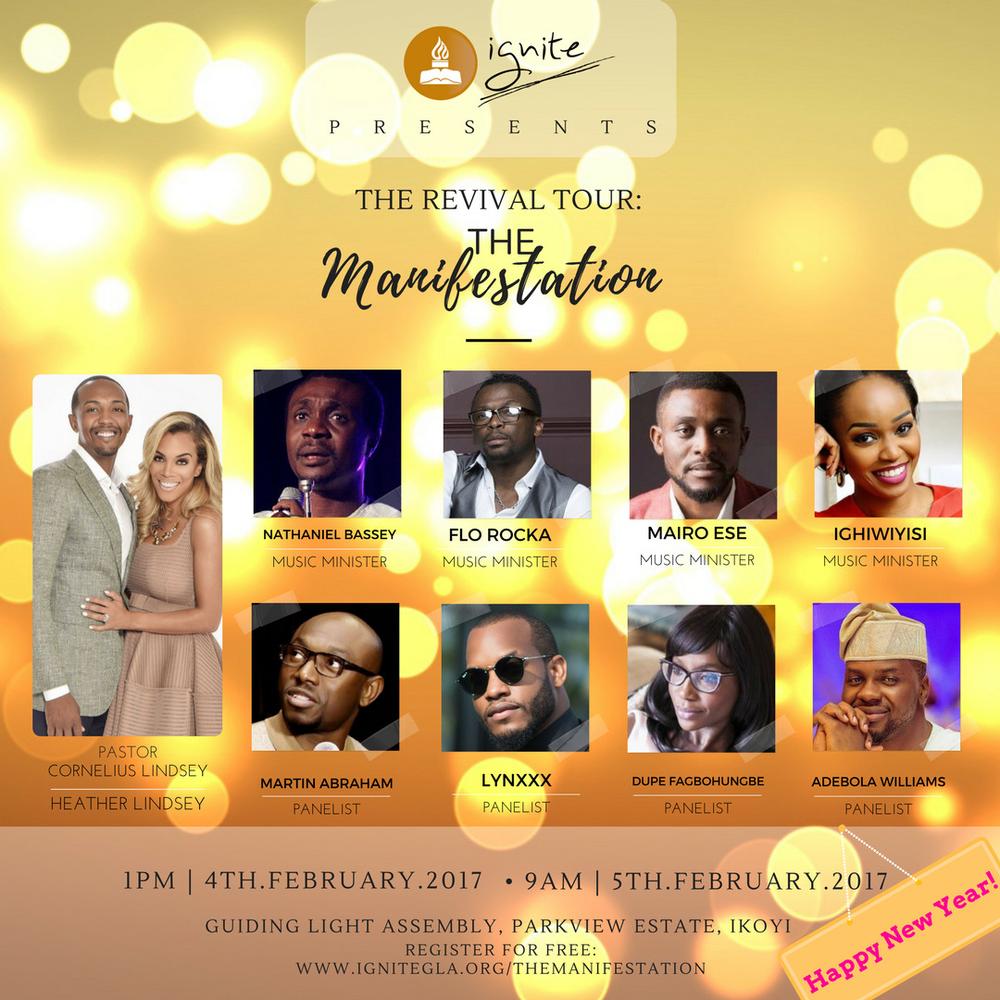 Ignite GLA's youth gathering, 'The Manifestation' is fast approaching. The youth event, which marks the U.S based pastors' first visit to Nigeria, aims to spark a revival in all hearts that will lead to the manifestation of the children of God in our world.
It promises to be a time of refreshing with great music and powerful testimonies from Nathaniel Bassey, Flo Rocka, Mairo Ese, Ighiwiyisi Jacobs, Lynxxx, Dupe Fagbohungbe, and more!
Now, in order to get you set for the 4th and 5th of February 2017, check out four cool facts about the event's headliners, Cornelius and Heather Lindsey:
Cornelius and Heather Lindsey kissed each other for the first time on their wedding day. They made a promise to each other to keep their courtship pure and stuck to it for a year and eight months before marriage!
The Lindseys are now blessed with two adorable children, a 3-year-old son named Logan and a 1-year-old daughter named Taylor. However, before their two bundles of joy, they suffered a miscarriage early on in their marriage, but it only made their faith in God stronger. #RelationshipGoals!
Their latest book, "Fighting Together", is the first book the pastors have written together. Prior to that, Pastors Cornelius and Heather had individually written 7 and 5 books respectively.
Cornelius founded the Man Cave society, which encourages men to obey God and serve as leaders. It has drawn thousands of men from all over the world.
The Pinky Promise Movement, founded by Pastor Heather, promotes purity and obedience to God among women and has grown to over 70,000 women from all over the world in 5 years!
There's even a Pinky Promise movement and a Man Cave society here in Lagos!
Here are the details of the event:
Date: February 4th & 5th, 2017
Time: 9am
Venue: Guiding Light Assembly, Parkview Estate, Ikoyi, Lagos.
Admission is free but registration is required!!
Simply visit http://www.ignitegla.org/themanifestation/ to register. You don't want to miss this!

Ignite is the youth fellowship of Guiding Light Assembly. We are the young members of the GLA family – young men and women in business, young couples, young entrepreneurs; all young Christians who love Jesus and are trying to figure out how to live the Word in an increasingly complicated world. We meet on the first Saturday of every month to gist with the Holy Spirit, ask a lot of questions and to find out what He has to say about our everyday issues.
For more information, kindly contact us at: info [at] ignitegla [dot] org, or ignitegla [at] gmail [dot] com
Or via social media: Instagram: @ignitegla | Twitter: @ignitegla | Periscope: @ignitegla | Snapchat: @ignitegla | YouTube: ignite Gla | Facebook: Ignite GLA | Blog: www.ignitegla.org
Watch!
____________________________________________________________________
Sponsored Content