Experience the Most Advanced Technology with Samsung! Pre-Register for the Samsung Galaxy S8 & 8+, Make an Early Purchase & Get a Free Starter Kit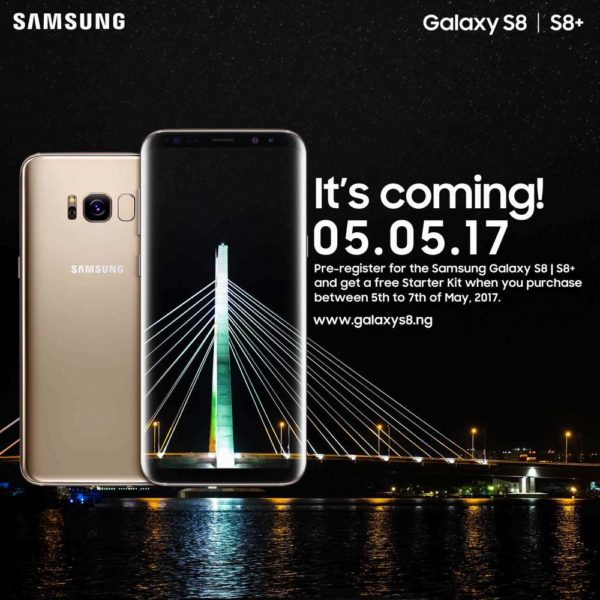 Samsung Electronics West Africa has announced that the 8th generation of its flagship Galaxy S Series, the Samsung Galaxy S8 and S8+, will be available for pre-registration in Nigeria from Monday, April 10th, 2017. The devices will be available in the Nigerian market from Friday, May 5th, 2017.
Successors to the S7 and S7 Edge, Samsung S8 and S8+ come with the most advanced Samsung technology, pushing the boundaries of traditional smartphones with seamless hardware design and a variety of new service offerings.
Paul Lee, Managing Director, Samsung Electronics West Africa, said that the new Galaxy S8 and S8+ are packed with the most refined experience to-date by combining the latest technology to deliver world-class quality and user experience.
"The new Samsung S8 and S8+ are packed with a plethora of features that have set a new standard for the Samsung Galaxy series. The Infinity Display and bezel-less design form a smooth, continuous surface with no buttons or harsh angles. The result is a truly immersive viewing experience without distractions and makes multi-tasking more convenient", he stated.
"Samsung", he said, "places a high premium on security in order to protect content in the devices. The Galaxy S8 and S8+ provide heightened security and privacy, with biometric authentication, including fingerprint scanner, iris scanning technology, and facial recognition so users can quickly and effortlessly unlock their Galaxy S8 or S8+, offering users more authentication options that can be used interchangeably," Lee explained.
The Galaxy S8 has a 5.8-inch display screen, while the Galaxy S8+ has a 6.2-inch screen. They also both feature Super AMOLED display, allowing for clearer videos and images with a resolution of 2960 x 1440 (Quad HD). Both devices are also water and dust (IP68)-resistant. Users do not have to worry about getting the device damaged when dropped in water, as deep as 1.5 meters, for up to 30 minutes.
The Samsung S8 and S8+ are equipped with an advanced 8MP F1.7 Smart auto-focus front camera and 12MP F1.7 Dual Pixel rear camera for the best low-light, zoom and anti-blur photos with enhanced image processing. The camera sensor is refined for better image processing, which enables users to capture photographs and videos. The Galaxy S8 and S8+ are built with more spacious internal storage that starts at 64GB with an expandable memory that can handle up to 256GB via microSD card. With the new Samsung Galaxy S8 series, there is definitely more room for everything, from office documents, games, to videos and photos.
———————————————————————————————————————-
Sponsored Content