Beverly and Habib are college sweethearts who met at Queen Mary University of London which also served as a location for part of their lovely pre-wedding photos. The couple share the "I-can't-live-without-you" kind of love and now, they're preparing to spend the rest of their lives together. #BEIB2017 loading!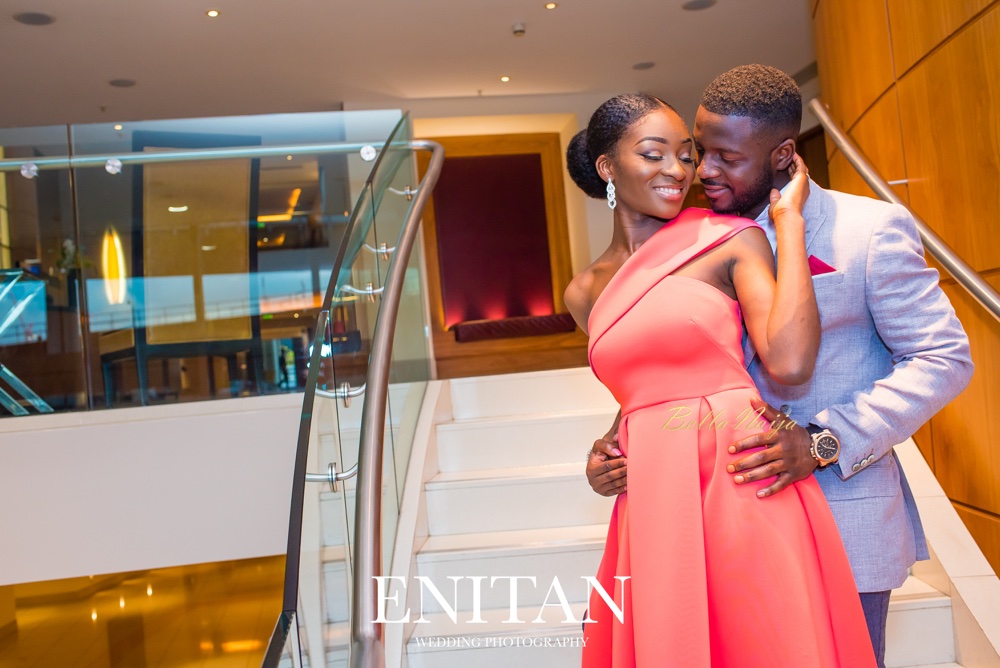 Their proposal story warmed our hearts and it's sure to make you smile as well.
~ Photography by Enitan Photography
The Proposal
From the Bride, Beverley
Habib and I were going for a mini break in Palma de Mallorca, Spain and set off in the early hours of Monday 28th March 2016. Habib suggested going for the beach walk after dinner later that evening, which I agreed was a good plan. Fast forward to the evening that day we went for dinner and afterwards headed to the beach.
On arriving at the beach he asked me to wait in a particular spot and made me promise to not turn around so he could prepare the activity he had planned. I stood there waiting with my back turned, on the beach, under a little tree hut, listening to the waves and wondering what he was up to… (I thought it was a treasure hunt!)
A few minutes later he came over, asked me to keep my eyes closed and to follow the next few instructions. He covered my eyes and guided me to walk to a particular spot, he turned me around a few times so I was slightly disorientated. At this point, I was nervous as I still had my eyes closed.
He stood me in a particular spot and handed me a sheet of paper which I was told to read after I counted to 10. He told me from this I would know where to find him. At this point, I was like OMG, WHAT?! Where are you doing?
But I did as asked, I counted to 10, opened my eyes and looked at the sheet of paper in my hand which was a Poem he had written. I read the poem and just as I got to the last line of the poem which read "Will you Marry Me?"  He asked me to turn around, and there he was waiting on one knee with a beautiful ring in his hand.
There were red rose petals laid out on the sand and candle lights in the shape of a heart with two framed pictures of us in the middle. I was in shock for a few minutes, overly smiling but words couldn't describe my happiness I think I ended up saying YES like twice!
I wouldn't have predicted a proposal like this… It was so far out of his comfort zone which made it all the more special.
You can tell I like stories. I captured most of the feelings in there but in a nutshell. Feelings from curiosity to nervousness to shock to inexplainable joy, happiness and laughter all in the space of however many minutes lol
What advice would you give to young aspiring couples who maybe dating and looking at the prospect of marriage?
Beverley: Asides from committing your relationship into the hands of God as number 1, I would say that no two relationships are the same…so don't get caught up in this "relationship goals" craze and simply enjoy the journey in the way which works best for both of you..you both know the end goal so run your own race at your own pace..together
I would also say discuss things earlier on about the future/marriage and the different things it entails like children, where to live, church to attend, who's going to cook (that last one was a half joke) lol etc. It'll help to ensure you both have a common understanding/agreement and will make the transition into married life smoother.
Credits
Photography: Enitan Photography | @enitan_photography
Makeup: Breelliant MUA | @breelliantmua
Planner: SD Weddings Mgt | @sdweddingsmgt
Bride: Beverley | @beverleyhills
Groom: Habib | @_ihb