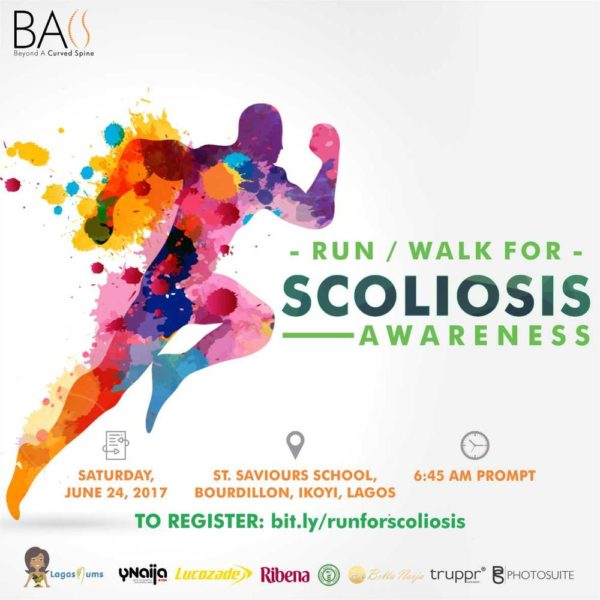 …We got your Back!
Beyond a Curved Spine Initiative is a not-for-profit with a focus on:
Raising Awareness for Scoliosis
Building a community of love and support to Scoliosis warriors
Say NO to bullying, body-bashing and low self esteem
Beyond a Curved Spine was borne from a personal struggle! Founded by Abimbola Oladapo and Abisola Oni, two Scoliosis patients leading healthy lives and want to raise awareness and spread encouragement.
Ten years ago while Abby was in high school, her classmate Abimbola (who had been diagnosed with scoliosis two years earlier) pointed out her curve in the bathroom; and because of that, her parents were able to immediately seek help and access more information which resulted in a significant control in curve growth.
This is the sole motivation at Beyond a Curved Spine Initiative, knowing that by EARLY DETECTION, children living with Scoliosis can immediately get help, reducing the health complications and issues that arise from a badly curved spine and also building a community of love and strength for ScoliWarriors!
June is the Global Month of Scoliosis Awareness and as part of her activities to create awareness for scoliosis, Beyond a Curved Spine will be holding the Second edition of her Scoliosis Awareness Run/Walk. The 5km Run/Walk would be taking place in 3 states- Lagos, Ilorin and Port Harcourt. Everyone is invited to participate.
Date: Saturday, June 24th, 2017
Time: 6:45 am
Venue: St. Saviours School, Bourdillon, Ikoyi, Lagos
The event will also feature a scoliosis screening session by certified practitioners so kids are invited! Sign up for free at bit.ly/runforscoliosis to join!
Details on locations outside Lagos (i.e. Ilorin and Port Harcourt) can be found on our social media pages.
Indigenous businesses and industries are welcome to support this event in the form of direct sponsorship and/or partnership. Businesses and Industries supporting this event include: YNaija, BellaNaija, Suntory Food and Beverages (Ribena and Lucozade), Nigerian Medical Association (Kwara state Chapter), My Mobile Doc, Lagos Mums, Nothing to Do in Lagos, Madwole, Truppr and Photosuite.
"We all have the power to change a child's world. The change I'm referring to doesn't involve mountains of time or even a large charitable contribution. It's a fairly simple step that has the potential to change a life. It could change one's self image, interactions with others, as well as improve their happiness and quality of life. All you have to do is be observant. Screening your child for scoliosis is so very important. Why? Because early diagnosis leads to better outcomes!" –Marce K
#KnowScoliosis Nigeria!
Beyond a Curved Spine Initiative can be reached via:
Instagram: @beyondacurvedspine
Facebook: Beyond a Curved Spine
Twitter: @beyondacurvedS
Email: [email protected]beyondacurvedspine.com
Website: www.beyondacurvedspine.com
———————————————————————————————————
This content has been published for free as part of BellaNaija.com's commitment to youth, education, healthcare and community development as part of our corporate social responsibility programme.