BN Cuisine: Cabbage Melon (Egusi) Soup by Supermart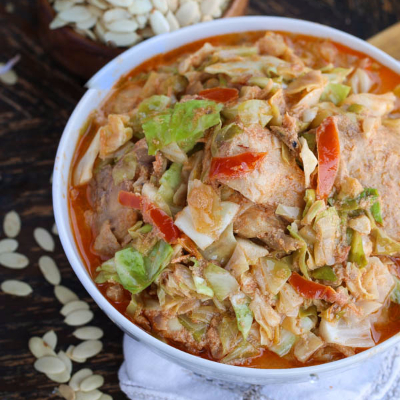 We are great at doing wonders with our Naija recipes. We gave this Nigerian Melon (Egusi) Soup an entirely new look and flavour from the seasoning down to the vegetables. When it comes to creativity,
Trust us! You can make this soup without the vegetables.
Ingredients
1 kg beef
1 cup egusi
1 cup vegetable oil
3 pcs tomato
1 pcs onions
1 cup crayfish
2 pcs seasoning cubes 10 g
1 pinch salt
4 cups cabbage
1 tsp ground pepper
6 pcs garlic
Method
Season the beef as desired and cook over medium heat in about 4 cups of water until tender.
Heat the oil in a pot over medium heat.
Add the onions (diced) and fresh garlic (minced) and saute for about 3 minutes or until translucent.
Add the cooked beef, ½ teaspoon of pepper and ½ cup ground crayfish and simmer for about 3 minutes.
Add the tomatoes (chopped) and about 2 cups of the beef stock and allow to boil for about 5 minutes.
Add ½ cup of ground egusi to the pot. Allow to cook for about 12 minutes and add more stock or water at intervals to prevent the soup from burning.
Finally, add in 4 cups of cabbage (shredded) and simmer for about 2 minutes or more. Adjust seasoning.
Serve warm with any swallow of your choice, rice, yam or plantain.
Photo Credit: Immaculatebites