Hey guys,
Rose Umane here again… ?
Last week, I shared with you my first 3 days experience in Mauritius. If you missed it, please click here.
Day 4
On the fourth day, we visited the Outrigger Hotel, a 5 star hotel nestled in the nature reserve of Bel Ombre.
For me, Outrigger hotel screams indulgence with its extensive Navasana spa, swimming pools, beautiful beachfront, 181 rooms & suites, kids zone and restaurants which offers the best of Mauritian cuisine influenced by the unique origins of the island's inhabitants.
Walking down the reception and I was welcomed with this priceless view.
One distinct characteristic about Outrigger hotel is the many beautiful & picturesque views that can be seen around the hotel making it a good location for creating and preserving wonderful memories.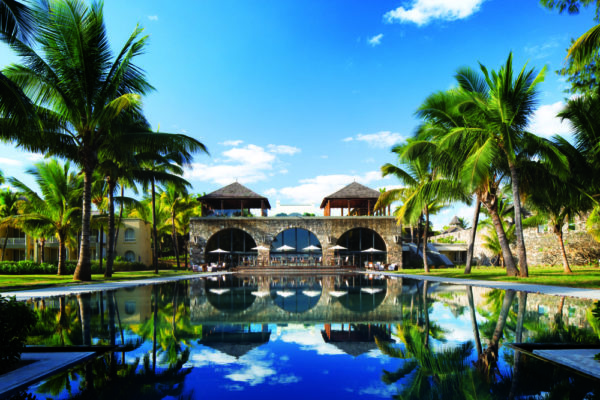 Outrigger Mercado Restaurant boasts of a rich Mauritian cuisine. A single menu may feature an eclectic blend of European, Creole, Indian and Chinese cuisine.
Outrigger Hotel is one of the dream places to rekindle romance with the renewal of vows ceremony packages available. From the proposal, to the engagement, to the wedding ceremony and finally the honeymoon – they provide a unique way of making this happen.
They have a wedding marquee for wedding ceremonies which is a 400 seater capacity hall. This space can be converted for any ceremony you have in mind – birthdays, work conference, weddings and many more.
After exploring the beauty that is Outrigger Hotel, I visited La Vallee Des Couleurs Nature Park.
La Vallee Des Couleurs Nature Park is a beautiful adventure park in the heart of Mauritius. This park bears testimony to the volcanic history of the island. I got to visit the geology museum where I saw fossil stones (stones dating back to 500 million years ago), volcano residues and precious stones. Other activities I partook in include quad driving and a visit to the beautiful waterfall.
If you dream of having a wedding ceremony surrounded by nature, La Vallee Des Couleurs Nature Park has a beautiful event tent built with bamboo and capable of hosting 400 guests. This place can be used for any event of your choice e.g weddings, birthdays, team building gathering, retreat etc.
After having an amazing time at the Nature Part, my next stop was Sofitel Mauritius L'Impérial Resort & Spa, a 5 star hotel surrounded with white sand beaches and turquoise waters. One amazing feature of this hotel is its award winning spa offering a variety of beauty, wellness and spa treatments.
At Sofitel Mauritius L'Impérial Resort & Spa, there is a wedding planner available famed for her spectacular Mauritius wedding and honeymoon packages. You get to celebrate your special day with a wedding on the beach, reception under the stars, romantic dinners, champagne, rose petals and many more you can dream of.
Day 5
The best part of my stay in Mauritius was the Submarine visit at Blue Safari. It was amazing going underwater and seeing all of its beauty.
After experiencing all of the underwater beauty at the Blue Safari, my final visit was to the InterContinental Mauritius Resort Balaclava Fort.
While touring this hotel, the first thing I saw was this creative and funny weather vane.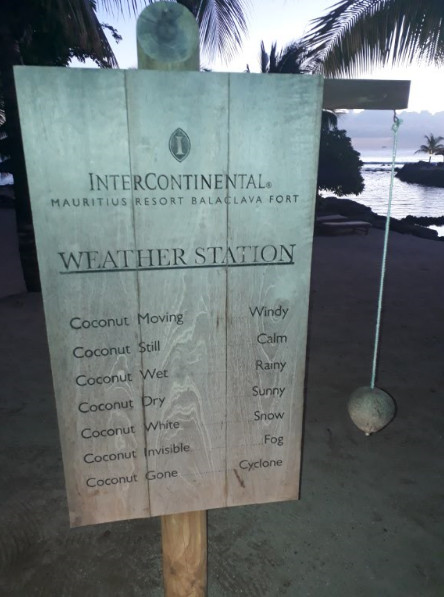 This place is another beautiful place to create special memories from its restaurants, the rooms, its beachfront to the hibiscus hall for events.
Traveling to Mauritius was amazing, the highlights for me were;
The various fun activities available in Mauritius. You can never be bored in a place like Mauritius
The amazing 5 stars hotels with wonderful hospitality and customer care services – Apparently, ships from other countries travel to Mauritius to poach staff.
The beautiful, serene and calm environment making it suitable for a destination event especially weddings.
The harmony and peace that exists and can be felt even with the fact that this island is a combination of various origins.
When Mark Twain said 'Mauritius was made first and then heaven, heaven being copied after Mauritius', he was absolutely right
See more about my trip on social media using this hashtag #BNxMauritius
To know more about these beautiful places, check them out on social media.

Outrigger Hotel: @outriggermauritius
Blue Safari: @bluesafarimauritius
La Vallee Des Couleurs Nature Park:@LaValleeDesCouleurs
Sofitel Mauritius L'Impérial Resort & Spa: @sofitelmauritiuslimperial
InterContinental Mauritius Resort Balaclava Fort: @intercontinentalmauritius
Looking for someone to plan your destination event/trip or you would like to book any of this exciting venue? Contact Once Upon A Destination.
Email: [email protected]
Instagram: onceuponadestinationhq