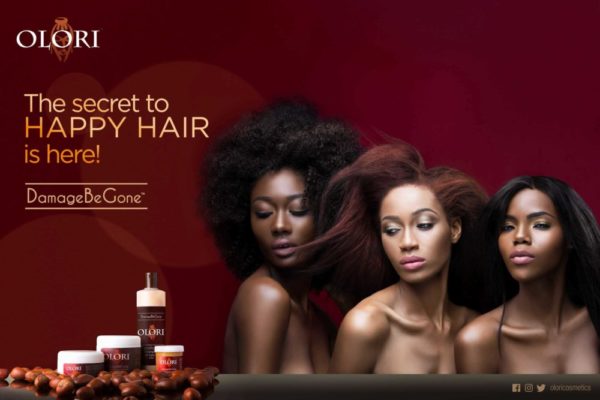 The "Olori" is a modern, versatile woman of royal descent. Only the best that nature has to offer is good enough for her.
Enter… Olori Cosmetics, an African-themed natural hair, bath, body and beauty company, using only the best ingredients available across the African continent. Our products are designed and developed to bring out the "Olori" in every woman.
DamageBeGone is the full scale hair care range from Olori – consisting of a range of products such as the best-selling Deep Conditioning & Restorative Treatment, the Conditioning Shampoo with Argan Oil, and the Happy Hair Butter for daily hair-dressing and upkeep.
This product line is proudly produced in Nigeria.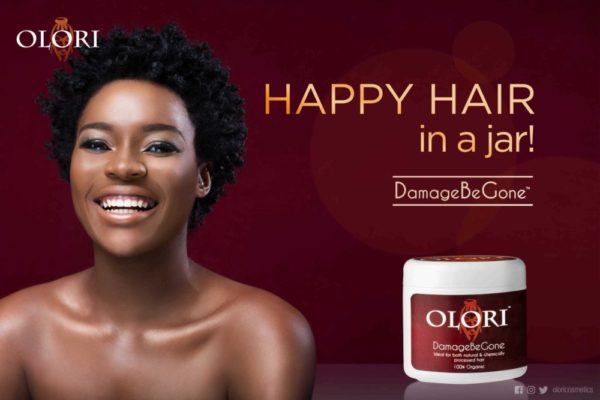 Created for all African hair types, the DamageBeGone Deep Conditioning & Restorative Treatment – is ideal for natural, transitioning, chemically processed and/or coloured hair.
The product is formulated from an old family recipe, homemade and used by the founder's mother to treat and nurture her and her sister's hair while growing up.
A fantastic multi-use intensive and restorative product, it helps to address common problems faced by all hair types such as:
Damaged hair, dry and brittle hair, parched hair, dry scalp, stressed and broken temples – it conditions and restores hair to its natural lustre
Tangled natural or processed hair, taken down from braids or other forms of protective styling –  it can also be used to detangle hair.
This product is 100% natural and contains no parabens, sulphates, petroleum additives nor mineral oils. This product is a blend of specially formulated nut oils, which form the key active ingredients.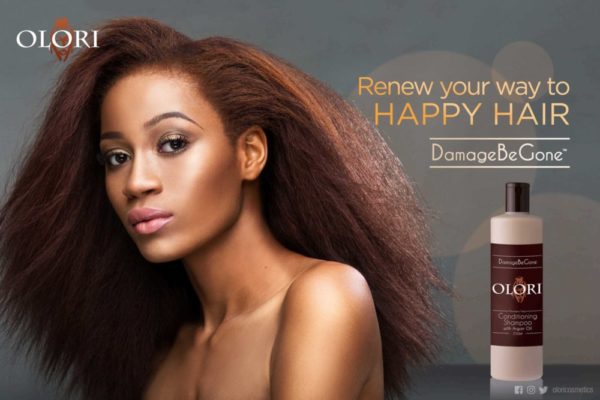 Introducing our new DamageBeGone Conditioning Shampoo with Argan Oil, specially formulated for dry, parched, dehydrated, damaged, under-nourished and breakage-prone hair. Our mild yet rich conditioning shampoo gently cleanses, conditions and detangles without stripping the hair of essential moisture, leaving the hair supple & manageable.
This product contains Moroccan Argan Oil,  which is known for its amazing hydrating and strengthening benefits for hair. It also contains a blend of witch hazel (soothes itchy scalp, prevents dandruff), tea tree and cucumber extracts to help restore the look of healthy, happy hair J.
Introducing our new DamageBeGone Happy Hair Butter.
This product is perfect for daily application to the scalp, edges and temples. Packing a powerful punch, our hair butter prevents dandruff, stimulates growth, nourishes thirsty hair, and restores a healthy shine.

It is ideal for braids, protective hair styles and is also great for little girls too!
With the Happy Hair Butter, a little goes a long way!
Stockists:
Olori DBG products are available across a range of online & retail outlets within Nigeria.
Online Stockists:
Retail Stockists:
Select CasaBella Beauty Stores & HealthPlus Pharmacy stores in Lagos, Abuja, Port Harcourt & Warri
Wondrous Hair Salon, VI – Lagos
KL Naturals Salon – Ikoyi & Lekki – Lagos
Allure Beauty Stores – Ikeja, Ikoyi & Abuja
Grey Velvet Stores – Lekki Centro Mall
MegaCare Pharmacy – Ikeja, Lagos
Olori on Social Media:
www.oloricosmetics.com
www.facebook.com/OloriCosmetics
www.twitter.com/OloriCosmetics
Instagram: @oloricosmetics
Contact Us: [email protected]
—————————————————————————————————————
Sponsored Content