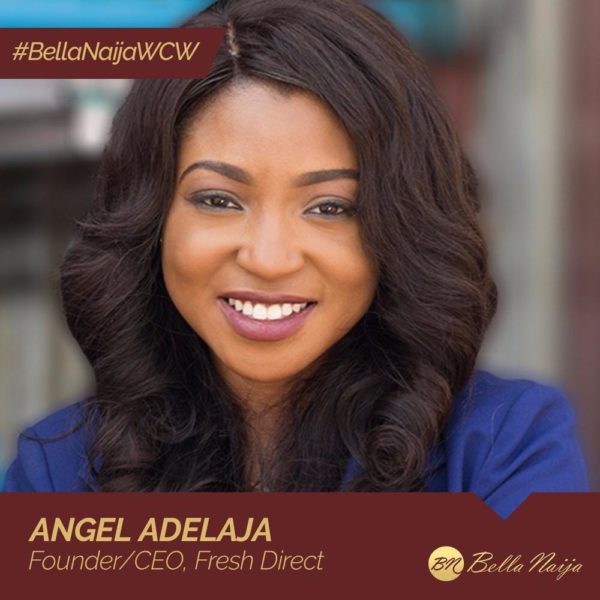 This week in our #BellaNaijaMCM and #BellaNaijaWCW series, we are showcasing young Nigerians leading the way in terms of the country's agricultural drive.
Monday, we had Nasir Yammama of Verdant Agritech Ltd as our MCM, and today, Angel Adelaja, Founder/CEO of Fresh Direct Produce and Agro-Allied Services is the agro-preneur we are spotlighting as our WCW.
Fresh Direct is "an indigenous agricultural production and processing company that bring together communities and advanced technology to provide exquisitely grown organic fruits, vegetables and meats and processed end products."
The social enterprise is charged protecting and boosting local farming and production and promoting youth engagement in sustainable agriculture.
Fresh Direct employs the Vertical Farming technology which is the practice of producing food and medicine in vertically stacked layers, vertically inclined surfaces and/or integrated in other structures (such as in a skyscraper, used warehouse, or shipping container).
The company also uses Hydroponics technology which is the method of growing plants without soil, using mineral nutrient solutions in a water solvent.
According to Angel, a 20 ft container can produce the same vegetable as a land the size of a football pitch and half.
The entrepreneur describes herself as "a Nigerian innovator and community and change developer who formulates inclusive growth strategies for governments and organizations."
She is working to simplify the agricultural process and make it attractive to the Nigerian youth.
Angel is also a co-owner of Zahara Empresa Ltd "an Abuja-based company with interests in retail, hospitality, spa services, business development and consultancy."
She is also the Co-founder and Executive Director of We Farm Africa "an agricultural NGO that focuses on collectively ensuring a better future for Africa through sustainable agriculture."
She was one of the 30 finalists for the maiden edition of the Aso Villa Demo Day in 2016.
She was the Nigerian winner of the 2015/2016 edition of Chivas The Venture. She also made Nigeria proud after emerging one of the five winners during the final event in New York City.
Angel, an epidemiologist by training, has also worked in various capacities across Economic Development, Poverty Eradication, and Wealth Creation.
Angel's passion for development and youth empowerment is one to be applauded.