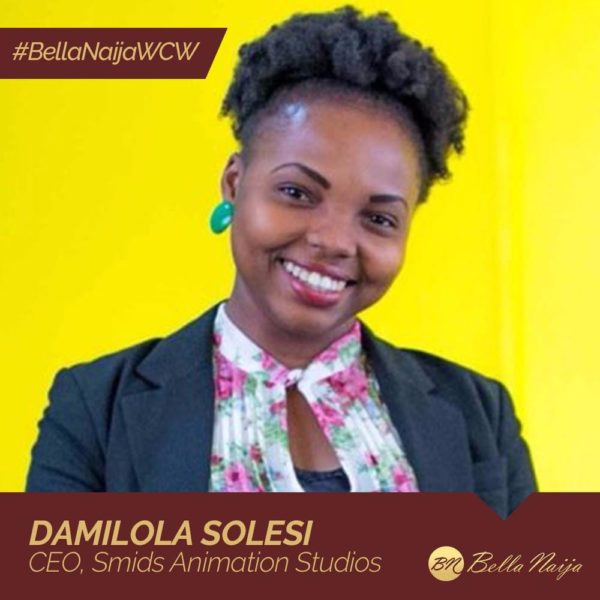 Compared to their male counterparts, there are few women in the tech space in Nigeria, and our #BellaNaijaWCW today – Damilola Solesi – is one of those paving the way for more females in the industry.
Damilola is the founder of SMIDS Animation Studios, "a design studio into computer animation, motion graphics and visual effects."
The company creates entertainment content for television series, CG animated feature films and short films and also help brands tell compelling stories through animated campaigns.
As a child, Damilola always dreamed of producing cartoons, and after undergoing the necessary training, she founded SMIDS in 2010 with savings from her national youth service year.
Damilola, who graduated with a B.Sc in Computer Science from Bowen University, Nigeria, also underwent a course on Business and Entrepreneurship from Clark Atlanta University.
In her bid to promote the emergence women's interest in technology, she co-founded TechDivaz (now Women R.I.S.E), a platform where women are inspired to expand their interests in technology through collaboration, networking, training, mentorship, and funding to help them play a stronger role in growing the technology startup scene in Nigeria and Africa.
She was one of the 50 women on the IBM Women Enterprise Challenge 2012 in partnership with EDC and IFC.
In 2015, she won Goldman Sachs scholarship to take a certificate course in entrepreneurial management at the Enterprise Development Centre (EDC) of the Pan-African University.
Damilola is also a 2015 Mandela Washington Fellow.
She had worked as an IT Analyst at Nigeria's Central Bank before venturing into entrepreneurship.