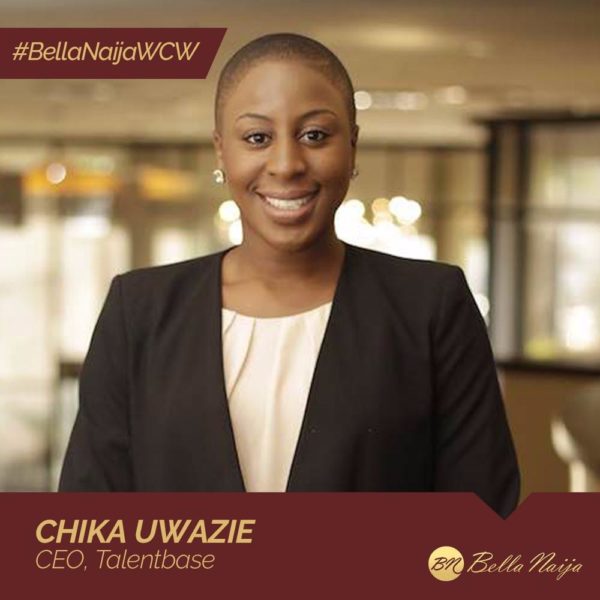 The fourth industrial revolution is underway and moving very fast and the way we work and live is being improved on day-by-day.
Our #BellaNaijaWCW today Chika Uwazie is part of those making work and life easier for employers as well as (potential) employees.
Chika Uwazie is a Human Resource professional with experience in recruiting, human capital management, and organizational development.
With her TalentBase platform, Chika is automating payroll, tax and other statutory deductions, expenses tracking, as well as leave management.
With a focus on helping SMEs manage their HR tasks, Chika took advantage of one of the numerous opportunities in the online enterprise space to solve problems faced by businesses.
Chika was also a recruiting project associate at American Institutes for Research where she led recruiting on social media platforms and conducted data analysis for recruitment metrics.
Chika is also referred to as a connector who brings together companies and the talents that are a match for them.
The entrepreneur had worked as a HR consultant at World Bank, Exxon Mobil among others. She began her career in the African Business Development Section of Whitaker Group.
Chika has been published in Human Capital Magazine, Forbes, and is a regular contributor for Ventures Africa.
She writes weekly for BellaNaija in the column Chika Uwazie's TalentBase where she shares career tips, job search strategies, employee relations and the profession of human resources in Africa.
She received the Eloy (Exquisite Ladies of the Year) Awards "Ladies who Inspire and Ladies to Watch out for in 2016" honour.
In 2016, she was selected by World Economic Forum as a Global Shaper. She was also listed in the #YNaija's #YTech100 list (which honours Nigeria's 100 most innovative persons in technology) of 2016.