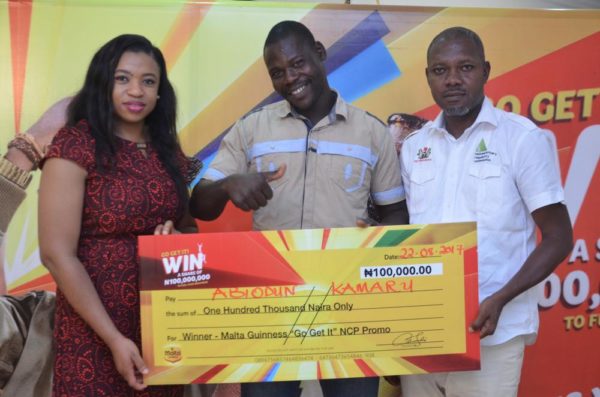 Over fifty thousand (50,000) winners have emerged from the Malta Guinness "Go Get It" National Consumer promo which was launched on Tuesday, the August 8th, 2017.
Two millionaires and six winners of One Hundred Thousand naira (N100,000) each have emerged in the Malta Guinness "Go Get It!" promo. Winners were selected during the weekly draws that were held on Saturday, August 5th and Tuesday, August 22nd, 2017. Over 200 winners of N5,000 cash prizes have also emerged from the daily cash prizes and millions of airtime also given away since the kick off of the promo.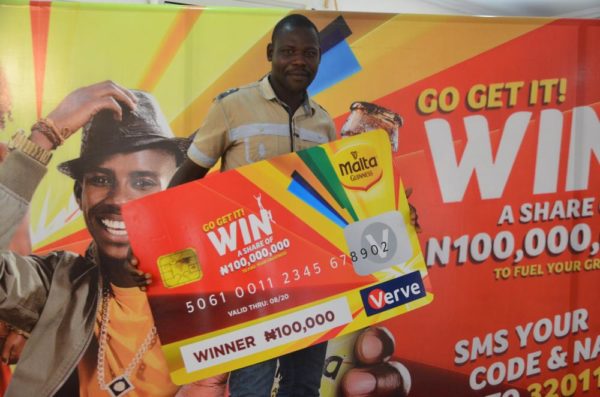 Malta Guinness will be rewarding its consumers with a share of N100,000,000 in the "Go Get It" Promo billed to last until Monday, November 6th, 2017. With every purchase of Malta Guinness variants (Classic and Herbs Lite), consumers stand a chance to win amazing daily and weekly cash and airtime prizes.
The winners from the first two weekly draws were awe-struck with excitement when they were contacted with the news of their winnings via telephone. One of the N100, 000 Winners, Abiodun Kamaru from Badagry couldn't believe his luck when he was informed of his winnings by the Malta Guinness Team.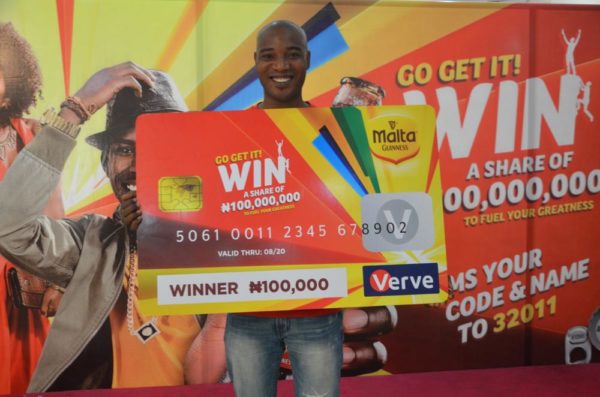 Joy Anusie, who is also a winner of One Hundred Thousand Naira N100, 000), expressed her sincere gratitude to God and Malta Guinness for her winnings as the timing couldn't have been more perfect. "I'm so happy and thankful because this money came at the right time and I can now comfortably pay my children's school fees"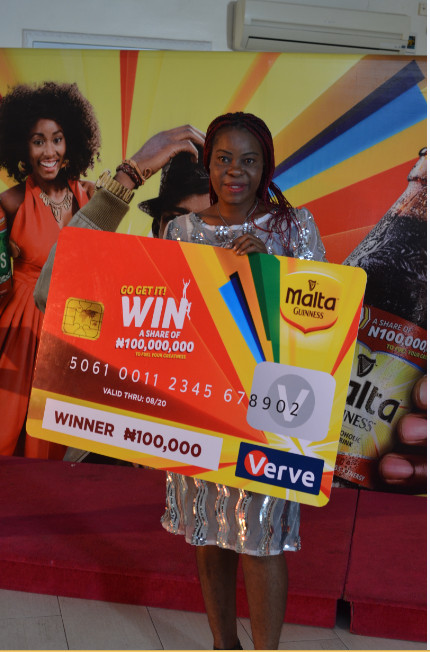 Other winners from the recently concluded weekly draws include Uzoma Henry Uchenna from Abule Egba and Babajide Olaleye from Abule Ado, Lagos State.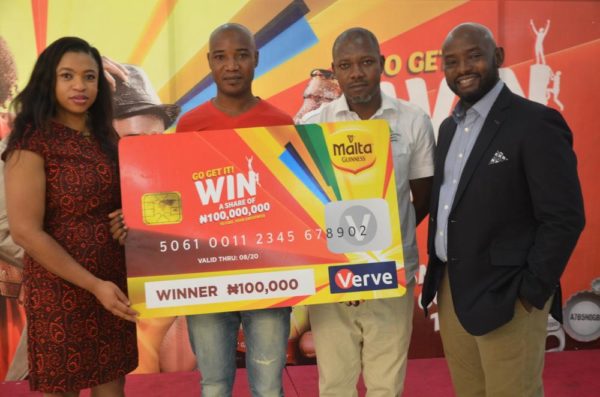 Speaking at the weekly draw, Ifeoma Agu, Brand Manager, Malta Guinness & Non Alcoholic drinks, said that;
The Malta Guinness National Consumer promotion is borne out of our desire to continue to fuel the can do spirit of our loyal consumers and to encourage them to "Go Get It" and fulfill their dreams.

At the launch of the promo, we announced that every week, One lucky Winner will win One Million Naira and 3 lucky Winners will win One Hundred Thousand naira each. Furthermore, Consumers will stand a chance to win Five Thousand Naira cash prizes, plus airtime worth millions of naira daily.

We are very happy that the first two weeks' draws have been concluded and we are already fueling the dreams of our consumers. "The winnings are a testament to our commitment and loyalty to our consumers and very importantly, it shows that the promo is real and winners will continue to emerge each day in the course of the promotion". We have partnered with Interswitch group as the official Platform Providers for the Malta Guinness "Go Get It" Promo to provide daily cardless withdrawals using pay code as well as the Preloaded Verve cards presented to the Winners to ensure seamless withdrawals of the cash prizes from any ATM nationwide.
Also speaking at the draw, Afam Ojeh, a representative from the National Lottery Regulatory Commission said "The Malta Guinness "Go get it!" Promo draws passed through all approval process and that is why we are here today.  I am glad to report that the commission is satisfied with the transparency of the process".
Also Present at the draws were Otome Oyo, Marketing Manager, Malta Guinness & Non Alcoholic drinks, Kelani Jubril, Assistant Brand Manager, Malta Guinness & Non Alcoholic drinks, Omobolaji Vincent, Manager Risk Advisory, Akintola Williams Deloitte, Paul Ohakim; Group Head, Industry & Retail Chain, Interswitch Limited, Odion Ewansigha, Team Lead, FMCG and Oil and Gas Sector, Interswitch Limited, and Afam Ojeh, National Lottery Regulatory Commission.
The Malta Guinness "Go Get It" Consumer promo runs from  Tuesday, August 8th to Monday, November 6th, 2017 and it's poised to position Malta Guinness as a financier and an advisor to its Consumers. Winners will be selected from all over the country.
To participate in the promo, Consumers only need to buy a bottle or can of their favourite Malta Guinness Classic or Malta Guinness Herbs Lite, open the crown cork or can ring pull to reveal a code; SMS the code with your name to 32011 e.g: SMS T8R7KYU7 MARY to 32011.
Weekly draws to select the lucky winners of N1Million and N100,000 holds every Tuesdays by 12 noon and consumers can watch the live streams on the Malta Guinness Page on Facebook, Twitter, and Instagram.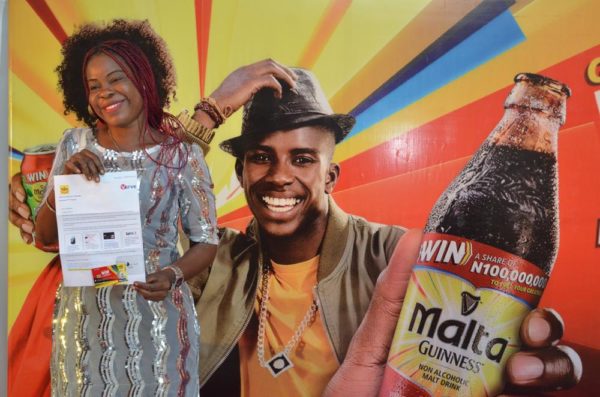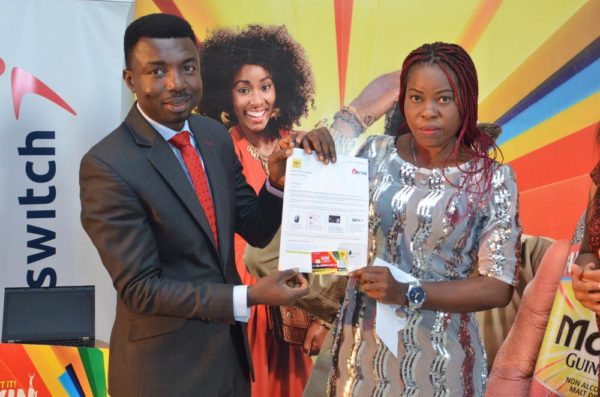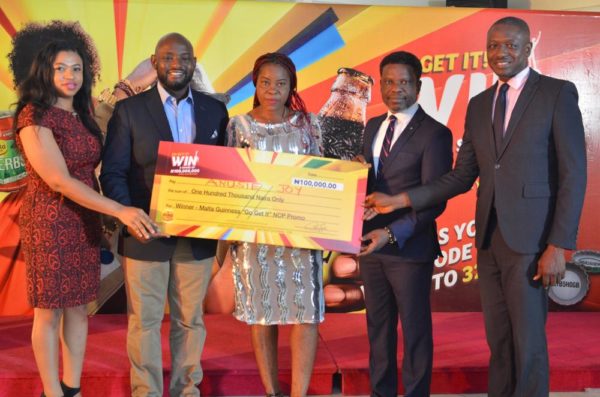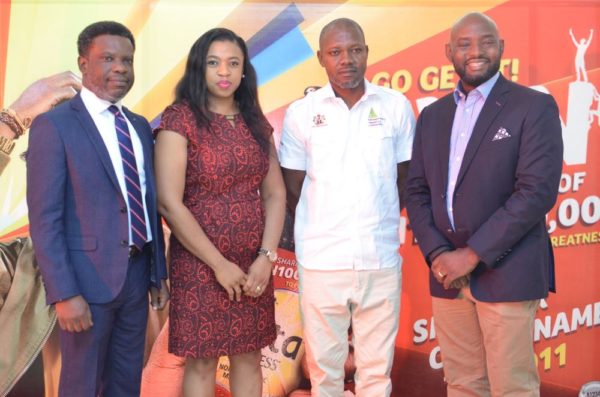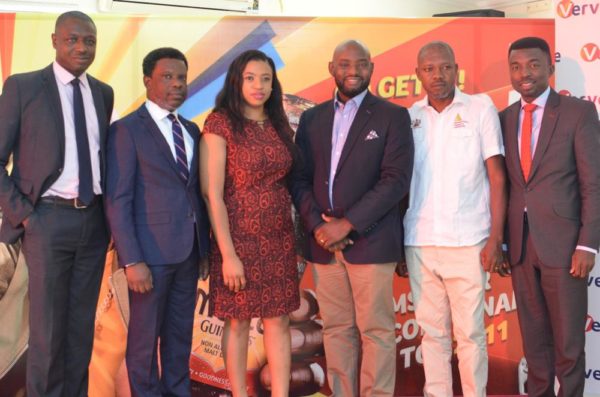 For more details, follow us Twitter & Instagram or Like the Malta Guinness page on Facebook
—————————————————————————————————————————Sponsored Content