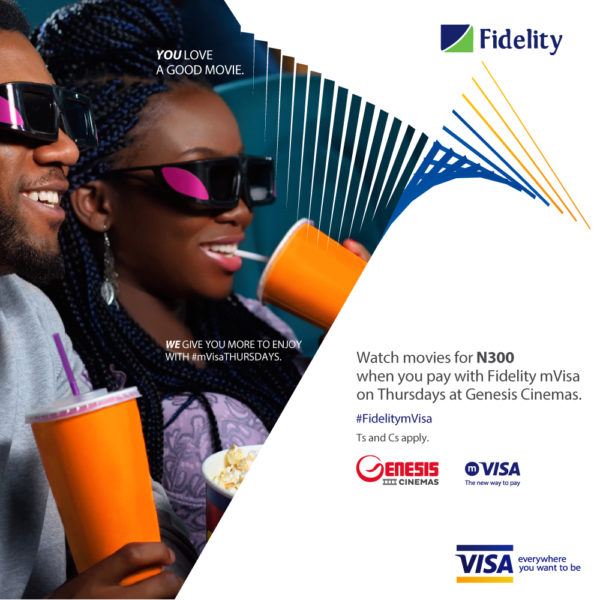 Fidelity Bank is breaking new grounds with Fidelity mVisa. In addition to being a convenient, safe and quick to pay with your phone, Fidelity mVisa is fast becoming the gateway to mouth-watering deals.
From now till Thursday, November 30th, 2017, you can watch your favourite movies at any Genesis Cinemas for just N300 every Thursday by just paying with Fidelity mVisa. Enjoy 20 percent discount plus free popcorn every other day of the week.
What's more, this discount applies to 3D movies but without the 3D glasses.
So take your friend on a date. Scratch that; take ALL your friends and family on a date, SCAN, PAY & GO with Fidelity mVisa.
N.B – Thursday discounts (300 naira) does not apply to VIP movies and ticket or discount cannot be carried over to the next day.
But first, to get started;
Download Fidelity Online Banking app
Sign up for Fidelity mVisa
Scan the merchant's QR code with your phone
Click on the Fidelity mVisa icon
Pay
Voila!
Click icons below to download NOW!
We Are Fidelity, We Keep Our Word!
—————————————————————————————————————–    Sponsored Content