9ice, Reminisce, Small Doctor, Iyanya, Lasisi Elenu thrill fans at "Mama Tobi Untamed: The Homecoming"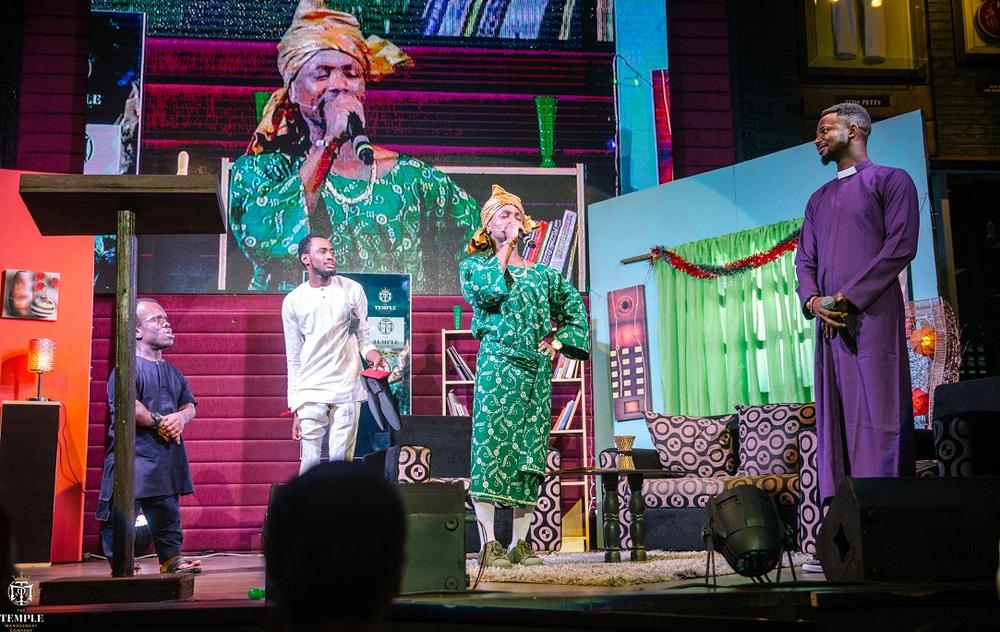 Nigeria's favourite comedy characters, Sister Nkechi and James (Ogbolor) joined Mama Tobi on stage for a night of undiluted entertainment at the homecoming edition of the US-based Nigerian social media sensation.
Dressed in his signature ragged wedding-gown, Sister Nkechi, the character made popular by Ani Chinedu Michael (Nedu) of Wazobia FM added extra doses of humour alongside, James (Michael Uba). The star-studded night also featured top music performances from 9ice, Iyanya, Bisola, Jeff Akoh, L.A.X, Small Doctor, CDQ, Praiz and US-based Chris Akinyemi.
SLK Comedy, otherwise known as Boda Wasiu, set the tone for the show with a rib-cracking monologue that left the audience reeling with laughter. It was an appetizer that paved the way for a hilarious entry by the host of the show, Mama Tobi.
A short comedy video skit beamed on the stage showing the cross-dressing African mom stranded in the middle-of-nowhere on a Lagos road holding two big luggage. He made phone calls and was promised to be picked up by a G-Wagon Benz only for a 'Keke Napep' to show up.
Thus began his journey to the Hard Rock Café stage which has already been transformed with home furniture props into an apartment setting. The theatrical-style comedy cum music concert featured minor and major roles starring several social media comic personalities.
The actors include Ebiye, Lasisisi Elenu, K10, Chuey Chu, Neydu, Eniola Badmus, Woli Arole and EmmaOhMyGod among others.
See Photos: