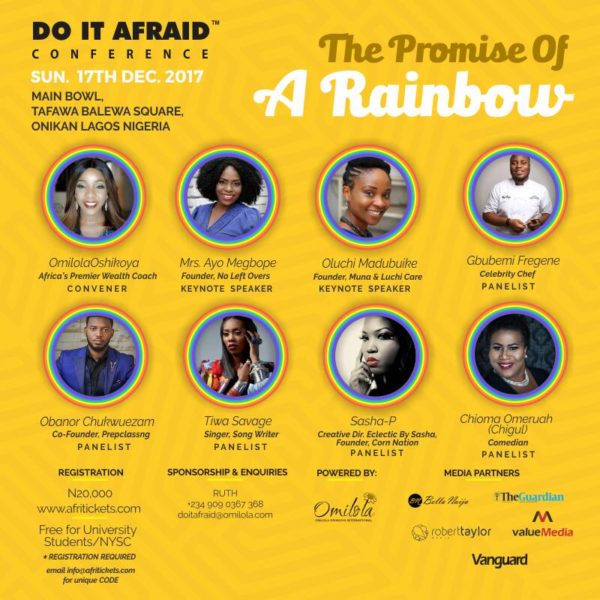 Another edition of the "Do It Afraid" Conference is on the way!
The annual conference organised by Omilola Oshikoya International is based on the mantra, "Do It Afraid", a movement with the aim of inspiring millennials to fulfil their dreams, visions and purposes by overcoming fear.  The focus is on business-minded individuals who out of fear, lack the will and conviction to pursue their entrepreneurial dreams.
The theme for this year is "The Promise of a Rainbow". Following the current economic climate in the country, many individuals, careers and businesses have been greatly affected but there is still a rainbow that is promised. A rainbow is a bright colourful symbol seen in the clouds normally after a heavy rain or storm. In other words, it signifies that the troubles of today will not last forever.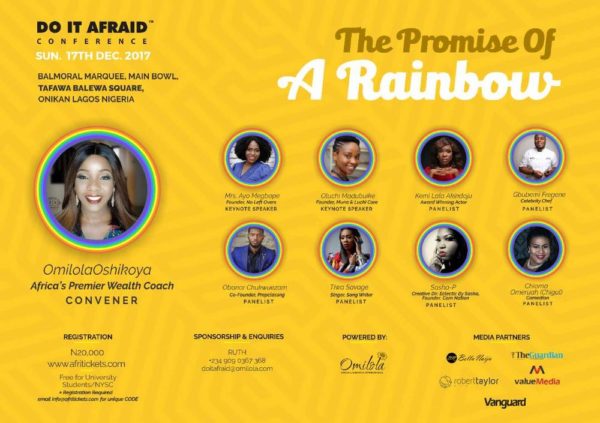 The conference is organised not just to inspire individuals to fulfil their dreams but to also encourage them in the process especially in a tough economic terrain.
Successful individuals in different industries who have summoned the courage to pursue their dreams until their rainbows appeared despite the challenges they faced will be sharing their individual stories.
The speakers include Ayo Megbope, Founder of No Left Overs; Kemi Lala Akindoju, award-winning actor; Gbubemi Fregene (Chef Fregz), Celebrity Chef; Obanor Chukwuezam, Founder of Prepclassng; Tiwa Savage, Singer and Song Writer; Chioma Omeruah (Chigul), Comedian; Anthonia Yetunde Alabi (Sasha P), Creative Director of Electic by Sasha and Founder of Corn nation; and Omilola Oshikoya, Africa's premier wealth coach and convener of the conference.
The panel discussions will be moderated by Financial Expert, Seun Akinbohun while Brand and Communications Connoisseur, Tomi Aluko will be the Master of Ceremony.
Date: Sunday, 17th of December 2017
Time: 12 noon prompt
Venue: Balmoral Marquee, Main Bowl, Tafawa Balewa Square, Onikan, Lagos.
Registration Fee: N20,000 (until Saturday 16th of December, 2017).
Register at http://www.afritickets.com/event/do-it-afraid-the-promise-of-a-rainbow
Payment at the conference is N25,000.
Student Discount: There is 100% discount (FREE ENTRY) for university students and youth corpers who would like to attend. You would need to register with a unique code. To obtain the unique code, kindly send an email to [email protected] with your identification card. You would also be required to bring your identification card with you on the day.
For sponsorship and enquiries please contact Ruth on 0909 036 7368 or email [email protected]
Follow Omilola on Instagram and click here for more.
————————————————————————————————————————————————————————————
BellaNaija is a media partner for the Do It Afraid 2017 Annual Conference