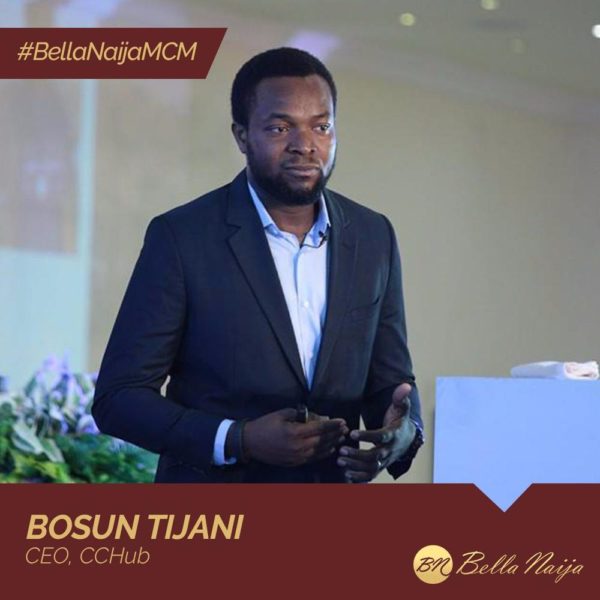 Since over two decades ago, technology has been changing life as we know it – the way we live, work and interact with each other. We are living in times where technology is blurring the lines between the physical, digital, and even biological spheres – think virtual reality and social media.
Using technology to build innovative platforms in Nigeria began gaining momentum about a decade ago, and today, we celebrate one of the pioneers in that industry Bosun Tijani, as our #BellaNaijaMCM.
'Bosun is the co-founder and Chief Executive Officer of Co-Creation Hub Nigeria (CcHUB), a pioneer open living lab for technologists, software developers, entrepreneurs, tech companies, investors and other stakeholders in and around Lagos. Bosun and his friend Femi Longe, who is the Director of Programmes for the plartform, founded the startup incubator cum social entreprise. The platform was funded by Omidyar Network, Google, and the Sainsbury Family Trust.
CcHub is "a social innovation centre dedicated to accelerating the application of social capital and technology for economic prosperity," it says on its website.
Bosun had worked for over a dozen years in designing and managing profitable business models for high-end enterprise solutions, as well as on projects supporting SMEs in Africa.
He had gathered this experience while working with the International Trade Centre and Hewlett Packard, PERA
CcHUB, since its establishment in 2010, has been driving social innovation using technology. Businesses currently impacting Nigeria positively – BudgIT, LifeBank, re:learn, Truppr, GoMyWay, Traclist, Wecyclers, among others – have stemmed from the platform.
As CEO of CcHub, Bosun also worked as the Project Director for the Lagos State Innovation Cluster Mapping: an initiative of CcHub & Innovate Lagos "aimed at mapping hotspots representing clusters of emerging high growth and competitive businesses across Lagos."
He was also Project Director for iHQ: "an industry led initiative that aims to leverage the innovation assets within the technology cluster located around Herbert Macaulay Way, Yaba in building an 'innovation city' – a hotspot for creative ventures where all key stakeholders (academics, industry and government) find adequate infrastructure, resources and an enabling environment to thrive while collaborating."
Bosun's work has culminated in the visit of Facebook's founder Mark Zuckerberg to CcHUB on his first ever visit to Sub-Saharan Africa.
In 2014, Bosun founded Truppr, an active lifestyle platform with focus on fitness and nutrition. It has become a leading online fitness community in over 20 cities across Africa and Europe.
In 2016, CcHub launched Growth Capital, a "social innovation fund aimed at creating an unprecedented path to scale for outliers driving social change in Nigeria."
In 2017, CcHub, in collaboration with Google for Entrepreneurs, organised a pitch drive for 14 tech entrepreneurs from across Africa who travelled across five European cities to raise funds for their business.
Bosun has a Bachelor's degree in Economics (University of Jos) and a Master's degree in Information Systems and Management from Warwick University.
In 2003, Bosun completed an MBA course, Venture in Management at Lagos Business School.
In 2013, he completed an "Innovation for Economic Development" programme at Harvard Kennedy School of Business.
He is also a Fellow of the Centre for Democracy and Rule of Law at Stanford University.
He is a 2017 Archbishop Desmond Tutu Leadership Fellow.
Bosun also runs a blog titled The Diary of a Knowledge Community Organiser where he talks about the tech ecosystem in Nigeria and the ways it can grow.
We celebrate Bosun today, for creating a platform that has given birth to so many others, positively impacting the lives of Nigerians, and the Nigerian economy; and also for his passion in pushing for a more innovative Nigeria and Africa.