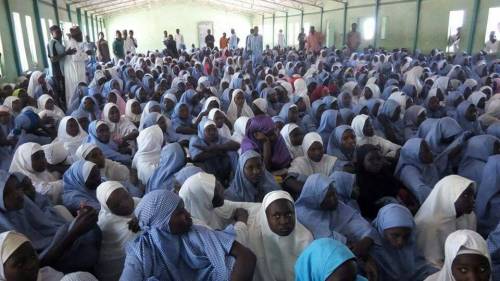 The number of school girls missing from Dapchi has been said to be 107, according to BBC Journalist Stephanie Hegarty.
Insurgent group Boko Haram had raided the Government Girls Technical College Dapchi, and students of the school were said to have jumped over the school fence to escape them.
It had earlier been reported that 94 girls were missing, but the number has reportedly shot up to 107.
Parents of the girls have also been reported to be intimidated by authorities, with the police said to have ordered the arrest warrant of some of the parents for stoning the convoy of Yobe State Governor Ibrahim Gaidam.
The police had earlier denied the news, but Hegarty, on her Twitter @stephhegarty, has once again claimed a parent was held overnight. She wrote:
Another call from an angry parent today talking about intimidation from authorities. He said he was held overnight by security agencies. Parents list of missing now at 107 #DapchiGirls
Another call from an angry parent today talking about intimidation from authorities. He said he was held overnight by security agencies. Parents list of missing now at 107 #DapchiGirls

— Stephanie Hegarty (@stephhegarty) February 25, 2018