Interested in Politics? WIMBIZ Women in Politics wants to discuss the Winning Formula | Tomorrow, March 22nd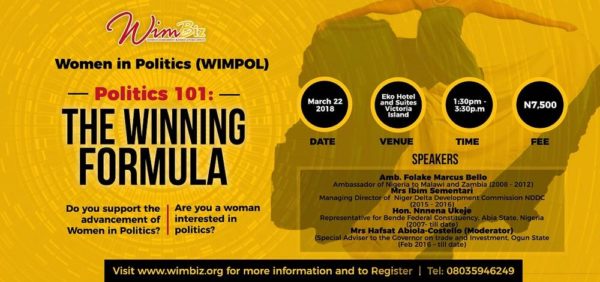 Women in Management, Business and Public Service (WIMBIZ) is a non-governmental organisation with a compelling vision "to be the catalyst that elevates the status and influence of women and their contribution to nation building".
The WIMBIZ Women in Politics (WIMPol) workshop brings together women with zeal and passion for the development sectors to discuss topical issues and share strategies for success in the light of a rapidly changing global, economic and socio-political landscape.
Date: Thursday, March 22nd, 2018.
Time: 1.30 pm – 3.30 pm.
Venue: Eko Hotel and Suites, Victoria Island, Lagos.
Women are not yet fully represented in the leadership of the political and governance structure in Nigeria. This is borne out of a strong adherence to patriarchal beliefs, cultural perceptions about the role of a woman, the nature of the political arena in Nigeria and the steep financial barriers to entry into the political game. Women in Nigeria have, in their own way, played a crucial role in the socio-economic development of the country. The WIMPol workshop exists to help women who want to do more for the political advancement of this nation.
There has been a significant reduction of women in parliament evident by the drop from 9.6% female representation in the 7th republic to 4.9% female representation in the 8th republic. Research on female political representation in Nigeria clearly shows that proactive measures need to be put in place to encourage increased female participation in politics. WIMPol was borne to help meet this need.
The workshop helps to create awareness about politics and show women how to get involved. It also connects existing and intending female politicians with those who can train them on the soft and hard skills required for elective and appointed positions. WIMPol aims to strengthen the success rate of female politicians.
The 2018 WIMPol forum is themed 'Politics 101…The Winning Formula'. As the name implies, this year's WIMPol event seeks to enable women with a latent interest in politics by helping them understand the political terrain. Over 60 political parties have been invited to attend and interact with workshop participants. The speakers at the workshop this year are Amb. Folake Marcus Bello, Ibim Semenitari and Hon. Nnenna Ukeje. There will also be a technical presentation by an electoral adviser. The workshop will be moderated by Hafsat Abiola-Costello.
The WIMPol program will not only hold in Lagos, there will be another program scheduled to hold in Abuja, later in the year.
———————————————————————————————————————————————————————-
BellaNaija is a media partner for the WIMPol 2018 Workshop