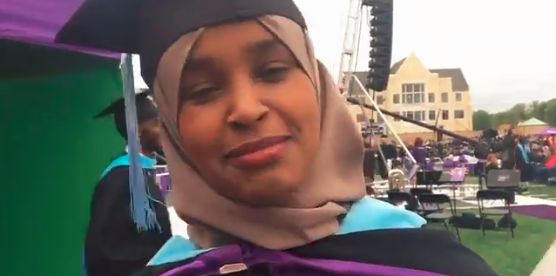 Zeinab Abdalla had a baby a night before the University of St. Thomas' Class of 2018 graduation ceremony, where she was to receive her master's degree.
But who said that could stop her?
The next day she was walking across the stage with her certificate in hand. "I had my baby last night!" she said in a school video.
According to Kare11, Zeinab got her master's in autism spectrum disorders and plans to obtain a PhD.
Asked how she was able to pull it off, she said:
It was a struggle but everything is possible. And I believe in St. Thomas' logo, "We can do it together."

On Friday morning my water broke and I was telling my husband, "My graduation is tomorrow. I wasn't planning this," and he said, "It's in God's hands."

I was like, I need to reward myself and to do that I have to walk on the stage, get my degree, throw the cap and enjoy it.
See a video of her below:
Zeinab Abdalla just had a baby girl last night! She still made it to the graduate ceremony to get her master's degree. Amazing! #tommiegrad #UST2018 pic.twitter.com/JMSItaXsDl

— Univ. of St. Thomas (@UofStThomasMN) May 20, 2018