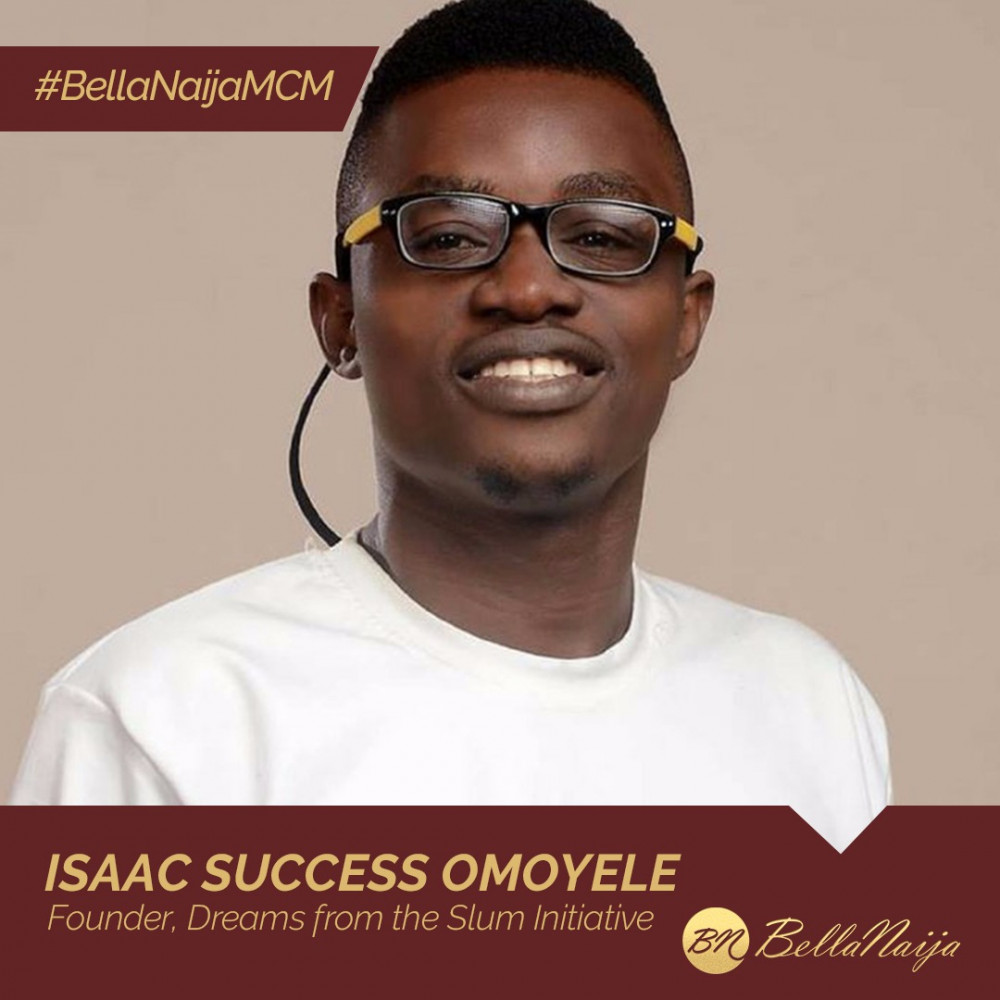 For this week in our #BellaNaijaMCM and #BellaNaijaWCW features, we'll be celebrating individuals who are tackling social injustice in Nigeria, ensuring that the underserved population and communities live happier and rewarding lives.
Isaac Success Omoyele is one young man who has committed himself to ensuring children from the "slum" get access to good education and mentoring, as well as empowering their parents to elevate their socio-economic status.
Isaac grew up in Ajegunle, Lagos and as a child, dropped out of school and also lacked basic supplies; this, he says, is one of the reasons why he's doing the work he's involved in today.
In 2013, Isaac founded Dream From the Slum (DFTS) Initiative to contribute his quota to solving this problem. DFTS is an offshoot of Isaac's initiatives – Reachout22 Project – that served the same purpose.
Reachout22 Project was Isaac's plan to provide quality education for children living in the same community he grew up in. Reachout22 was reaching out to 22 vulnerable children in Ajegunle, with 22 values Isaac taught them to live by before they turn 22. This was a mentorship scheme he initiated together with a weekend remedial class.
DFTS "is an initiative committed to making the dreams of vulnerable persons living in remote and desolate communities a reality through three-pronged approach on Education, Empowerment, and Mentorship."
The initiative uses formal, informal and apprenticeship education as a tool for transformation, promoting literacy among the economically disadvantaged.
DFTS also runs an educational center which houses a library, a low-cost school, and a training center.
DFTS has carried out projects in Lagos, Oyo, Kogi and Edo States in Nigeria and is gradually growing in Ghana and Uganda. Over 1000 children have been enrolled back in school since inception which focuses on children, women, and teenage mothers.
The platform's educational program provides scholarship opportunities and access to basic school materials such as notebooks, bags, shoes, e.t.c.
Through its Young Mothers Academy program, DFTS has helped young mothers learn a skill to empower themselves to become self-reliant. One of them is 19-year old Ada, who was taken advantage of by an Army officer who she approached for help (at 17) after her father was imprisoned for a crime she says he did not commit. Ada got pregnant afterward and vehemently refused to terminate it.
After her training with DFTS, Ada started Infractum Creations (@infractum.creations) where she uses African prints like Ankara to make lovely accessories. (Read Ada's story here)
Isaac is alumnus of Leap Africa Social innovators Program (2015), Aileen Getty School of Citizen Journalism (Israel), Curators University, and the Commonwealth Discovery Young Leaders Program, studying Social Sector Management at Pan Atlantic University.
Well done, Isaac.