Make the Holiday Extra Fun for Your Kids! Enroll in the Foreshore Summer School Programme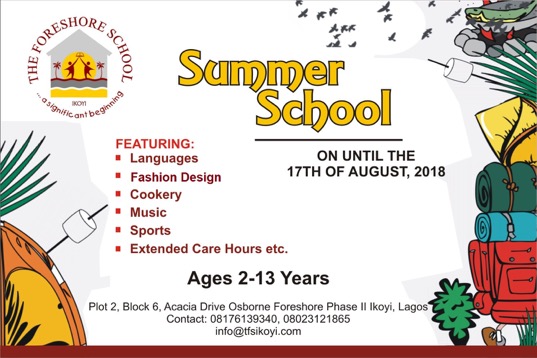 August is around the corner and that means the long holidays are back. Foreshore School, a top-notch academic center located in the heart of Ikoyi, invites parents and guardians to register their children for this year's Summer School Programme. 
The Foreshore School's summer school is an activity-packed programme and runs until Friday, August 17th, 2018. The summer program goes beyond routine school activities as it promises intense remedial academic classes in numeracy and literacy. Foreshore school believes in the importance of play-work and creating a fun environment for the children as they learn. thus, a number of engaging and interesting activities such as fashion design, excursions, soccer, swimming, languages and the more are lined up for the kids.
While the school's schedule is quite packed, it has a lot of flexibility including extended care hours up till 6 pm, selection of preferred classes and clubs (for ages 6+), and different pricing rates which you can work with based on your summer holiday plans.
This programme caters to children from ages 2 – 13 years, while the creche arm of the school remains open for the entire holiday period.
——————————————————————————————————————————-Sponsored Content