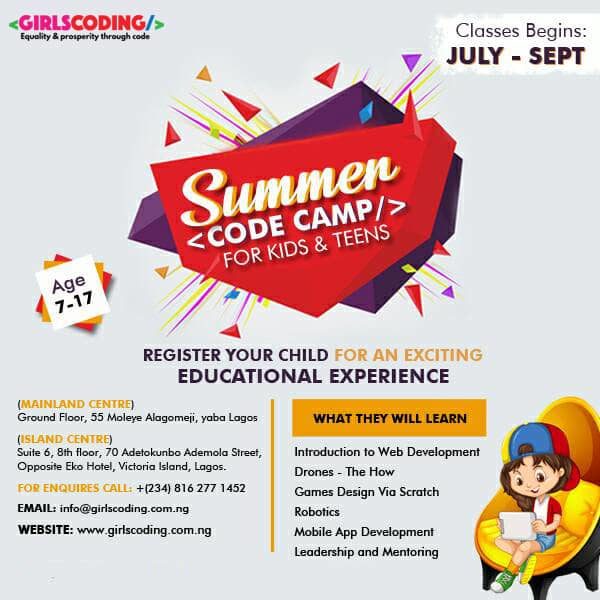 The Girls Coding Summer Code Camp is here again and we are excited! What plans have you got for your kids this summer?
Why not get them coding!
Our focus is on using technology to search and recognize smarter ways to help kids learn and one of the ways to do this is by teaching kids computer science and how to code.
The benefits of kids learning to code early cannot be over emphasized this gives them the opportunity to be creators of technology and not mere consumers
In a world that is increasingly becoming digital, learning not just how to use computers but how computers work is fast becoming a critical skill.
Our curriculum creates a balance of logical thinking and originality. we make each lesson project-based so that learning can be an interactive, fun and more personalized experience for each child.
Your kids won't just learn new approaches to express their ingenuity; they would also improve on their problem-solving skills and critical thinking abilities.
Each session runs for 2 weeks
Date: Monday,  23rd July – Friday, September 7th, 2018
Time: 9 am – 4 pm Monday – Friday
Venue:  Yaba, 55 Moleye, off Herbert Macaulay Alagomeji Yaba.
Venue: Victoria Island , 70 Adetokunbo Ademola Street, Victoria Island Lagos
Age: 7 – 17yrs
What kids will learn:
Introduction to web development (HTML/CSS/Responsive Design)
Using JavaScript to Create Interactive Applications
Drones – The how
Games design via Scratch
Google glass – The how
Robotics (Logical, lateral & spatial-thinking)
Mobile app development
Leadership and mentoring
Please bear in mind that for every child paid for, puts an indigent child in this training program.   
For more information, please call 0816 277 1452 or send a mail to [email protected]
—————————————————————————————————————————————-This content has been published for free as part of BellaNaija.com's commitment to youth, education, healthcare and community development as part of our corporate social responsibility programme