Glo comes 4th in the Top Most Admired African brands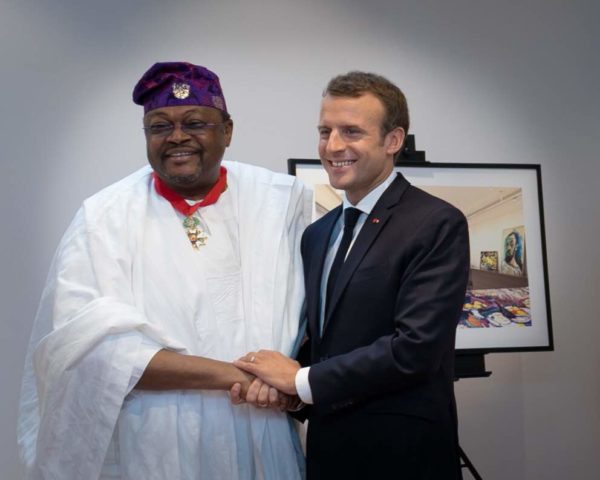 Fully integrated telecommunications solutions provider, Globacom, is not a stranger to awards and honours. Since inception in 2003, the telco has been winning international and local awards without let or hindrance for its gilt-edged, very affordable products and services.
Recently, Globacom was adjudged 4th in the top 10 Most Admired African Brands (unprompted) and fifth in the prompted rating in the Top 25 Most Admired African Brands. This latest tassel to Globacom's heavily festooned award cap is a veritable confirmation of the company's giant strides in the last fifteen years of its operations.
In the 2017/2018 Most Admired Brands survey conducted by Brand Africa partners, GeoPoll and published in African Business magazine, the report observed "an incredible consistency among the companies that featured in the survey with 60% of the top brands being present in both the unprompted and prompted surveys".
Justifying the rationale for the awards, the Brand Africa founder and Chairman, Thebe Ikalafeng, said Brand Africa 100 is a valuation and ranking of the Best Brands in Africa. He explained that the study was conducted by foremost research firms in emerging markets, GeoPoll , while the world's largest insight information research firm, Kantar TNS gave inputs complemented by Africa's premier branding advisory firm, Brand Leadership.
His words "The valuation is a multi-tier royalty relief methodology that blends a brand's financial performance and consumer admiration to create a unique index and ranking. One of the primary drivers of Africa's growth lies in stimulating and growing thriving African and global businesses and brands in Africa. Consumers are the ultimate arbiters of that success. Thus the Brand Africa 100 signals which brands are getting it right on the continent".
Apart from Globacom, other African brands that made the Top 25 in the survey are Jumia and UBA of Nigeria, MTN, DSTV, Tiger Brands and Amarula of South Africa, Econet and Kwese of Zimbabwe, Ankara Clothing of Ghana, Tusker of Kenya, Africell of Gambia and Ecobank of Togo.
Among foreign brands, Nike of the United States of America (USA) is the Most Admired brand in Africa, while Samsung and  Adidas of Germany, Coca-Cola and Apple featured among the top 25.
This award is like an anniversary gift to Globacom which will soon celebrate its fifteenth year of existence. It is remarkable that Globacom, in all these years, has built a reputation as an authentic African brand with its extensive network across West African countries where it operates including Nigeria and Ghana. Widely adjudged as the "grandmaster of data", Globacom is renowned for its innovative and affordable offerings as well as investments in telecom infrastructure in Africa such as the Glo 1; its wholly owned submarine cable which links over 14 countries in Africa with Europe and North America. In addition to this, Globacom is currently bridging the last mile with the construction of Glo 2 submarine cable that will service the oil fields in the Niger Delta region of Nigeria. It is noteworthy that Globacom's 4G LTE which spans 33 states is unarguably the number one 4G LTE network in Nigeria. To boot, Glo's 4G architecture is 5G compliant in preparation for the next big thing in the telecommunication industry.
Since 2003, Globacom has championed football on the African continent by sponsoring the annual Glo CAF Awards for about a decade without fail. The company also powered the national league in Nigeria and Ghana as well as the national teams of both countries. Globacom started sponsoring the broadcast of English Premier League matches five years ago on frontline paid television DSTV. In continuation of its robust support for football, Globacom funded live broadcasts of all the 64 matches of the recently concluded World Cup in Russia on DSTV. Similarly, the company sponsored the Nigeria Suppporters Club by facilitating the travel of hundreds of supporters to Russia and also bankrolled 22 Nigerians on an all expense paid trip to Russia in its "GO RUSSIA" promo. The winners have returned with incredible stories about their once-in-a life time experience. To consolidate on its support for African football, Globacom produced four intriguing television commercials including legends and rhythm of Africa to celebrate the continent's robust contributions to the round leather game.
As a socially responsible organisation, the company also believes in giving back to the society through its promos and supports for people and organizations in need. Believing in the maxim that it is better to give than to receive, Globacom has transformed the lives of some of its subscribers who have won cars, household items and cash prizes in the wealth re-distribution schemes. Globacom's robust sponsorship of festivals and life-impacting events are highly valued by stakeholders. To heighten its top of mind awareness, Globacom regularly sponsors "African Voices" on the Cable News Network (CNN) every week featuring Africa's brightest and best making waves in various walks of life. The company equally designed a television drama series, "Professor Johnbull", to further its social advocacy. Week in, week out, "Professor Johnbull" attacks follies and foibles peculiar to human beings rounding off with pithy conclusions. Globacom, the game changer, also pioneered the use of celebrities, popular artistes and models as brand ambassadors thereby transforming their lives.
Indeed, the brand appeal of Globacom has constantly been on the ascendancy and it would not be a surprise if it wins more awards and recognitions in the days ahead
—————————————————————————————————————————————–Sponsored Content