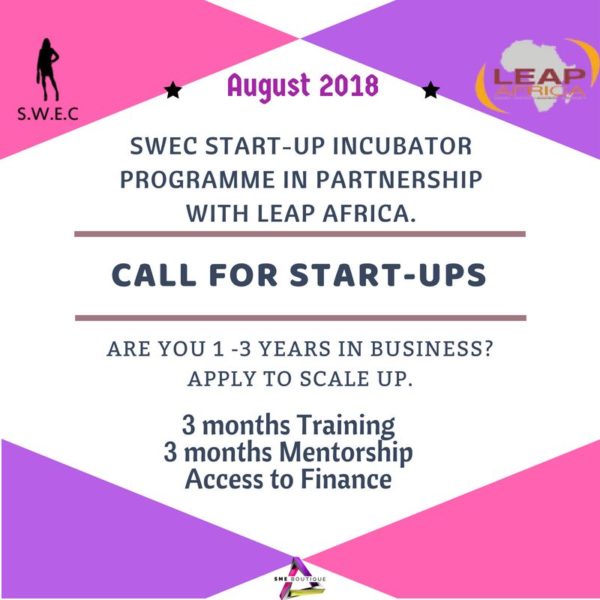 The top challenges female entrepreneurs face when it comes to succeeding in business are access to expertise- established business leaders and mentors who can give targeted business advice and knowledge as well as the much-needed finance needed to scale the business.
That's why we at the SME Boutique Women Exclusive Club (SWEC) have created a START-UP INCUBATOR Programme for female entrepreneurs who are ready to scale their business. The Incubator programme is a 6 months business skills programme for young female Nigerian entrepreneurs which includes business grants of up to Five Hundred Thousand Naira for the winner of the pitch competition who completes the business skills programme.
Through the programme, SWEC powered Addosser Microfinance Bank and Leap Africa has partnered to strengthen and advance female entrepreneurship in Nigeria that will enhance the sustainability and overall impact of their initiatives. The StartUP Incubator is the second edition of SWEC's accelerator programme targeted at female-owned businesses. The first of which saw established business leaders such as Biola Alabi, Tara Fela Durotoye, Ndidi Nwuneli to mention just a few provide business expertise as part of the programme.
The Start-Up Incubator aims to attract Female Entrepreneurs with change ideas transforming local communities on a different scale with diverse focus areas such as health, environment, education and agriculture, fashion, beauty, and manufacturing. The social initiative must be creative and innovative with high growth potential. Confirmed facilitators include Deji Agboade, MD, BPI Advisory; Gbenga Totoyi, MD Alan & Grant Consulting, Daniel Emenahor, LEAP Africa, Chiamaka Oguonu, LEAP Africa, Temitope Richard-Banji, LEAP Africa and many more!
Participants will receive adequate mentoring and coach support to facilitate the desired expansion of innovative ideas. Only 15 candidates will be selected into the programme per cohort with immense benefit including access to a professional level advisory from A-list consultants, investors, and professionals that will help participants create profitable and sustainable enterprises. Outstanding entrepreneurs have an opportunity to access finance for their enterprise at the Incubator Programme through the support of Addosser Microfinance Bank.
Eligibility
Female Entrepreneurs whose ideas and initiatives offer effective solutions to challenges in local communities across Nigeria.

Applicants must be Initiators/ Co-founders of the named project/venture/enterprise/ Foundation.

The enterprise must be located in Lagos, Nigeria.

Applicants must be able to show proof of business beyond 12 months prior to application.

Applicant must be available to attend and participate in the programme  (August 2018- January 2019).
Selected participants will receive the following as part of the incubator programme
Access to business development classes on topics such as product development, financial management, business modeling, marketing, branding and much more

3 months of free business support and hand holding

Access to business leaders and potential business mentors

Access to financing and financial products
Please access application form by clicking here
Applications are open to SWEC members, click here
 Applications are open till August 8th, 2018.
For more details, visit:
Contact:  [email protected]
Telephone: +234 7033690590s
Instagram: @SMEBOUTIQUESWEC
—————————————————————————————————————————————-Sponsored Content