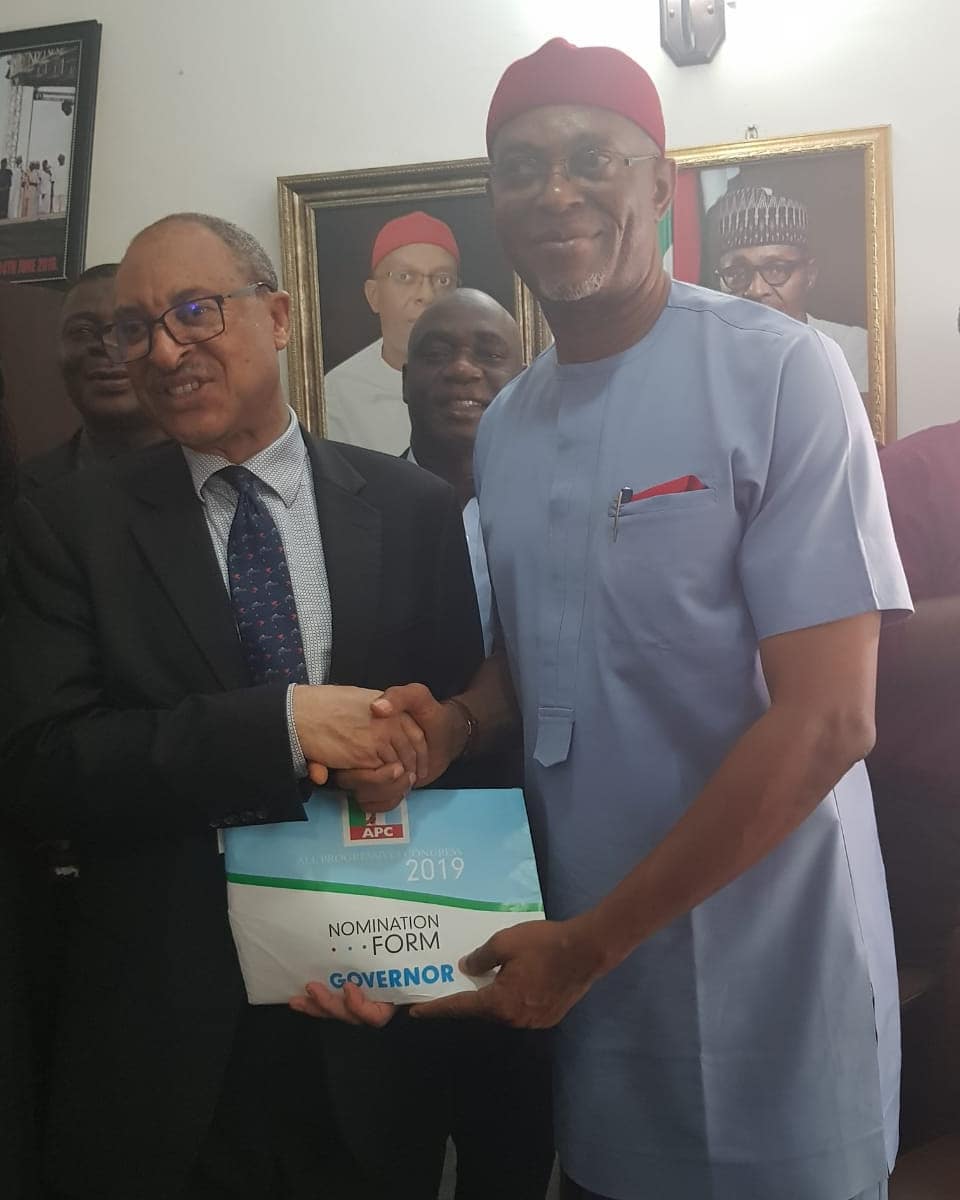 Nigerian professor and former presidential aspirant Pat Utomi has revealed his intention to run for Governor of Delta State in the coming 2019 elections.
He revealed this in a series of Instagram posts, detailing why he is running.
Pat Utomi is running under the aegis of the All Progressives Congress (APC) and he shared a photo of himself submitting his nomination form.
He wrote:
WHY I AM RUNNING FOR GOVERNOR OF DELTA STATE – PROF. PAT UTOMI

Over the past two years I have consulted with leaders and the rank and file of the All Progressives Congress, APC in Delta State, the national leadership of our party, as well as other Deltans across the political divide; and even began a Delta Arise Series to bring some focus on the issues of the day and the way forward for Delta State.
The feedback from these efforts and the huge support I received has encouraged me to embark on this journey to rescue Delta State from state capture that has impoverished the majority of our people and made the state a huge joke.
If you have a conscience and you watch a people live a fate worse than death, then your spirit must verge on being broken. Being a witness to crushing poverty lived by people across a small pond from oil production platforms, and being a witness and also a recipient of complaints from various quarters that family members continue to die untimely due to accidents triggered by the hardly motorable state of Delta roads leaves me with a feeling of despondence. However, I stand today to say that all hope is not lost.

The infrastructure challenges in Delta State dehumanizes our people, such that there is a plague of insecurity as Warri, like all other towns in the State fall into a pale of darkness after 7pm, yet it comes with gas flares that brutally tease the citizens about the possibilities of how light can scatter darkness. In addition, our environment has become so deplorable as to seem like a dust bin
As I travel across the State, my pain at the misery index has been heightened. It is easy to say philosophically that I am diminished by the death of any human being and the misery of our people. In Delta State, my conscience kills me some more with the death from avoidable causes of every man, woman or child, due partly to poor healthcare in the State. Sadly, such diminishing of the dignity of man is commonplace in our State, and this may be what propelled various groups and individuals to urge me to join the race in order to restore hope to our people.

Why is Delta State the domain of poverty in spite of such incredible endowments, human and material resources? How does a state go from being the shining light of Western Region, to one that poverty rules and desperation is etched unto the faces of citizens?
In the old Western Region which led Nigeria in innovation and people-oriented policies, the more admired entrepreneurs and civil servants were from the Midwest, out of which today's Delta State is derived. Our state has since then lost its way, and it has no excuse being the home of many poor people. Delta has lost its glory and its dignity, and it is now literally on its knees begging to be rescued from the rot of many years, which is the result of poor governance, leadership failure and the incompetence of successive PDP administrations that turned its back on our people.
Delta State receives very huge allocations from the federation account, yet extreme poverty exists in the State. Little of these fiscal transfers from the federation account that enter the state circulate in the state. Studies show that the monies enter state coffers and bolt out. If the velocity of the money is such that it touches a few more people even briefly, prosperity will visit many presently poor and it will consolidate with the thriving few.
What is more, Delta state is already hugely indebted, thus mortgaging its future generations. And the state acts as though it is unaware of our level of indebtedness. Worse still, the state's infrastructure is evidently in shambles.
The state has also become barren of corporate life. Most companies have moved away from Delta. Shell Petroleum which used to be a live-wire left Warri and most other places in the state where it operates; Pan Ocean moved to Benin and many manufacturers have since closed shop.
Furthermore, the education sector faces numerous challenges resulting, in the average, on poor educational outcomes especially in WAEC examinations.

We have also lost our top position in sports and youth development.
This continuing decay must stop. Nothing stops Delta from becoming a network of Industrial Parks linked by world-class physical and social infrastructure.
With our current population growth rates, not creating job opportunities for our youths could mean that we would reap a whirlwind of anarchy. God forbid. But prayer is not enough. We must work as we pray. We must all take action now to free our state from bondage.
We are being given a new opportunity by our democratic process to have a new management that can transform Delta and bring happy days back to all; rich and poor, male and female, urban and rural; young and old. We must seize this opportunity.
We all will be judged surely. We will be judged by our children. We will be judged by history. And ultimately, we will be judged by God.
Anybody who remembers judgment and is not moved to do something positive about our situation in Delta State should probably never have been born.
This is why today, I have submitted my Expression of Interest and Nomination forms to formally enter the race for the governorship of Delta State. This course of action became imperative because Delta State must be rescued.
I have since taken up that challenge. And I took this step because many people of goodwill urged that I have a duty to do the needful for what they think is a legacy that should be fuller and more fulfilling. These selfless patriots include Professionals, Businessmen, Traditional Leaders, Chiefs, Students, Traders, Market women, Taxi drivers, Workers, Artisans and our traditional politicians from all the three senatorial districts of the state; and an attempt to list them will take forever. Among these are two illustrious sons of Delta State who are no longer with us, Sir Olisemeka Akamukali and Pastor P.Z. Aginighan, in whose memory I also dedicate this race.

I am motivated to join this race in order to rescue Delta State from the rot it has been experiencing; not for personal interests nor for the interest of a few but for the interest all Deltans. I will be Governor for all.
Our party must create a level playing field for all who are seeking the governorship ticket of our great party. It must allow party members to make informed decisions during the Primaries by organizing debates for aspirants to illuminate the public on issues of the day, and the solutions they proffer to the huge problems facing our dear state. It is also my view that the Press, the fourth realm, supports this process by asking critical questions. I am therefore calling for not less than five debates on TV, Townhalls in the three senatorial districts, Campuses and Markets among the APC gubernatorial aspirants in the Delta State to articulate their vision and policies to turn Delta state around; and specifically to spell out their agenda on these areas: (a) State Economy (b) Infrastructure (c) Education (d) Healthcare (e) Youth and Women Empowerment
I want to indicate that when elected, our administration will provide Free Quality Education to citizens of the State. We will also ensure accessible quality health to our people. Pregnant women will have access to improved quality of ante- and post-natal healthcare services in order to reduce maternal and infant mortality.
I am committed to promoting and instituting good governance, fighting against corruption and I will run an inclusive government.

Our youths are not the leaders of tomorrow, but of today, and they are our future. They will be appointed to play key roles in our administration. Creating job opportunities for our youths will be a priority of our administration. Our civil servants, local government employees, teachers and pensioners deserve that their wages and emoluments be paid in due time so that they can live a fuller life, and not one of misery.
We must end the era of self-serving leaders and bring about an undiluted focus on Purpose being the essence of public life, and not Power, as has been the case. Our people must be the reason for public service, and they must be at the heart of governance in Delta State. As has been evident in the journey of my life, my joining this race is about service to the people of Delta State. I choose to be the "People's Servant". When elected, my growth and development plans will focus on: • Ending Poverty • Infrastructure development, and • Empowering our Communities.
We shall work hard to unite and build our party towards better inclusiveness, mutual trust and a cohesiveness that endures to serve a greater purpose and that benefits all in common; not one being defined by excessive partisanship.

It is time to restore hope and dignity back to our people; and as we look to a better future with new and brighter possibilities, I commit to providing the required leadership that will inspire all Deltans to be the best they can be, and in a manner that will enable each and everyone to pursue their legitimate individual and group interests and achieve their set goals with peace of mind and security assured. This is my new deal to all Deltans for a new Delta.
I am here only to assure you that hope is on the way, and the future that we wish for now beckons. I have the much-needed experience in Government, Business, Social Enterprise, NGOs and Academia, and the evidence of having served as a leadership and development consultant to several governments within and outside Nigeria. I will be bringing all of these to serve Delta state as Governor and will begin to deliver from Day one in office. What is left is for all of us, Deltans and residents alike, to work collectively towards that new future with zeal and determination, and to bring about a change of the present PDP administration in the state to one with sincerity of purpose, a commitment to the common good of our people and a government that will always put our people first. The time for that change starts now.
Delta must rise up again! Let us arise and push to redeem Delta State for ourselves, our children and for generations unborn.
May God bless Delta State, and may God bless the Federal Republic of Nigeria!!!
Pat Utomi
12 September 2018
Abuja
Photo Credit: profpatutomi