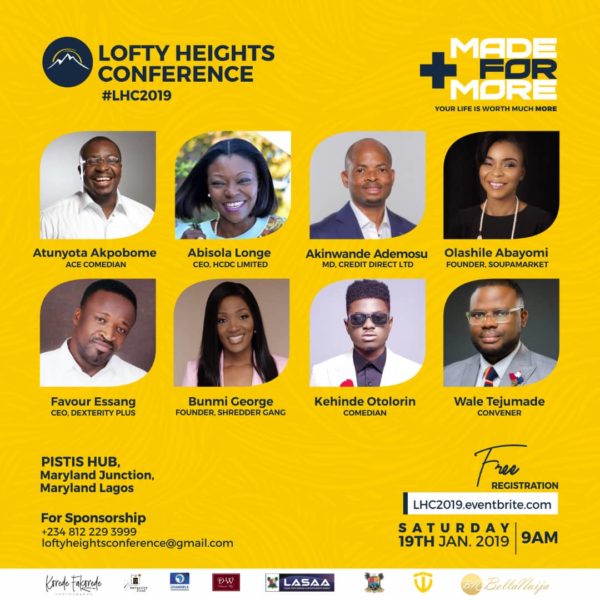 Lofty Heights Conference is undoubtedly one of the most attended and most impactful gatherings of Young Professionals in Nigeria. It is an annual inspirational and mind-provoking gathering designed to empower participants to be the best at their chosen fields, become all they were created to be, and live a purposeful life that is built on excellence. This event helps attendees to get clarity on goals and visions for the New Year.
Join Akinwande Ademosu (MD Credit Direct Ltd), Atunyota Akpobome (Alibaba), Abisola Longe (CEO, HCDC Limited), Bunmi George (Shredder Gang), Kehinde Otolorin (KennyBlaq), Olashile Abayomi (SoupaMarket), Favour Essang (CEO, Dexterity Plus) and the Convener, Wale Tejumade, at The Lofty Heights Conference 2019 themed, "Made For More".
This highly impactful and life-transforming conference is going to help you to re-assess and re-evaluate your life, thereby positioning you for greater exploits in 2019 and beyond. It is time to break the limits, stretch, challenge the status quo, yearn and thirst for more and to become better versions of ourselves because we are Made For More.
Event Details:
Date: Saturday, January 19th, 2019
Time: 9 am
Venue: Pistis Hub, Maryland Junction, Maryland, Lagos.
The event is absolutely free, however, registration is compulsory.
To register, please click here for enquiries, please call Eniola on 08188508056 or Lummy on 08127948393. You can also follow the hashtag #LHC2019 #MadeForMore for updates.
Attending this conference is undoubtedly one of the best gifts you can give your year 2019. Your future will also thank you for it!
—————————————————————————————————————————————–
Sponsored Content