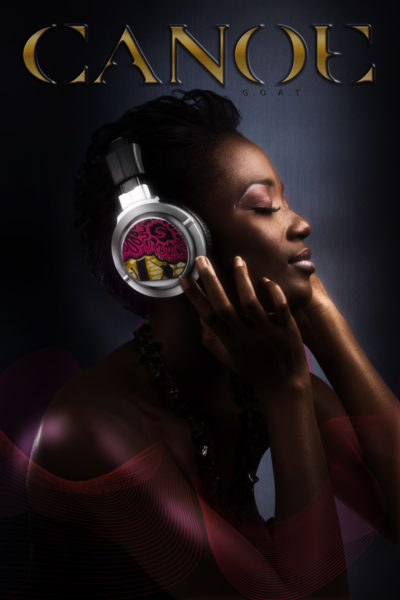 We introduced Canoe (See Post HERE) last year when they held their Lagos launch, now the Quarterly African publication is back with a new issue.
In its September 2009 Music Edition, CANOE Quarterly Magazine salutes the Originals that changed music in Africa. . Aptly titled 'The G.O.A.T. (Greatest of All Time) Edition', it is spearheaded by the story of Afrobeat King, Fela Anikulapo-Kuti, and his relevance to today's music culture.
In recent years, the music industry has experienced an influx of different sounds, sometimes pure genius and sometimes overwhelmingly confusing. In a global world filled with marketing ploys to satisfy consumers' needs for instant gratification, the African music industry has not been spared by the assault. The result: the domination of the airwaves by meaningless lyrics backed by expensive sound production. To re-define the future, one has to look into the past, to a time when musicians were vocally gifted and music had messages.
The edition pays homage to African musical legends and icons who decided that the status quo was not acceptable, used their music as weapons for social change and/or spearheaded new movements in music; Fela Anikulapo-Kuti, Miriam 'Mama Africa' Makeba and Ghana's Hiplife originator Reggie Rockstone, to mention a few.
Fela Kuti's life and music was definitely controversial, but he was also so much more than the marijuana and women. "Sometimes people think he was frivolous, because they saw girls around him and he was having sex three times a day", says Lemi Ghariokwu, graphic artist and designer who is most renowned for providing many of the original cover images for Fela's recordings, and is also featured in the edition. "But he needed all that energy to feed off on. Fela was very deep, he carried on like a Superman and he was as frail as me, but he had a very bold spirit. I learnt a lot from him. I loved his boldness and his sense of purpose."
The edition also acknowledges a new generation of flag bearers in the African music renaissance – receiving the baton from musicians like Youssou N'dour and Salif Keita – including Nneka, Banky W., Keziah Jones, Ghana's M3nsa, South-African hiphop group Jozi and French-Congolese heartthrob Kaysha.
Gracing the cover of the edition is one-half of ex Ghanaian pop-duo 'Irene and Jane'. Now a solo artiste under the stage name 'Efya', Jane Awindor returns to the music scene with not only a new moniker but a new musical direction.
Elsewhere in the magazine, continuing in the ode to all things musically-inclined, are features on the coolest audio gadgets from powerhouses like Bang & Olufsen and exclusive interviews from heavyweights like Bunmi Jinadu, humanitarian and founder of Interglobe Concepts Inc., organiser of Music Mix Africa credited with bringing R&B sensation, Lloyd to Ghana and Nigeria.
"The luxury of having a musical culture such as ours has not only been an integral part of our societies, but has even had a major influence in the development of modern music across the world", says Ms Sefa Gohoho, Business Director and one of the founders of the CANOE group. Editor-In-Chief and Founder, Kweku Ansah adds, "CANOE Quarterly's journey at the end of two years is celebrated in music – Music is everything. If you have forgotten that magical power of music, find it in African song and dance; buy, download or make some".
The G.O.A.T. Edition goes on sale from the second week of September 2009.
About CANOE:
CANOE Quarterly Magazine is an African luxury lifestyle magazine celebrating our great continent and its people in a uniquely deserving manner, with a purpose to correct the distorted international media image of Africa.