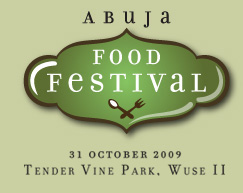 The first Abuja Food Festival is set to take Abuja by storm on Saturday 31 October 2009 at the Tender Vine Park in Wuse II. Doors open at 11 am and the fun will continue all day until 7 pm. The Abuja Food Festival will bring together the city's finest restaurants and eateries to offer Abuja residents and visitors a taste of the wonderful things our city has to offer. Those who attend the festival will get to sample signature dishes from both a local and global menu.
The festival will be a day of food, fun and family. It is not only a wonderful family entertainment option, it is also a great way for our local businesses to promote themselves. The Abuja Food Festival is a unique opportunity for them to create or deepen their relationship with our city and its residents and visitors.



Some of the participating establishments are: JB's Grill, La Luna, Salamander Café, SuhJuiced, Vanilla, Drumstix, Chez Victor, Whitney's Party, Shelter Suites Hotel.
Parents will have the option of letting their children enjoy the fun and safe KidZone brought to us by Maitama Amusement Park.
The festival is offering advance tickets on sale at Drumstix in Wuse II, Salamander Café and SuhJuiced at 1st floor, Ceddi Plaza. The ticket costs N500 and will allow the visitors to taste small bits of food for free and purchase more food if they so choose.

The festival could not be what it is without the generous support of our sponsors: eMotion Advertising, Maitama Amusement Park, Abuja Top 25, BellaNaija.com
Alarena.com, Gbogbo.com, Afrigourmet.com.
For more information, visit www.abujafoodfestival.com
Media Contact:
Rama Shagaya
rshagaya @ gmail.com
BN is giving away some free tickets to the Abuja Food Festival to our Abuja based readers! Just send an email to [email protected] and tell us what your favourite food is. Its that simple. The first 5 entries will win a pair of tickets!