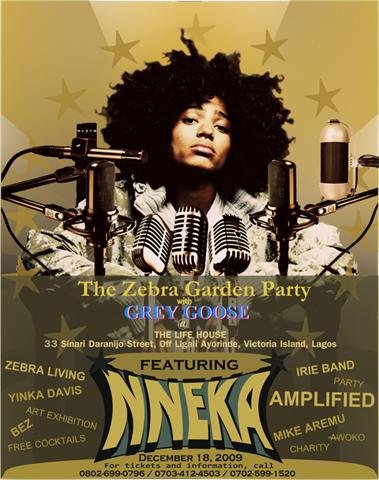 On the 18th of December, Zebra Living will host a special fundraising event, The Zebra Garden Party. The 2009 Zebra Garden Party will be the social platform on which we'll further demonstrate our belief in DIY development and specifically exposing issues of great concern to us: Culture, Civic Rights and Duty and the Environment.
Zebra Garden Party Highlights INCLUDE:
*Live Performance from the MOBO award winner, NNEKA
*Performances from our friends and favorites like Yinka Davies, Mike Aremu, Mfon, Awoko and our very own Irie Band.
*DJ session with AMPLIFIED in full force setting the turn tables ablaze.
* Fashion Show featuring Limited Edition Zebra and a debut show by Irie for Men.
* Delectable Grey Goose Bar ALL NIGHT LONG – free cocktails!
* Photography exhibition + 24 hour Zebra boutique
* Fabulous raffle prize give-aways, wholesome canapes and a wonderful chance to network
* The unofficial opening of The Life House.
Start Time: Friday, December 18, 2009 at 5:00pm
End Time: Saturday, December 19, 2009 at 12:30am
Location: The Life House
Message from Zebra:
We know that you are all very busy folks…believe me we KNOW.
So…..we're running a special Zebra Garden Party ticket delivery service on Friday and Saturday (11th and 12th December) from 10pm to 4pm.
As you know tickets are N12,000 each so please just text your full address including descriptions; preferred day and time for delivery and how many tickets you want and we'll do all we can to get your tickets to you pronto. Cash and Cheques are acceptable for this service!
Text details to 0802 699 0796
xxx
The Zebra Garden Party Team
_____________________________________________________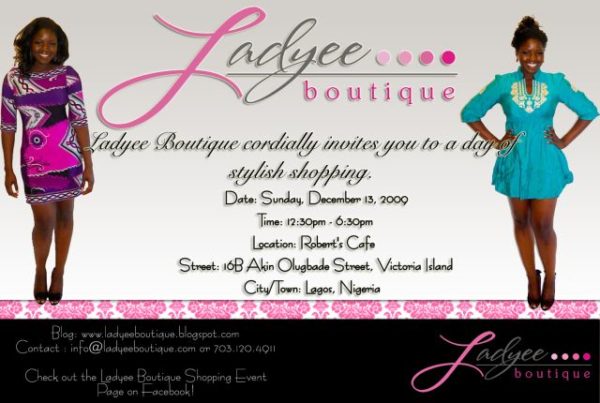 Ladyee Boutique is BACK in your city! If you missed the last shopping event, you certainly do NOT want to miss this one, we've kicked our offerings up several notches as we bring the BOUTIQUE experience back to you. We've selected every item with the utmost care and attention to detail, keeping the super stylish and discriminating "Ladyee" in mind. We guarantee you'll love our gorgeous selection of dresses, tops, bottoms and chic accessories, in addition we are confident you'll be pleasantly surprised with our prices.
Date: Sunday, December 13, 2009
Time: 12:30pm – 6:30pm
Location: Robert's Cafe
Street: 16B Akin Olugbade Street Victoria Island
City/Town: Lagos, Nigeria
_____________________________________________________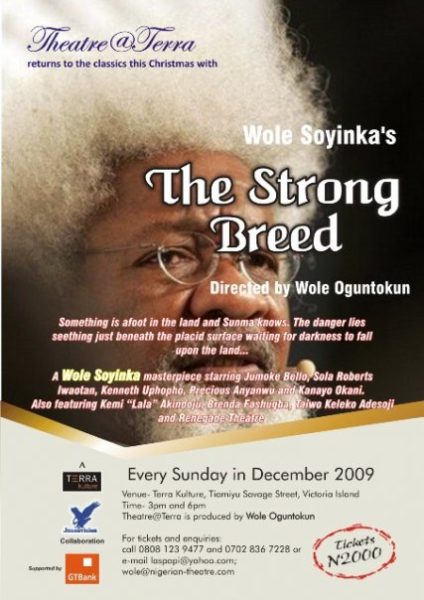 [email protected] Terra , based in Terra Kulture, Tiamiyu Savage Street, Victoria Island, Lagos, is Nigeria's most consistent venue for theatre. A project unlike any, since the travelling-theatre days of Hubert Ogunde and Duro Ladipo, it commenced on the first Sunday of July 2007. In it, stage plays are performed twice every Sunday.
It is a collaboration between Terra Kulture and Jasonvision/Renegade Theatre.
This month,The Strong Breed Directed by Wole Oguntokun. See details in flyer above.