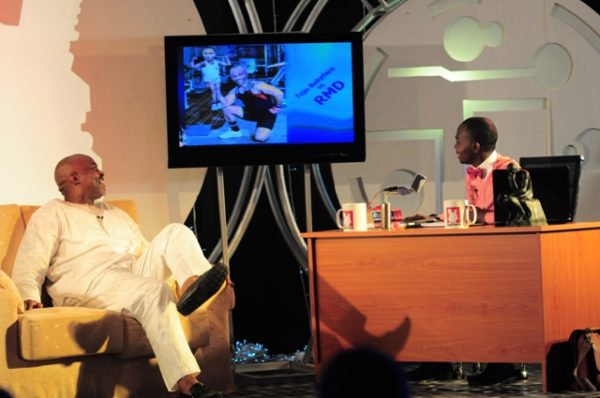 He made his mark as one of Nigeria's top stand-up comedians, now Teju BabyFace is foraying into new territory – Late Night TV. He will be hosting a TV Show on Silverbird TV and we have all the details! Check out the press release below.
The Teju BabyFace Show can best be described as the African variant of a comedy confluence where Johnny Carson's Tonight Show meets Ellen Degeneres' Ellen Show with a little touch of the Chris Rock pop magic. According to the originator, the show was inspired by the need to fill the vacuum in TV comedy – motivated by a burning need to give discerning viewers a garden variety of creative comic expressions.
Contrary to earlier perception, the show is not anchored in a similar style with Jon Stewart or Jay Leno, but finds more affinity with Arsenio Hall, Johnny Carson, Ellen Degeneres, and Benny Hill. Since comedy to Teju is a calling, the show as he revealed feels like a second skin to him, in that he aspires to reach a level where the studio feels like home, and the set becomes as comfortable as an octogenarian's favorite rocking chair, where he's able to showcase compelling whiz and mastery of the comic arts like one of his influences, Johnny Carson.
Unlike some comedy shows that employ brash tact when "interrogating" guests, Teju's guests never appear embarrassed by his jokes, on the contrary the guests become too relaxed that they attempt very smart witty jibes at Teju himself, making the atmosphere with his guests reeking of mutual respect and overwhelming camaraderie, that most times his celebrity guests become reluctant to leave the set.
However, The Teju BabyFace Show is not just about making viewers laugh, because the various segments of the show act as a subliminal medium for social reformation – using comedy as a tourniquet to mend broken hopes and dreams, and a gramophone that brings societal ills to light in a bid to tweak the conscience of a people, in order to forge the concepts of harmony, tolerance, discipline, and patriotism. Yet each segment of the show exercises subtlety when dealing with serious issues, assuming the role of an impartial umpire with regards to sensitive matters.
Built on a healthy blend of humor and wits, the Teju BabyFace Show thrives on its ability to explore contemporary social issues and developing stories with brilliant satirical sketches that appear neither offensive nor patronizing – yet delivered with poignant and therapeutic imagery.
On the parade of high profile celebrity guests, Teju admitted that the choice was not a cosmetic affair, but a deliberate process of inviting personalities whose character and achievements may impart positively on the viewers. Reacting to questions on how he was able to relate with these high profile individuals, Teju confessed to having applied decorum with some guests, despite the fact that he had a great time with all of them "All the guests that came on the show were awesome, though you can imagine I had to be a tad less flippant with the First Lady of Lagos…yet at some point I still bared the 'craze', but what I did was flip it down a little teeny bit." In the case of the veteran highlife musician, King Sunny Ade (KSA), Teju Babyface confessed to having been simply blown away by how funny and knowledgeable KSA was.
One may wonder how challenging it was for Teju to switch from stand-up to TV, but according to this intellectual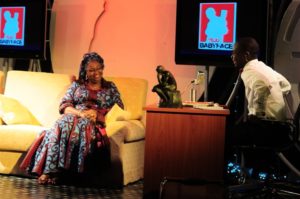 comedian, both mediums are not really different, since they all involve talking to people, "they only differ in content, in terms of delivery, length and material – so it wasn't difficult for me since I'm already used to talking to people all the time" he revealed.
Funding the production of a TV show like this one wasn't an easy venture, "we didn't have a dime to start, and this project has gulped a lot of funds already", he remarked, stating that the financial challenges he experienced while starting and the divine provision and goodwill were motivation enough for him to believe that this show was destined to be a success, "that God used the Holy Spirit to supernaturally provide for us every step of the way is validation over and over again that The Teju BabyFace Show has come to stay".
The Teju BabyFace Show premieres in Africa on Tuesday, the 4th of May on Silverbird Television between 8pm and 9pm. Some of the celebrity guests to watch out for in the first season include: Tuface Idibia, Basorge Tariah Jnr., Tunde and Wumi Obe (T.W.O), King Sunny Ade (KSA), Her Excellency, Mrs Abimbola Fashola (First Lady of Lagos State), Asa, Richard Mofe Damijo (RMD), the late Da' Grin, and many others.