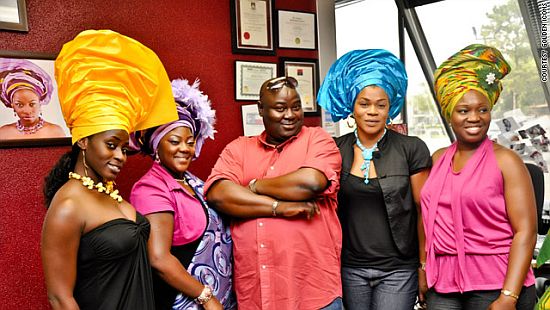 Houston-based makeup artist and "master headturner", Segun Gele (Hakeem Oluwasegun Olaleye) has made a name for him in the USA as the go-to man for woman seeking showstopping gele styles and beautifully madeover faces.
He famously beautified Nollywood star, Ini Edo-Ehiagwina for her wedding in April 2009 and has transformed hundreds of brides for their big day.
CNN MarketPlace Africa met up with Segun and were wowed by his skills. According to CNN, "The Houston-based businessman has made an artform out of tying a gele — the gravity-defying headwraps worn by Nigerian women…Watching Segun Gele whip the material into graceful folds and arcs in less than five minutes, you know he is the master"
You'll be surprised to learn that Segun has built his brand to such lofty heights in under a decade. He arrived in the US from Nigeria in 2003.
"He first noticed he could turn his skills into a promising business when he offered to tie a woman's head wrap at a friend's wedding.
Within minutes, he had whipped the two-yard fabric into a headturning, vertiginous shape that left other women at the party impressed. Before long a queue had formed and he started charging $7 a piece to tie gele at the wedding, Segun said"
Segun transformed that experience into a flourishing business!
According to CNN, he now "charges $650 to tie wraps for brides and their party for Houston weddings, and $1,000 plus hotel, rental car and airfare for out-of-town weddings.
This wedding season he's already flown to Georgia, New Jersey, California, Massachusetts and Maryland. Knowing brides reserve him a year in advance, well aware of his popularity"
Amazing story! Another shining example of transforming passion into enterprise. You can find out more about Segun Gele via his website www.segungele.com
Up next for Segun, his own wedding! He will be getting married to the love of his life Funmilola in December 2010.
We are also glad to see Nigerian women in diaspora keeping the flag flying with their creative 'gele' styles. Has anyone else noticed the different 'gele' approaches. The styles spotted by women in the US are usually taller and more extravagant than the ones we see in Nigeria. Quite interesting to observe.
Photo Credit: Golden Icons
Watch Segun Gele on CNN Marketplace Africa