Wow! We cannot believe that it is September 2010 already!
This year has been been a fabulous one for events and red carpets in Nigeria.
We have seen our favourite stylistas step up their style and the men haven't been looking shabby as well.
There were so many events in late July and August, we cannot believe that we haven't shared some of our favourite ones. We apologize and intend to watch up by this weekend!
The Deola Sagoe Polo launch which was supported by CANOE Quarterly Magazine was one of our fave events, not just because it was the official presentation of the brand new line of Deola Sagoe Polos but it was also a great red carpet event.
We saw an eclectic collection of looks from City Chic to casual ankara looks.
Why wait?
Check out BN Red Carpet Glam – The Canoe Quarterly/Deola Sagoe Polo Launch
___________________________________________________________________________________________
Designer Deola Sagoe looked gorgeous in a fluid short lacy dress! Her elegant updo adds sophistication to this sexy look, her tights and gold heels add a 'haute' touch to the look. Love.
Kweku Ansah is the publisher of CANOE and also the Creative Director of Deola Sagoe. He looked handsome in a blue Deola Sagoe polo and jeans. Nice casual look.
The Muse
Model Amina Alli is the new 'face' of Deola Sagoe; she played the part perfectly by rocking a selection of looks from the recent Deola Sagoe 'vintage' collection which premiered at the Africa Fashion Week in Johannesburg earlier in the year.
Jumpsuits
The jumpsuit trend is not letting up and we are still fawning over it! Yewande, Remi and the other ladies rocked this trend perfectly. We also get to see a variety of jumpsuit looks with variances in fabric including silk and linen and cut. Definitely a trend worth exploring this season.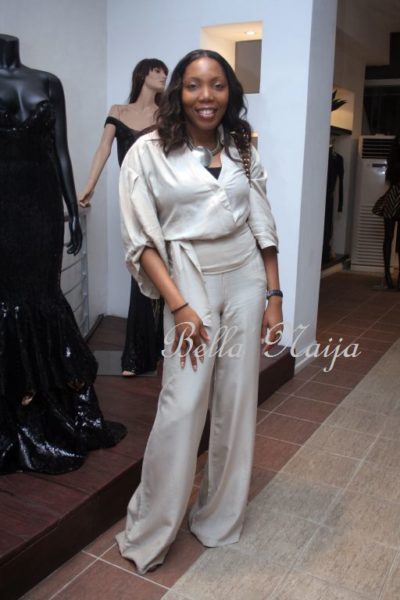 Maxi
If you are a regular BN reader, you'll know that we totally love the maxi. It is such a versatile and flattering piece. We are loving Ameera's pink and grey butterfly motif maxi dress and black clutch. All three ladies look good.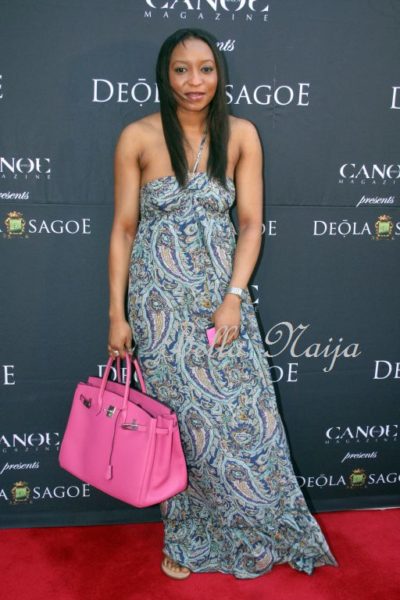 Black
What's the red carpet without classic black? We saw a variety of black looks on the DS red carpet. From the classic LBD as worn by Funmi Iyanda to the frilly black top with black skinnys as rocked by Linda Mesrob.
Bold Jackets
Bold jackets are a big trend this season. These jackets are not for the lady who is not afraid to stand out. They are designed to be worn not as 'outerwear' but the main focal point of an outfit. Jennifer, Tayo (in LDA) and Bridget look fab rocking this look.
Standout Dresses
Nothing beats a stunning dress! When you wear an outstanding dress, you can get away with keeping everything else in your look low-key. As you can see, all three ladies paired their dresses with simple accessories and allowed the dresses to shine. Beautiful.

Denim
Whoever invented denim did the world of fashion a great favour. Great denim looks were on display at the DS event.
Good Things come in 3s
Do you know the greatest red carpet accessory? Well apart from a great smile, it is a beautifully dressed red carpet companion. Could be your girlfriends or your partner, doesn't matter.
These ladies show that good things come in 3s. Uber fab!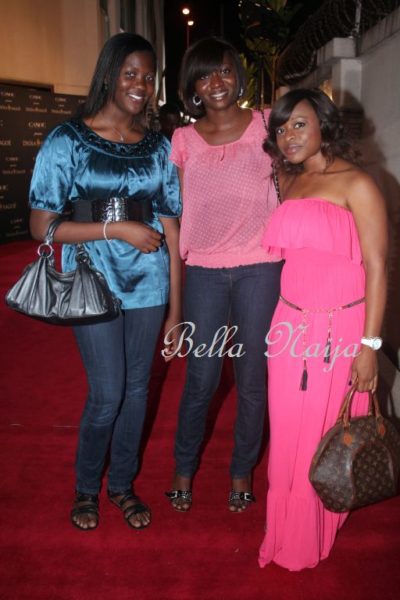 Ankara
Ankara is totally here to stay. No event is complete without ladies (and gentlemen) wearing ankara in one form or the other.
Colour!
Nothing beats colour, it instantly adds vibrancy and life to any look. If you are one of those 'black' addicts who thinks its slimming and professional, yes it is but welcome a burst of colour into your wardrobe soon. Stephanie Okereke and Lola Omotayo rocked a red dresses with metallic heels. Chin Okeke went down the fashionisto route in red trousers paired with a unbuttoned white shirt and blue shoes.
City Chic
It's chic in the city! City chic is defined by the 'I threw this on' and it looks fab philosophy. Some key pieces include a crisp white shirt, city shorts and a cheeky smile.
Relaxed Glam
With a more floaty less restrained silhouette, these guests look relaxed yet glam. We love how their shoes, earrings, bags and other accessories add to the glam factor.
Texture
For some fashion is about 'looking pretty', for others, it's an artform and they are determined to have fun with it. We totally covet all these looks. The rich blend of texture, colour and shape.
Kaftans & Suits
It's great to see some contrast in the men's looks at the DS event. From African and middle eastern inspired kaftans to modern cut suits.
Photo Credit: Kola Oshalusi