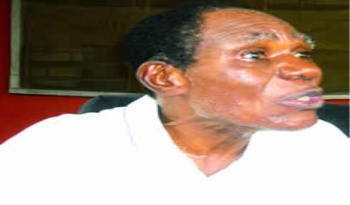 Just a few weeks ago, The Sun and Punch Newspapers in Nigeria published articles outlining the plight of "The New Masquerade" actor, James Akwari Iroha alias Giringory Akabuogu; according to reports, James was suffering from a variety of ailments including loss of his eyesight and did not have the financial means to obtain adequate medical care.
The interviews in the newspapers unearthed the fact that James actually created the original "The Masquerade" TV Show while he was a staff of the Nigerian Television Authority (NTA); due to the fact that he was a employee at the time of the show's creation; according to NTA policy, he had no claim on the copyright and did not receive royalties.
A recent editorial by Robert Obioha in the Sun Newspaper, eloquently outlined James' plight.
The two interviews published one week apart showed the appalling story that has become the ugly lot of the septuagenarian consummate artiste who has literally turned blind due to carelessness of our doctors or lack of early care or both.

Whatever is the case, reading the sad story of the once bubbling and agile Giringory full of pranks and witticism, who kept all of us laughing and boisterously glued to our television sets in the 1970s, 1980s and even 1990s in his trademark rustic Calabar idiolect, is indeed not a laughing matter at all. More worrisome is the fact that at 70 years of age, Iroha has no roof of his own over his head. He still worries about rents. His car is in great state of disrepair. His pension is not regular. In fact, there is no laughter in the life of the man who ensured that we laugh away our sorrows after passing through the harrowing experiences of the 30 months fratricidal Nigeria-Biafra war of 1967-1970.

His near-blindness state is worse than any disease. He would rather prefer losing one leg than losing his sight. If it is that bad, it is tragic for the aging actor. How can a man who created such rave-making television drama by modeling a theater out of his parents' funny mannerisms be left uncared for by those he brought joy into their lives and living rooms?
Sadly, James passed away today as confirmed by his son, Uche Iroha; he was 70 years old.
RIP.