Good Afternoon BellaNaijarians, it's Thursday!
As you know, it's that day of the week, when Africa's pace setter for all things entertainment, fashion, lifestyle, music and more, BellaNaija.com, keeps you constantly updated on all the most buzzed about events and places of interest to be spotted with friends and family.
From Lagos to Abuja all the way to New York City and Houston, we have got you covered with loads of events. So sit back, relax and see for yourself, the places you need to be seen this weekend.
Have fun, stay safe and see you all next week. Ciao!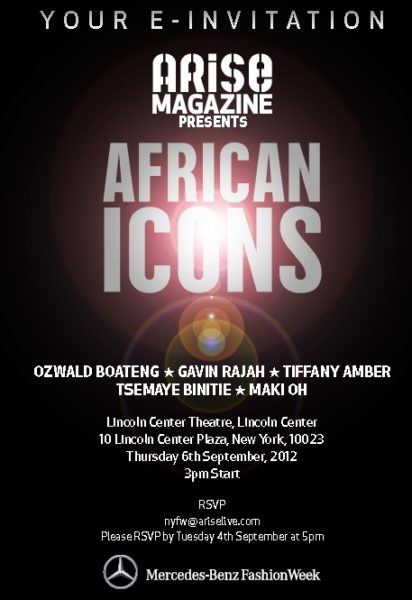 Arise Magazine presents African Icons
Today, Thursday 6th September 2012, Arise Magazine, one of Africa's top selling fashion publications, will be hosting its African Icons – Gavin Rajah from South Africa, Ozwald Boateng from UK/Ghana, Tiffany Amber from Nigeria, Tsemaye Binitie from UK/Nigeria and Maki Oh from Nigeria, at the Mercedes Benz Fashion Week. These top designers will display their Spring/Summer 2013 collections at the Lincoln Center Theatre, Lincoln Center, 10 Lincoln Center Plaza, New York, 10023, USA.To RSVP, send an e-mail to [email protected]
Date: Thursday 6th September 2012
Time: 3 PM
Venue: The Lincoln Center Theatre, Lincoln Center, 10 Lincoln Center Plaza, New York, 10023, USA
____________________________________________________________________________________________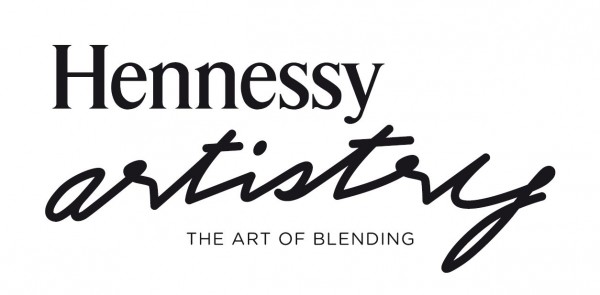 Hennessy Artistry Club Tour
Another edition Hennessy Artistry Club Tour will take place tomorrow, Friday 7th September 2012 at Club Uno and on Saturday 8th September 2012 at Ground Zero, Port Harcourt. Nigerian artist TBC will be performing at both events. Admission is free for all.
Dates: Friday Friday 7th September 2012 | Saturday 8th September 2012
Venues: Club Uno, Lagos | Ground Zero,Port Harcourt
______________________________________________________________________________________________________
Water & Purity
Tomorrow, a conceptual art exhibition – "Water & Purity", featuring these 7 women – Alafuro Sikoki, Taiye Idahor, Priscilla Nzimiro, Folashade Ogunlade, Medina Dugger, Aisha Augie- Kuta and Peju Alatise, will take place at the Wheatbaker Hotel. It will be a fantastic gathering of art and music. Admission is free for all.
Date: Friday 7th September 2012
Time: 7 PM
Venue: Wheatbaker Hotel, 4 Onitolo Road, Ikoyi, Lagos
________________________________________________________________________________________________________
Crack Ya Ribs with Julius "D'Genius" Agwu
Nigerian comic act, Julius Agwu will be live in Houston, Texas, USA, tomorrow at his Crack Ya Ribs show set to take place at Ayva Center. Joining Julius to entertain you all night long with music and hilarious jokes are Mateo Y, MC PC, Senator, Funny Bone, Seyi Law, Ugo, Seyi Brown, Hoodbilli, Maxpain and IB the Artist.
Date: Friday 7th September 2012
Time: 7 PM
Venue: Ayva Center, 9271 Richmond Avenue, Houston, Texas, 77063, USA
Ticket Prices: Regular $30 | VIP $50 | VVIP $100
Ticket Locations: Call 713-269-1259 | 832-433-3745 | Visit Farmer's Market, Safari Restaurant & Finger Licking
________________________________________________________________________________________________________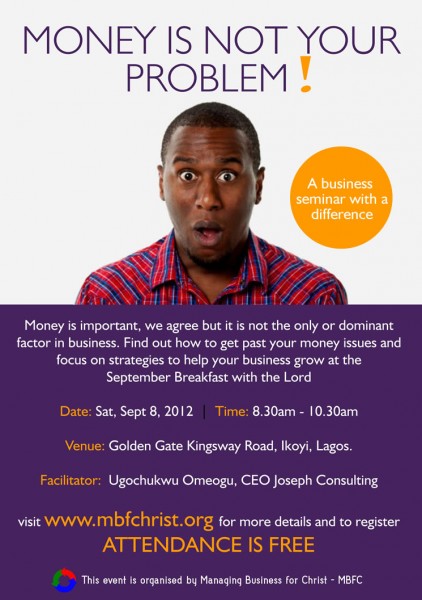 Managing Business for Christ presents Money is Not Your Problem
Managing Business For Christ, a Christian initiative will hold its September Breakfast Seminar titled Money Is Not Your Problem, this Saturday. Tagged "Money is Not your Problem", the event facilitated by Ugochukwu Omeogu (CEO, Joseph Consulting), will see attendees find out how to get pass their money issues and focus on ways to help your business grow. Admission is free for all, but you have to register HERE
Date: Saturday 8th September 2012
Time: 8:30 AM – 10:30 AM
Venue: Golden Gate, Kingsway Road, Ikoyi, Lagos
Contact: For more information and further inquiries, Call 08024032123 | 017601841 | E-mail [email protected] | Follow them on Twitter @MBFC | Like their Facebook Page | Log on to their Website
_________________________________________________________________________________________________________
Intimate Matters Women's Workshop & Sales
Here's another chance for ladies to hangout and have loads of fun at the quarterly intimate Matters Women's Workshop and Sales taking place this Saturday. Call 08033241898 for details on how to attend.
Date: Saturday 8th September 2012
Time: 10 AM
Venue: Waxride Residence, Abuja
___________________________________________________________________________________________________________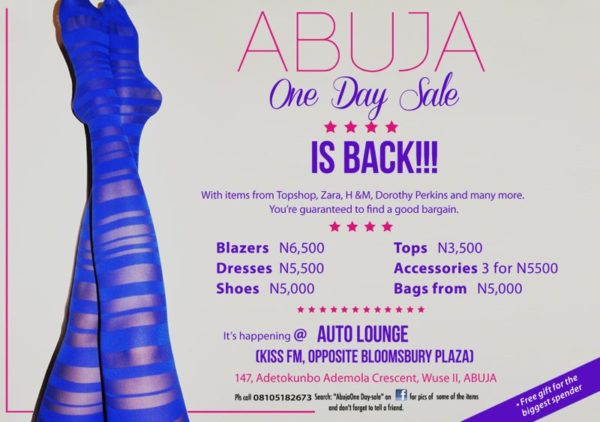 Abuja One-Day Sale
Shop for shoes, bags, accessories, blazers, underwear and many more for an affordable rate this Saturday at the Abuja One-Day Sale event taking place at Auto Lounge, Wuse II, Abuja. The first 10 customers to arrive will get free gifts and big spenders will also get something special. Admission is free for all.
Date: Saturday 8th September 2012
Time: 10 AM – 4 PM
Venue: Auto Lounge, Plot 147, Ademola Adetokunbo, Opp Bloomsbury Plaza, Wuse II, Abuja
Contact: For more info and general enquiries, call 08105182673
________________________________________________________________________________________________________
POPS Concepts presents Lagos Make-Up Fair
On Saturday, POPS Concepts will debut the first ever Lagos Make-Up Fair (LMUF) in style. The make-up and beauty shopping extravaganza intended to give make-up and beauty professionals a great platform to showcase their crafts, promises to be fun. There will be free makeovers, make-up demos, loads of shopping, music and freebies. Admission is free for all.
Date: Saturday 8th September 2012
Time: 10 AM – 7 PM
Venue: Our Place, No 7 Olufunmilayo Okikiolu off Toyin Street, Ikeja, Lagos
Contact: For more info and general enquiries, Call 08072690300 | 08037862333 | E-mail [email protected] | Follow them on Twitter @TheMakeupFair | Like their Facebook Page | Log on to their Website
_______________________________________________________________________________________________________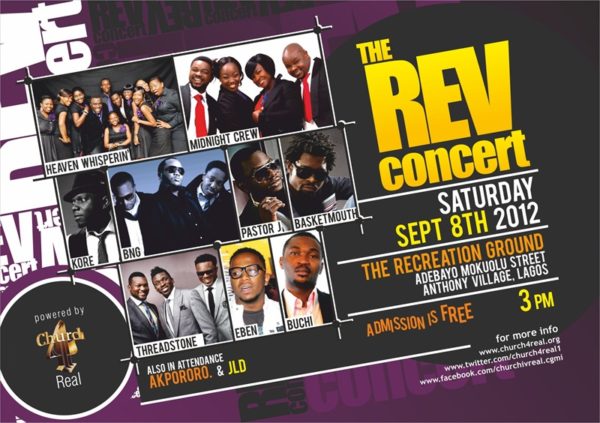 The Rev Concert
On Saturday, The Rev Concert, a gospel gathering featuring top music acts and comedians including Midnight Crew, Heaven Whisperin', Kore, BNG, Pastor J, Basketmouth, Threadstone, Eben and Buchi, will take place at the Recreation Ground, Anthony Village, Lagos. Admission is free for all.
Date: Saturday 8th September 2012
Time: 3 PM
Venue: The Recreation Ground, AdebayO Mokuolu Street, Anthony Village, Lagos
Contact: For more info and general enquiries, follow them on Twitter @Church4Real1 | Log on to their Website
_____________________________________________________________________________________________________________
Own the Night with Knight Whiskey
This Saturday, emBARssy Bar & Lounge owned by superstar comedian Basketmouth, will kick off the maiden edition of its Own the Night with Knight Whiskey soiree with a BANG! Kicking off at exactly 7 PM, the event organised to host top as well as upcoming Nigerian musicians and comedians every Saturday in 2012, will see in attendance Durella, Akpororo, Mr. Patrick and more and the host, Ogus Baba. 3 Free Samsung Tabs and free drinks will be up for grabs. Admission is free for all.
Date: Saturday 8th September 2012
Time: 7 PM
Venue: emBARssy Bar & Lounge, 12 University Road, Akoka, Lagos
_________________________________________________________________________________________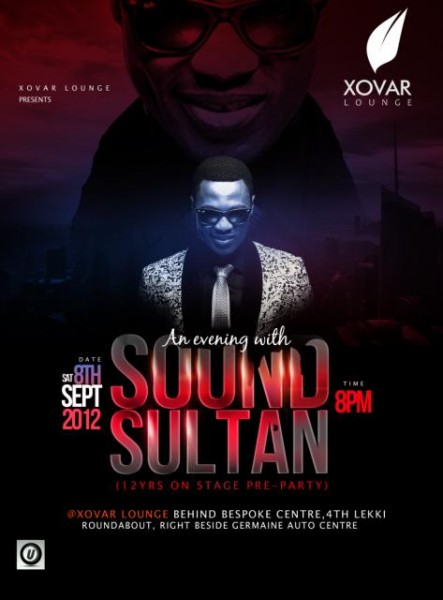 An Evening with Sound Sultan
Naija Ninja, Sound Sultan will be celebrating 12 years on stage this Saturday at the XOVAR Lounge. The event tagged "An Evening with Sound Sultan" is a pre-concert party where some of the industry veterans will be in attendance. To attend, call 08037191665 | 08033677383 to RSVP. All guests are advised to dress their best.
Date: Saturday 8th September 2012
Time: 8 PM
Venue: XOVAR Lounge, (Off the Lekki Epe Expressway behind Bespoke Centre and beside Germaine Auto Centre), Lekki, Lagos
Contact: For more info and general enquiries, SMS 08037191665 | 08033677383 | Add BB Pin 33093E18
__________________________________________________________________________________________________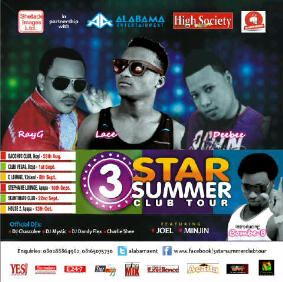 3 Star Summer Club Tour
Get ready to have fun and meet great people at the 3 Star Club Tour event, taking place at Q Lounge, Victoria Island, Lagos. It promises to be a fun filled event, where all attendees will mingle with lots of people and party all night long.
Date: Saturday 8th September 2012
Time: 9 PM
Venue: Q Lounge, 30 Ademola Adetokunbo, Victoria Island, Lagos
_________________________________________________________________________________________________________

The CloseUp Loves Naija Concert
One of Nigeria's favorite toothpaste brands, CloseUp will host one of the biggest concerts of the year CloseUp Loves Naija Concert this Sunday 9th September 2012 at the Eko Hotel & Suites, Victoria Island, Lagos. Performing at the concert are some of the biggest names in the music industry including 2Face Idibia, Omawumi, Naeto C, Ice Prince and DJ Jimmy Jatt.. To win tickets to the show, check out their Facebook Page
Date: Sunday 9th September 2012
Time: 3 PM
Venue: Eko Hotels & Suites, Convention Centre, Lagos
_________________________________________________________________________________________________________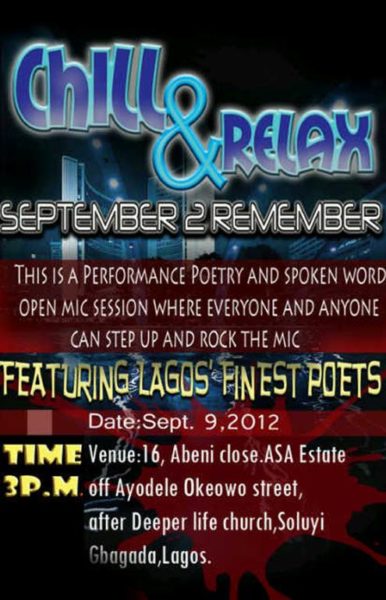 Chill & Relax presents September to Remember
It's time for another edition of Chill & Relax, a performance poetry and spoken word open mic session featuring Lagos' finest poets, will hold this Sunday in Gbagada, Lagos. Admission is free for all.
Date: Sunday 9th September 2012
Time: 3 PM
Venue: 16, Abeni close,  ASA Estate, off Ayodele Okeowo street, after Deeper Life church, Soluyi Gbagada, Lagos
________________________________________________________________________________________________________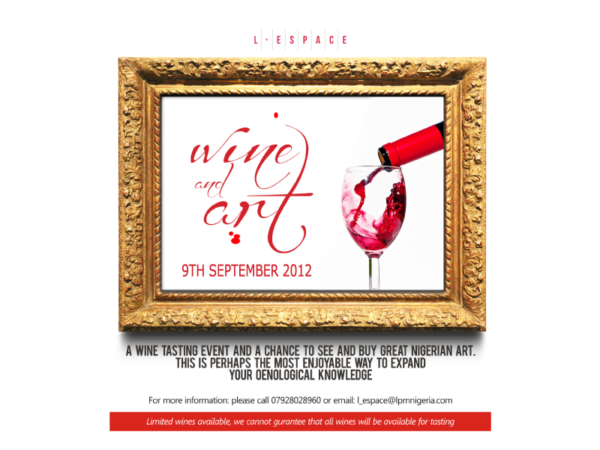 L'Espace presents Wine and Art
Fashion Retail Lifestyle store, L'Espace is inviting everyone to a day of art appreciation tagged Wine and Art. The wine tasting event will also see attendees view the creative works of renowned and unsung indigenous artists as well as buy them. Artists whose works are on display will also be present to discuss not only their inspirations but their processes too. So if you've ever been secretly curious about art, wine or both – this is the time to indulge yourself. Admission is free for all.
Date: Sunday 9th September 2012
Time: 4 PM – 8 PM
Venue: L'Espace, 19A Olosa Street, Off Karimu Kotun, Victoria Island, Lagos
______________________________________________________________________________________________________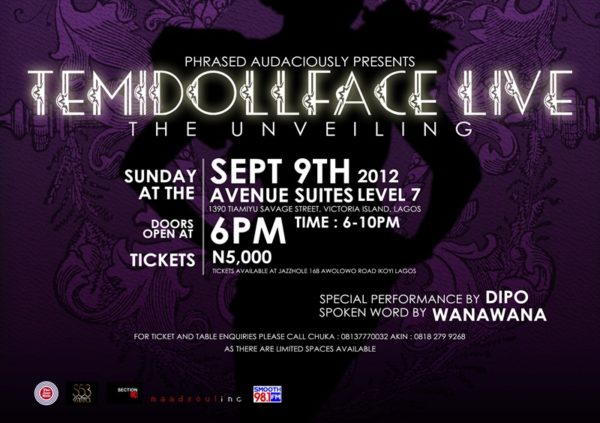 Temi Dollface Live – The Unveiling
Experience Nigerian Singer/Songwriter, Temi DollFace, live this Sunday at her Unveiling event, where you can enjoy fine wine as she performs with a 12 piece band on stage.The evening will also feature performances from the velvet-voiced Afro Soul act, Dipo, spoken word from Wana "Wana Wana" Udobang of Inspiration FM and many others.
Date: Sunday 9th September 2012
Time: 6 PM – 10 PM
Venue: The Avenue Suites, Level 7, 1390 Tiamiyu Savage Street, Victoria Island, Lagos
Ticket Prices: N 5,000
Ticket Locations: Jazzhole, 168 Awolowo Road Ikoyi, Lagos | call 08137770032 | 08033470147
_______________________________________________________________________________________________________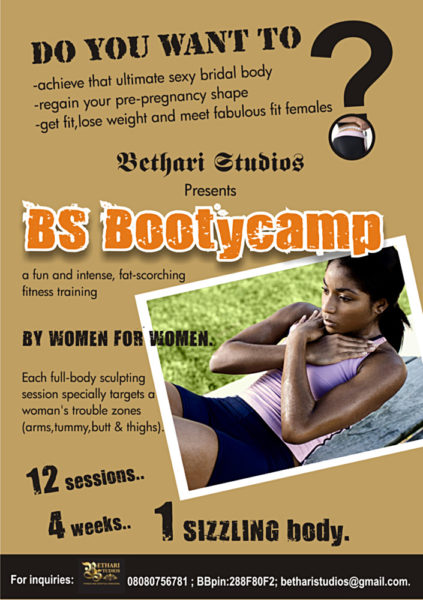 Bethari Studios presents BS Bootycamp
Bethari Studios Bootycamp, a fitness program designed by women for women, will hold another edition of its bootcamp, where all attendees will engage in the following activities – BS Cardio Kickboxing, HIIT drills and Body-Weight strength & Conditioning Workouts. Register with a friend to get a 5% discount.
Date: Monday 10th September 2012
Time: 7:30 AM | 9:00 AM Daily
Venue: Bethari Studios, Williams Estate, by Bakery Bus Stop, Surulere, Lagos
Contact: For more info and general enquiries, call 08080756781 | 07033737978,| e-mail [email protected]
_________________________________________________________________________________________________
BellaNaija.com is not responsible for the organization or further promotion of these events, neither do we have a stake in their sales or popularity. Inclusion in "Events This Weekend" is Free. Contact – adsales (at) bellanaija.com on or before Wednesday every week if you will like your event to be included. Note that BN reserves the right to choose which events are featured. "Pay to attend" parties attract a fee