Hello BellaNaijarians, how are you all doing?
As you know, it's that time of the week, when Africa's pace setter for all things entertainment, fashion, lifestyle, music and more,  BellaNaija.com, brings exclusively to you all the most buzzed about events and places of interest taking place this weekend.
From the city of Lagos all the way to Accra, Ghana, BN has got you covered. So sit back, relax and see for yourself places of interest you need to be spotted.
See you all next week.
Ciao!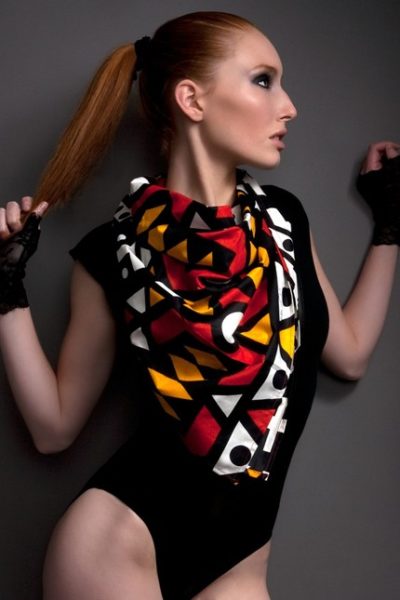 Design Label, Aya Morrison launches 1st Standalone Store in Accra, Ghana
Tomorrow, design label, Aya Morrison will launch its flagship store in Accra, Ghana. The event is a one-day affair full of class & style and an opportunity to mix, mingle, and network with influential lovers of fashion and the artistic stylists of the Aya Morrison team. Special invited guests include Joyce Ababio, Ben Nontera and Kofi Ansah.
Date: Friday 2nd November 2012
Venue: 23 Nii Bonnie Crescent, Dzorwulu, Accra
Contact:For more info and general inquiries,  call +233208589234 | +233302956355
_______________________________________________________________________________________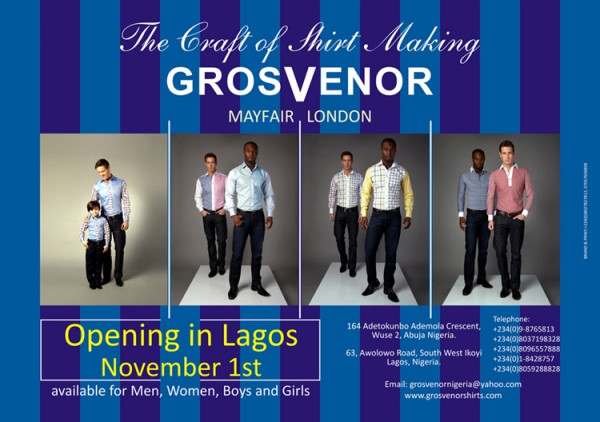 The Official Opening of Grosvenor London
Grosvenor London, a one-stop emporium for ladies and gentlemen seeking shirts and accessories of style and distinction will be open their new outlet today in Ikoyi, Lagos. The flagship destination store which is nestled in the heart of Mayfair, one of London's most vibrant villages synonymous with luxury boutiques and famous for eclectic tastes and style will be opening its second outlet here in Nigeria and this time in the fashion capital city of Lagos. There will be loads of refreshing cocktails and canapes to be served at the event. Admission is free for all, just send an e-mail to [email protected] for an invitation.
Date: Thursday 1st November 2012
Venue: Grosvenor London, 63 Awolowo Road, South West, Ikoyi, Lagos
_______________________________________________________________________________________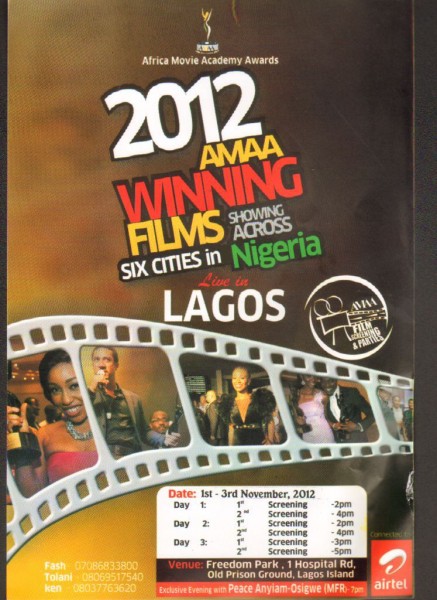 2012 AMAA Winning Films Screening
The AMAA screening moves to Lagos at the Freedom Park, Lagos Island from this weekend. You stand a chance to win invites to the screening. To win invites, log on to their Facebook page
Date: Friday 2nd November 2012 – Saturday 3rd November 2012
Time: 12 Noon – 4 PM
Venue: Freedom Park, Victoria Island, Lagos
_______________________________________________________________________________________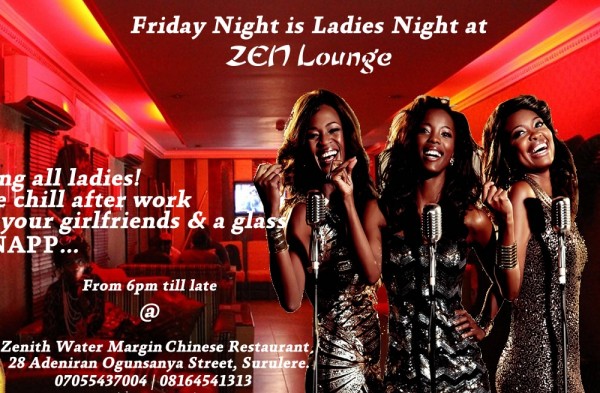 Ladies Night Out at Zen Lounge
Tomorrow, Friday 2nd November 2012, will be another fabulous edition of Ladies Night Out at Zen Lounge, Surulere. The event is the perfect place for all ladies to relax and unwind with their colleagues after work, celebrate birthdays and bridal showers. Admission is free for all.
Date: Friday 2nd November 2012
Time: 6 PM
Venue: Zenith Water Margin Chinese Restaurant, 28 Adeniran Ogunsanya Street, Surulere, Lagos
_______________________________________________________________________________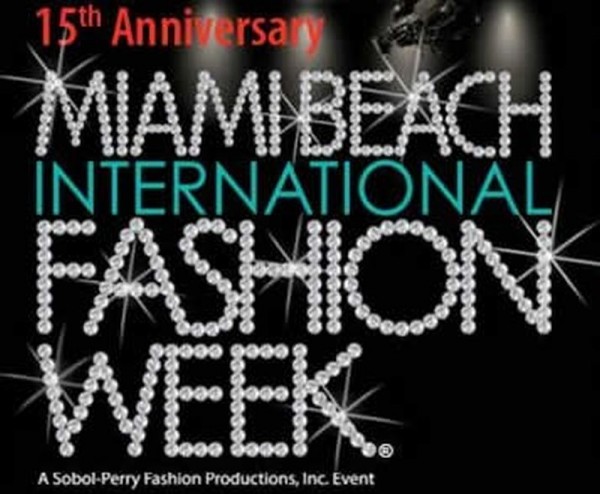 W-Art Design & Nike Art Gallery present A Fashion Seminar with Mercedes R. Gonzalez
In conjunction with Nike Art Gallery, W-Art & Design is organizing a Fashion Business Educative Seminar on "Entering the US Market", "The new Global Consumer" and "Intellectual Property/Legal Aspects of the fashion industry". Facilitators include fashion industry veteran Mercedes R. Gonzalez, CEO Global Purchasing Group NYC, a buying office representing over 200 stores in North and South America and Uche Ofodile, Professor of Law at the University of Arkansas and speaker on Intellectual Property Law in the US, EU, China and Africa. The seminar is geared particularly to the buyer-fashion designer relationship and all the various elements involved from the general trend and openings in the international fashion industry. It will focus on the Business and Legal aspects of fashion designing.There will be two sessions, morning and evening.
Date: Saturday 3rd November 2012
Venue: Nike Art Gallery, Lekki, Lagos
Fee: N 25,000
_______________________________________________________________________________________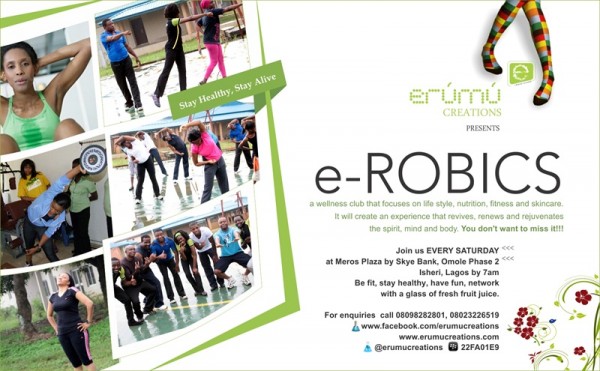 e-ROBICS
e-ROBICS is a wellness club that focuses on life style, nutrition, fitness and skin care. It will create an experience that renews and rejuvenates the spirit, mind and body. Admission is free for all.
Date: Saturday 3rd November 2012
Time: 7 AM
Venue: Meros Plaza by Skye Bank, Omole Phase 2, Isheri, Lagos
_______________________________________________________________________________________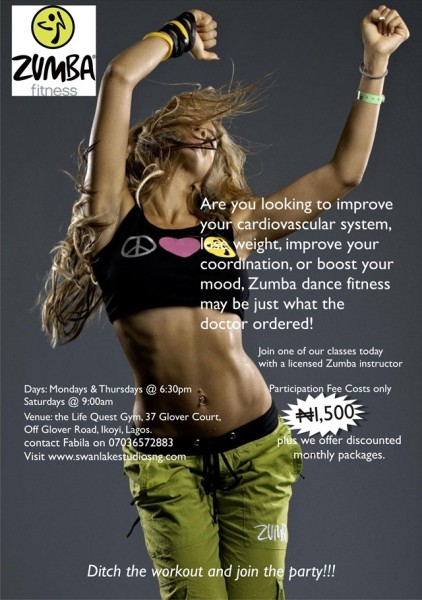 Zumba Fitness Training
Are you looking to improve your cardiovascular system, lose weight, improve your coordination or simply boost your mood? Then join Zumba Fitness training taking place this Saturday and Monday.
Date: Saturday 3rd November 2012 & Monday 5th November 2012
Time: Saturday 9 AM | Monday 6: 30 PM
Venue: The Life Quest Gym, 37 Glover Court, off Glover Road, Ikoyi, Lagos
Fee: N 1500
Contact: For more info and general inquiries, call 07036572883 | Log on to their website
_______________________________________________________________________________
Donation Drive for December
Braite Lites has introduced an initiative, Donation Drive for December aimed at helping the less privileged by giving them food items, clothes, shoes, and lots more. They have set up 4 collection centers and this Saturday and Sunday, they will be present at the Ikeja City Mall to collect donations.
Date: Saturday 3rd November 2012 – Sunday 4th November 2012|
Time: Saturday 12 Noon – 2 PM | Sunday 2 PM – 4 PM
Venue: Shoprite, Ikeja City Mall, Ikeja, Lagos
Contact: For more info and general enquiries, call 07058051910 | 08028386151 | e-mail [email protected]
_______________________________________________________________________________________
Yetunde Ayeni-Babaeko Unveils the Mystery of "Itan"
Acclaimed photographer and artist, Yetunde Ayeni-Babaeko will unveil a collection of black and white photographs engaging African mythology. The exhibition, Itan is translated from Yoruba to mean, story or the process of telling stories. The event according to the artist is not only to entertain, but to encourage her audience to read about the gods and poke into our traditions.Works will be presented as photography prints mounted on Di-Bond. Admission is free for all!
Date: Saturday 3rd November 2012 – Friday 23rd November 2012
Time: 4 PM
Venue: Porsche Center, Akin Adesola, Victoria Island, Lagos
_______________________________________________________________________________________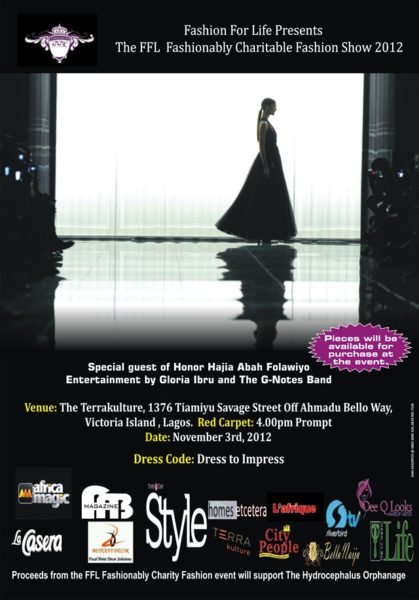 Fashion For Life presents The FFL Fashionably Charitable Fashion Show 2012
This Saturday, Fashion For Life invites you to the maiden edition of its charity fashion show tagged "The FFL Fashionably Charitable Fashion Show 2012". This glamorous event will also be an opportunity to raise funds and donations for the Hydrocephalus Orphanage (Children with abnormal accumulation of cerebrospinal fluids in the cavities of their head, which causes increased skull and progressive enlargement of the head). Activities of the D-Day includes a catwalk show, showcasing new collections specifically created for this charity fashion show. The event will be hosted by Toni Payne. For tickets, call 08179749093
Date: Saturday 3rd November 2012
Time: 4 PM
Venue: Terra Kulture, 1376 Tiamiyu Savage Street off Ahmadu Bello Way, Victoria Island, Lagos
_______________________________________________________________________________________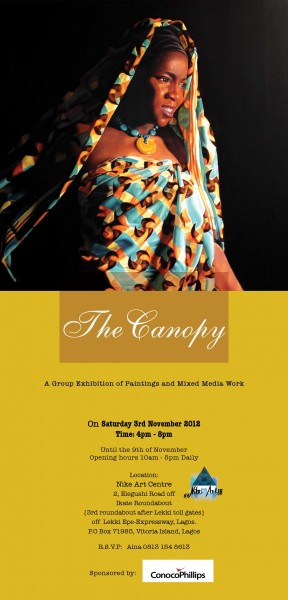 The Canopy
ConocoPhillips in association with Nike Art Centre presents The Canopy, an art exhibition exploring the relationship between mother and child, and a mother's role in Nigerian society. The exhibition will feature 7 up and coming artists, Badejo Abiodun, Tyna Adebowale, Oladimeji Alabi, Owolabi Ayodele, Olawunmi Banjo, Rafhue Distinction and Adeleke Akeem. These artists were chosen because of their vision, inspiration and commitment to the world of art.
Date: Saturday 3rd November 2012 – Friday 9th November 2012
Time: Saturday 4 PM – 8 PM | Friday (Closing Day) 10 AM – 5 PM
Venue: Nike Art Centre, 2 Elegushi Road, Lekki, Off Lekki Epe-Expressway (3rd Roundabout after Lekki Toll Gates), Lekki, Lagos
Contact: For more info and general inquiries, call 08131548613
_______________________________________________________________________________________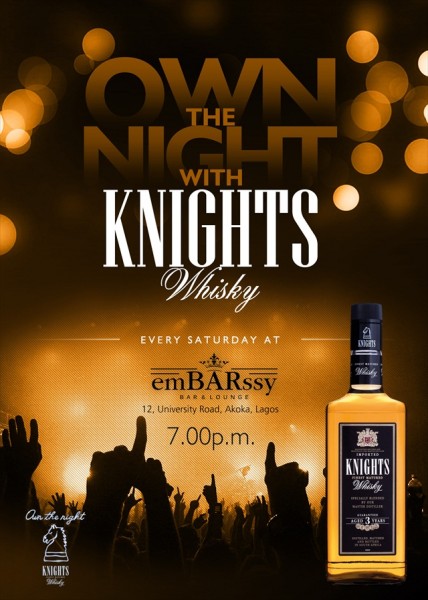 Own the Night with Knight Whisky
Top Nigerian comedian, Basketmouth's club, emBARssy Lounge will hold another fun edition of its soiree tagged "Own the Night with Knights Whisky". Be sure to come and join Basketmouth and other celebrities at the party. Admission is free for all.
Date: Saturday 3rd November 2012
Time: 7 PM
Venue: emBARssy Lounge, 12 University Road, Akoka, Lagos
_______________________________________________________________________________________
Shopaholic Sunday 2
Shopaholic Sunday 2, an exclusive event that combines fun with shopping for quality, affordable, trendy and discounted customer items in a serene environment will take place this Sunday at Elegushi Beach, Lekki, Lagos. This event will be a splendid bang as it promises to be interesting from start to finish. Admission is free for all and attendees are advised to bring along their swimwear.
Date: Sunday 4th November 2012
Time: 12 Noon – 7 PM
Venue: Elegushi Private Beach, Lekki, Lagos
________________________________________________________________________________________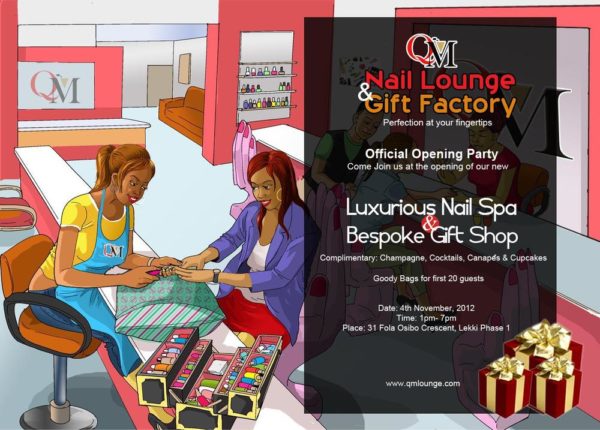 QM Nail Lounge & Gift Factory Official Opening Party
Lagos based manicure & pedicure  and gift experts, QM Nail Lounge and Gift Factory, will officially open its doors this Sunday to the general public. There would be goody bags for the first 20 guests and attendees will munch on delicious cupcakes and sip on refreshing cocktail drinks while shopping for beauty products, bespoke gift sets and luxurious hampers at an affordable rate. Admission is free for all!
Date: Sunday 4th November 2012
Time: 1 PM – 7 PM
Venue: 31 Fola Osibo, Lekki Phase 1, Lekki, Lagos
_______________________________________________________________________________________
Paws Studio & Terra Kulture presents The Wives Stage Play
The Performing Arts Workshop and Studio is back at Terra Kulture this November with another thrilling stage play, The Wives, written by Ahmed Yerima.
Date: Sunday 4th November 2012
Time: 3 PM & 6 PM
Venue: Terra Kulture, Plot 1376  Tiamiyu Savage off Ahmadu Bello Way, Victoria Island, Lagos
Ticket Prices: Students with ID N 1,500 | Regular N 3,000
_________________________________________________________________________________________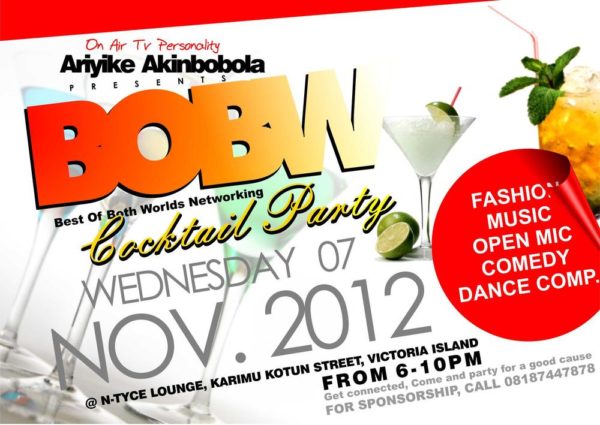 Best of Both Worlds Cocktail Party
Spice TV's presenter Ariyike Akinbobola presents Best of Both Worlds Cocktail party. It promises to be a night of fashion, music, comedy and dancing.
Date: 7th November 2012
Time: 6pm -10pm
Venue: N-Tyce Bar and Lounge, Karimu Kotun Street, Victoria Island, Lagos
_____________________________________________________________________________________________
BellaNaija.com is not responsible for the organization or further promotion of these events, neither do we have a stake in their sales or popularity. Inclusion in "Events This Weekend" is Free. Contact – adsales (at) bellanaija.com on or before Wednesday every week if you will like your event to be included. Note that BN reserves the right to choose which events are featured. "Pay to attend" parties attract a fee