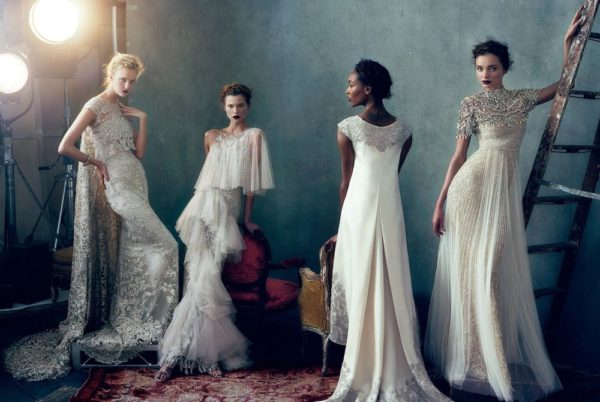 Browsing through the February 2013 issue of American Vogue and came across "Magic Kingdom", a feature on Georgina Chapman of Marchesa.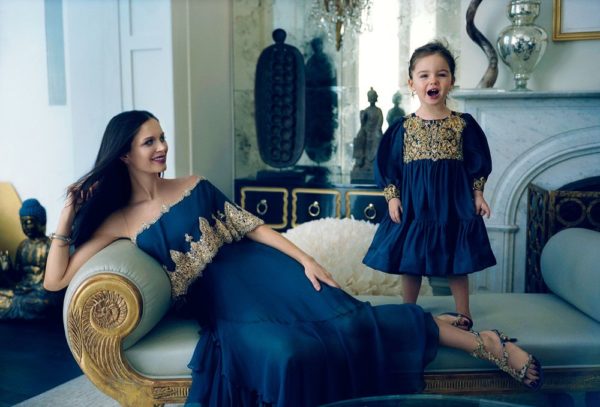 Marchesa is a firm favorite with Hollywood stars on the red carpet as well as within the bridal industry. Stars including Blake Lively, Nicole Richie, Molly Sims and Coleen Rooney have chosen Marchesa for their wedding dresses.
Here is an excerpt from the article.
"When you see her beautiful work, you feel like you're witnessing a craft that doesn't exist any longer," says Blake Lively, who wore Marchesa to wed Ryan Reynolds in September. "The only designer that really makes you feel like a princess is Marchesa." And Lively wanted something magical. "We went in saying, OK, illusion beading! Lace! Petals! Feathers! It was like that Ben & Jerry's ice cream—Everything but the Kitchen Sink." Chapman worked rose-gold embroidery into the beading to complement Lively's ring, and draped subtle pieces of dip-dyed pink ombré tulle onto the skirt.
The article also ends with a sweet quote from Georgina's close friend, British (of Nigerian Parentage) actor David Oyelowo speaking on Georgina's relationship with her husband, Harvey Weinstein.
"I think there's genuine love there, and there's genuine mutual respect" is how Oyelowo describes the couple. "Harvey is an incredibly powerful man and very talented and tenacious at what he does. And Georgina is the same, but their approaches are different. Georgina is very self-deprecating but equally passionate, and Harvey is far more firm-footed, yet they come out with the same result, which is to be the best at what they do."
We are loving the bridal inspiration here. From Georgina's "Second Dress" worthy dress to little India's lovely dress and finally the swoon-inducing bridal dresses in the spread.
Details Up-Close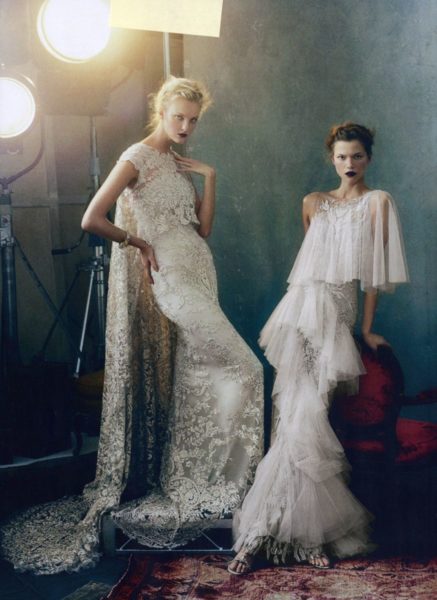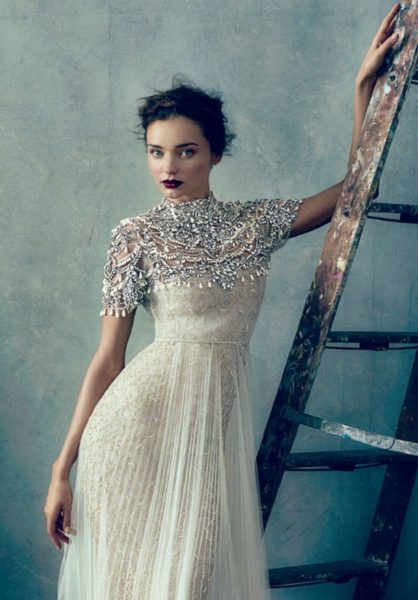 Credits
Vogue US February 2013 – "Magic Kingdom"
Models: Kasia Struss, Jourdan Dunn, Caroline Trentini & Miranda Kerr
Photography: Norman Jean Roy
Stying: Tabitha Simmons
Makeup: Gucci Westman
Hair: Esther Langham