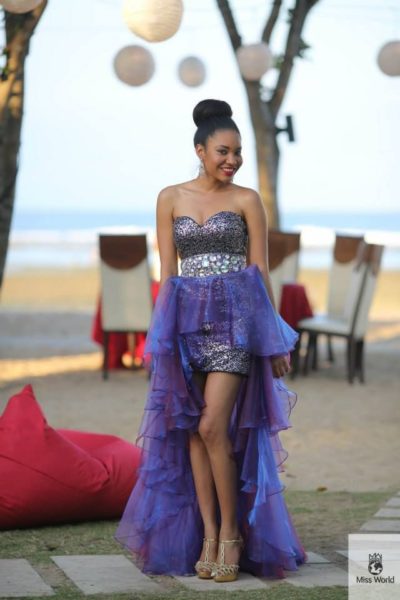 Anna, the Miss World 2013? Well, we hope so!
The Miss World 2013 finale will take place on Saturday 28th September 2013 in Bali, Indonesia. The closing ceremony was moved from Jakarta to Bali, after extremist groups threatened to attack the event.
Just before the D-Day, the beauty queens are engaging in many activities including Miss World Talent, International Peace Day and visit to schools and communities.
A dress rehearsal was held for upcoming events and all the contestants including Nigeria's Anna Ebiere Banner got all gussied up.
For the rehearsal, Anna selected a strapless embellished mini dress, which features purple organza on the waist for a rise-and-fall hem look. She styled it with silver drop earrings and silver sandals. A sleek up do and red lipstick finished the look.
Photo Credit: www.facebook.com/MissWorld | www.facebook.com/SilverbirdMBGN