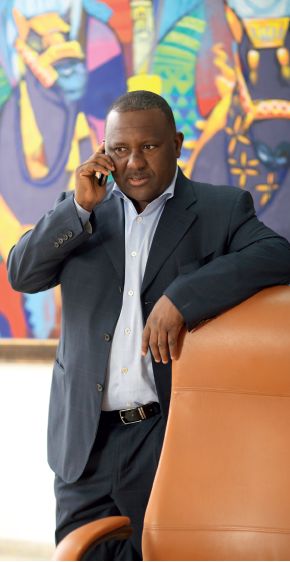 It is with pleasure that we introduce you to 'Africa's Newest Billionaire'. According to the November edition of Forbes Africa, this 53 year old business mogul, Abdulsamad Rabiu, is Africa's Newest Billionaire.
Here's an excerpt from the feature:
"An investigation by FORBES AFRICA turned up a string of assets. The BUA Group has interests in key sectors similar to those of countryman, Aliko Dangote, Africa's richest man. They include cement, sugar and flour. Through the group's subsidiaries it does business in real estate, steel, port concessions, manufacturing, oil, gas and shipping. The group also owns the ship BUA Cement 1, a 200-meter long vessel designed for heavy loads. It is Nigeria's first floating terminal. In addition to his assets in the BUA Group, Rabiu owns property in Britain, worth $62 million, and in South Africa, worth $19 million. Among his properties is a house in Gloucester Square in London worth nearly $16 million and a penthouse at The One & Only Hotel, in Cape Town, worth $12.6 million. Rabiu's taste for good living is plain to see; he has bought homes from Eaton Square to Avenue Road, also known as Millionaires' Row. Rabiu jets around the world on an eight-seater Gulfstream G550 worth $44.9 million, powered by a Rolls-Royce BR710 turbofan engine, as well as an $18-million Legacy 600 aircraft."
Abdulsamad was born in Kano to the family of reknown business man, Ishyaku Rabiu. His father had made his fortune from trading in the years after Nigeria's independence. By the mid 70s, Abdulsamad's father had become quite influential and he was a point man in the political scene. By 1983, the military coup which led to the arrest of President Shehu Shagari found Ishayku in incarceration as well. During this period, Abdulsamad was away in the US getting his bachelor's degree. He returned home at 24 to find his father's business in dire straits. With little or no business experience, Abdulsamad had to take over the reins to restore his father's now failing business empire.
As he said to Forbes Africa
"It was very difficult. When we started, our dad was not there. There was this huge vacuum, because of his personality. He grew the business, he did everything, everybody reported to him, and then he wasn't there anymore. So at a very tender age, I was saddled with so many things; I had to make a lot of important decisions, and don't forget that this happened suddenly, at the time, there were three ships being discharged, rice and sugar ships. The government agencies tried to seize the goods; so we were discharging, they were taking, we were taking back. It was a big, big issue. Those kinds of things were really challenging"
The story of this man is very interesting. He worked his way to transforming his millions into billions. It was a series of radical decision after radical decision that has given rise to the empire that Abdulsamad has built today. According to him
"The biggest challenge was that there were restrictions on confirming letters of credit because of the coup. Then there was the issue of the planes; there were two private jets and we didn't know what to do with them. We couldn't fly them. They actually grounded the jets. We were able to get the big one out and we decided we didn't need it. I just got rid of it. [My father] was in detention, so who was going to be flying a private jet at that time with the major-general Muhammadu Buhari around. They grounded the small plane for two years but it was released after [my father] was released from detention."
Abdulsamad went on to start his own business, BUA group. BUA is a large stake holder in the manufacturing and trade industry of Nigeria. On the comparison with Alhaji Dangote, the Forbes Africa report states:
"Rabiu has often been compared to Africa's richest man, Aliko Dangote, due to the fact that most of their businesses operate in the same sectors. He dismisses talk of any competition between himself and Dangote, pointing out that their mutual interests in certain sectors derives from the inclinations of the patriarchs of their families. "We are both from Kano and our parents were doing more or less the same kind of business, so we grew up in the trading environment. My dad had been doing rice, sugar and edible oil for a very long time. Aliko's granduncle, Sanusi Dantata, at one time was the biggest trader in terms of imports in Kano State," he says. "We've known each other since childhood. Although people seem to think that we are doing the sort of business that Aliko is doing, I keep telling them that this is a business that my family has been involved in before Aliko even started." BUA's sugar venture was a cash cow. The company was able to reap huge margins due to the difference in duties for imports of raw sugar, which was 5%, and that of finished, or white, sugar, which is 50%. With the money he made from this business, the amount of which he declines to reveal, Rabiu cast his eye further."
Grab your copy of this month's edition of Forbes Africa to read more on this fascinating business man.